Last updated on June 12th, 2023 at 07:17 PM
Swiss mountain bike legend Nino Schurter made history on home soil at Lenzerheide on Sunday when he won to pass Frenchman Julien Absalon for the most career UCI Mountain Bike World Cup XCO wins as Loana Lecomte won the women's race. 
German Luca Schwarzbauer triumphed in Friday's XCC race from Frenchman Jordan Sarrou, while Swede Jenny Rissveds edged out Swiss Alessandra Keller and France's Pauline Ferrand-Prévot for victory.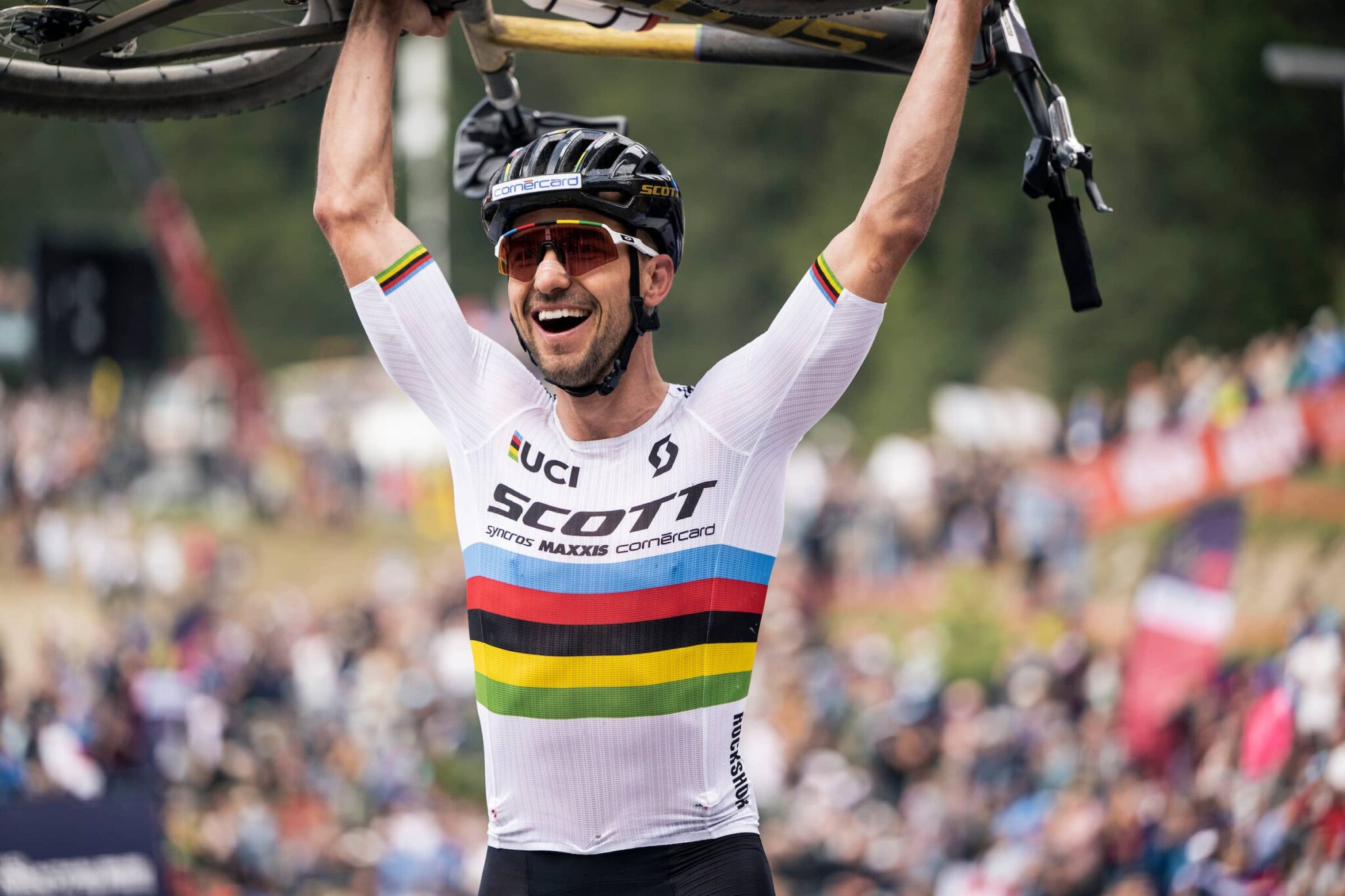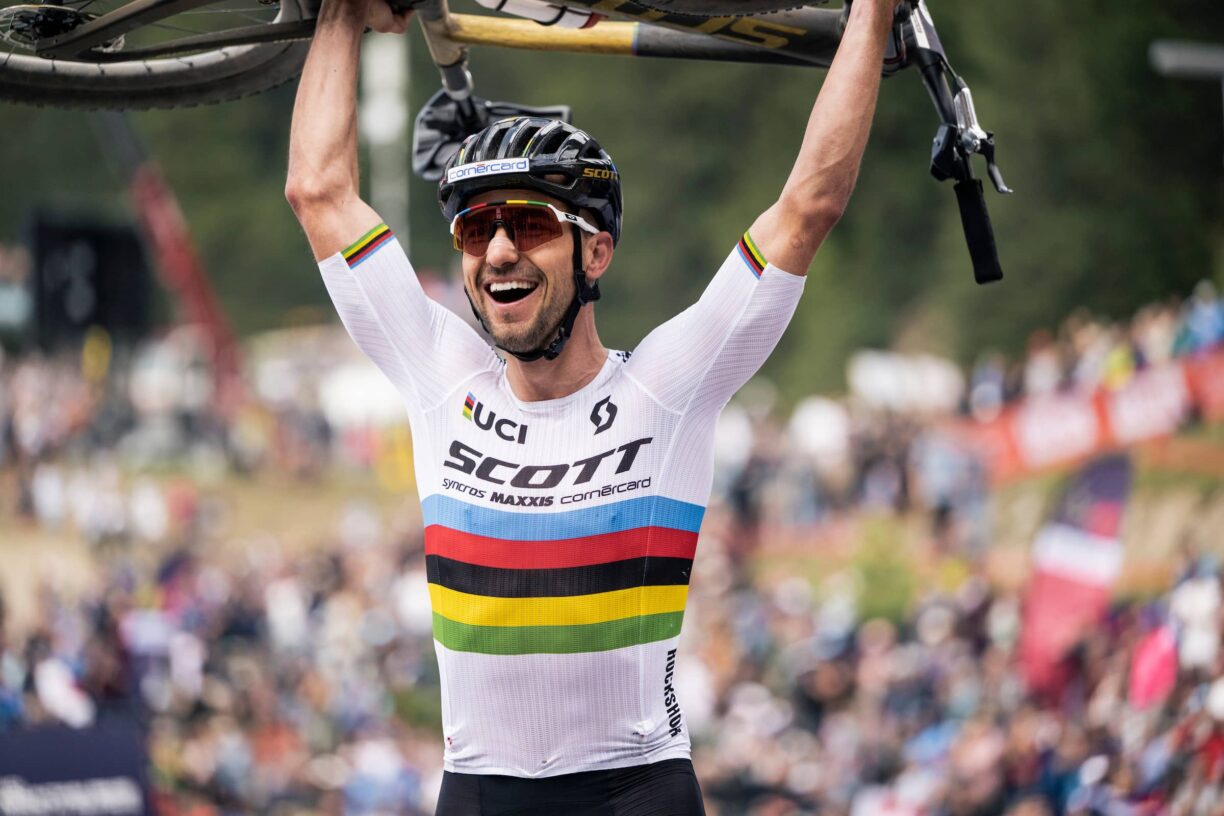 In the men's XCO race on Sunday, rain began to fall early on as Schwarzbauer led from the likes of Schurter and Sarrou, who proceeded to take over at the front with Alan Hatherly then moving up.
Schurter began to attack with three laps to go leaving Italian Luca Braidot and Swiss Mathias Flückiger behind as the Swiss fans rang their cowbells in appreciation of their home hero's historic ride.
Schurter duly closed out the historic win as South African Hatherly pipped Sarrou on the finish line for second with Frenchman Thomas Griot fourth and Spain's David Valero Serrano fifth.
In the women's XCO race, a brilliant ride from Lecomte saw her power away from Ferrand-Prévot on the final lap to win from the Netherlands' Anne Terpstra and Keller.
Puck Pieterse, the winner of the last stop at Nové Město na Moravě, got off to a good start with Rissveds, Swiss Sina Frei, Martina Berta, Anne Tauber and Briton Evie Richards also in contention early.
Early in the third lap, Keller took over at the front of the leading group and the front riders gradually began to thin out with Lecomte right behind the Swiss as they headed up the climb again.
Dutch champion Terpstra then took over at the front before Ferrand-Prévot and Lecomte pulled away from the pack with Lecomte's second attack on her compatriot eventually creating the gap for victory.
Lecomte, 23, said: "The last few weeks I have a lot of questions and it was hard after the short track. I had a lot of bad emotions and I spoke a lot with Jolanda Neff.
She helps me a lot with this world and her own experience. Today I just want to play with my bike and take a lot of fun."
UCI MTB World Cup men's Lenzerheide XCO result
1. Nino Schurter SUI 1:24:04
2. Alan Hatherly RSA +0:15
3. Jordan Sarrou FRA +0:16
4. Thomas Griot FRA +0:16
5. David Valero Serrano SPA +0:40
UCI MTB World Cup women's Lenzerheide XCO result
1. Loana Lecomte FRA 1:24.41
2. Anne Terpstra NED +0:18
3. Alessandra Keller SUI +0:32
4. Pauline Ferrand-Prévot FRA +0:39
5. Puck Pieterse NED +0:54
UCI MTB World Cup men's XCO standings
1. Nino Schurter SUI 475 points
2. Jordan Sarrou FRA 410
3. Thomas Griot FRA 336
4. Thomas Pidcock GBR 330
5. Alan Hatherly RSA 328
UCI MTB World Cup women's XCO standings
1. Puck Pieterse NED 466 points
2. Loana Lecomte FRA 457
3. Pauline Ferrand-Prévot FRA 440
4. Alessandra Keller SUI 430
5. Anne Terpstra NED 394