Then Mirror could be the new fitness tech to revolutionise your home workout!
Mirror is an actual mirror you can install at your home, office or anywhere else you can think of that has a WIFI signal.
Founded by Harvard graduate and former professional ballerina Brynn Putnam, who previously started the fitness studio Refine Method.
Putnam could help those short on time and energy to get down to the local gym.
MIRROR is catching on amongst professional athletes as well. "They are using the mirror differently than we anticipated.
Many of them are using it for off-season training, and they are exploring different types of fitness they may not otherwise do in a public setting.
So you have baseball players taking a yoga class for the first time, or basketball players trying out boxing."
And there's one sportsperson in particular who is sold on the Mirror, Katarina Jamskikova, an elite marathon runner who is balancing motherhood while pregnant with her second child.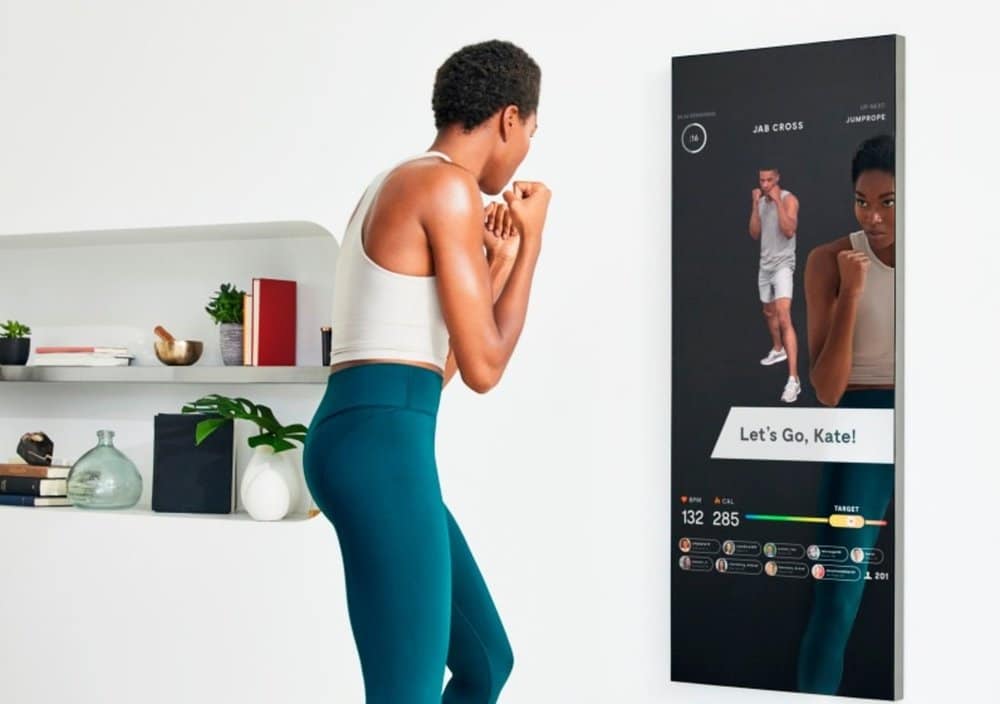 "It's refreshing to run outside, but you still need to maintain your core and strength, and that you can do in the convenience of your home, and you don't need a gym membership," Jamskikova told CNBC recently.
"I think everyone is excited about the prospect of connecting athletes to trainers outside their immediate geography.
So you have a trainer in New York who connects with a high-level golfer in Arizona, and they can work together," Putnam added.
Mirror has a built-in video screen that has instructors leading exercise classes.
The company behind it is called, quite simply, MIRROR and founder Brynn Putnam is no stranger to the fitness startup game.
Back in 2010, the Harvard-grad and former professional ballerina founded the successful fitness studio Refine Method.
"MIRROR is really the first entrant into this smart screen space. We are the next and newest screen in your life since the iPhone.
I think what's exciting about that is that we are paving our own path," Putnam told CNBC at her Manhattan office.
MIRROR has raised $38 million in venture funding from top firms like Spark Capital and Lerer Hippeau, becoming the latest option in the $83 billion per year global fitness industry.
The panel itself is a liquid crystal display (LCD), with stereo speakers, a camera, and some custom software powered by a quad-core processor. Bluetooth and WiFi allow you to connect with monitoring devices and stream the classes from Mirror.
As for the classes, there's cardio, yoga, strength, barre, boxing, stretch, and pilates, with various levels of each.
As with most fitness classes, you can set up a profile and get some personal recommendations. For instance, I had back surgery, which means my muscles often get sore.
If I plug that in it will recommend the right classes for me to take ranging from the type of activity to the level (beginner to expert). Since the classes are live, you can also get feedback from the instructors.
Mirror handles the vetting of the instructors on its platform as well as the streaming of them (internet required). You'll be able to see the instructor on the Mirror, along with other metrics.
There will be over 50 classes a week in the beginning, plus a library of on-demand classes at any time. These pre-recorded classes will let you see the instructor as well.
Mirror is controlled by an iOS companion app; there's no word if Android support is arriving soon though.
So what are the costs involved we hear you shout! The product costs $1,495 upfront, plus a $40 monthly subscription for unlimited live and on-demand classes.
Mirror will allow you to sync an Apple Watch or other Bluetooth fitness monitors, although it's currently unclear precisely what accessories will work. The company is including a heart rate monitor with the purchase of $1,495 price and additional ones cost $49.95.
Interested? You can order one now direct from the company here: