Collagen brand Vital Proteins believes that your body deserves quality building blocks to living a full life, but with generations busy squeezing more and more into our days, we are often cheating ourselves out of that all-important post-workout cooldown. 
With 30% of Brits saying they feel busy all the time, it's little surprise that only 22% of people who exercise consistently make time for a cool-down session *.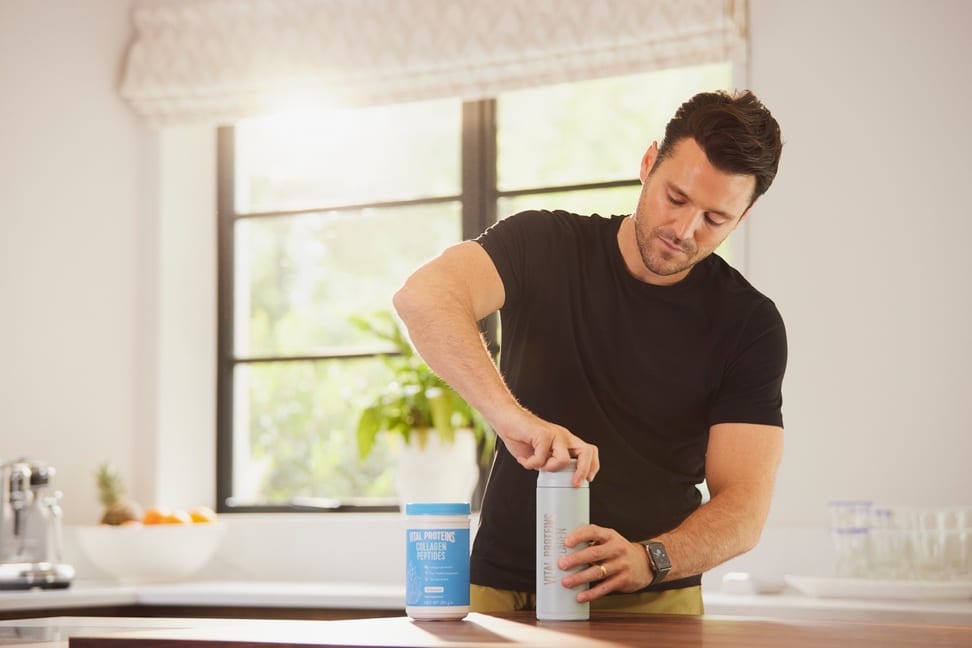 Vital Protein's ambassador Mark Wright knows this all too well. "I have a packed schedule and when I'm on the go, it can be tempting to take shortcuts, like missing the cool down after a workout, but cooling down is a vital step to recovery.
"I always make sure I include Vital Proteins as part of my wellness routine, as it's a good source of collagen and this is great for providing my muscles, joints, tendons and ligaments with strength and structure, helping me to stay strong and make sure my muscles are recovering after a workout."
"To take your recovery to the next level, I've teamed up with Vital Proteins to give you a quick stretch routine that you can do anywhere, even if you only have a few precious minutes in the shower to do it."
The Cool Down
Wellness is all about doing what you can when you can to let your body recover. So, when you get in the shower, these are five super simple stretches perfect for a tight space you can do.
Working your way down your body, hold each stretch for 10 – 15 seconds.
Neck: Gently tilt your head from one side to the other. You should be feeling it all the way down the side you're stretching.
Shoulders: One arm across your body, grab your elbow and pull it back, you'll feel it all the way down the triceps. Repeat on the other side.
Quads: Hold your foot in your hand on the same side, pulling your foot back towards your bum. You should feel the stretch all the way down the front of your thigh (your quads). If you can't balance, hold on to the shower door or balance on the shower wall.
Hamstrings: Leaning over from the hips, keeping your bum out so that you don't strain your back.
Calves: Working our way further down the body, we are going to stretch our calves and our Achilles. Bending at the knee, put one leg back, keeping both feet on the floor and pointing forward, you're just going to lean and put your weight on your back leg. Switch sides.
Bonus tip, finish with a cold blast: Always stretch under warm water, as your muscles are warm and you don't want to shock them, but once you're done, if you want to flip the shower to cold for 30 seconds, it's great for promoting healthy skin, athletic recovery and increasing your energy.
Then of course, finish with a scoop of Vital Proteins in your coffee, smoothie, or water for continued muscle recovery goodness.
The Product Range
Vital Proteins® leading Collagen Peptides are available in 284g (£24.99) and 567g (£39.99) tubs
For pescatarians, Vital Proteins® Marine Collagen is available in 221g tubs (£39.99)
For coffee lovers, Collagen Creamer tubs are available in Vanilla (£29.99 for 305g) and Coconut (£29.99 for 293g)
Matcha Collagen is available in 341g tubs (£49.99)
Vital Proteins® Collagen Peptides (£16) and Marine Collagen (£23) Sachets contain 10 sachets per box and are available to buy from Amazon and Power Body
What is collagen?
Collagen is our body's second most abundant substance, working hard to provide our muscles, joints, tendons and ligaments with moisture, strength, and structure, helping us stay active and energised.
Collagen also provides structure to our hair, skin and nails ensuring our hair stays shiny, our skin stays bouncy, and our nails stay strong.
Our collagen synthesis decreases each year after we hit our mid-twenties meaning our body needs to regularly renew its stock to make up for this and the fact that our food is low in collagen.
*The research was conducted by Censuswide with (2014 nat rep respondents) between 01.11.2022 – 04.11.2022. Censuswide abides by and employ members of the Market Research Society which is based on the ESOMAR principles and are members of The British Polling Council.