Last updated on June 11th, 2023 at 08:05 PM
German Manuel Lettenbichler won his second Red Bull Erzbergrodeo in a row on Sunday, making him the seventh person in 27 editions of the race to become a multiple-winner.
The 25-year-old trailed Great Britain's Billy Bolt for much of the race, before a decisive pass in the latter stages sealed victory with Canadian Trystan Hart third for the second successive year. 
Reigning FIM Hard Enduro world champion Lettenbichler overcame 500 competitors and a mountain referred to as the 'Iron Giant' to win Austria's iconic race in two hours and 31 minutes.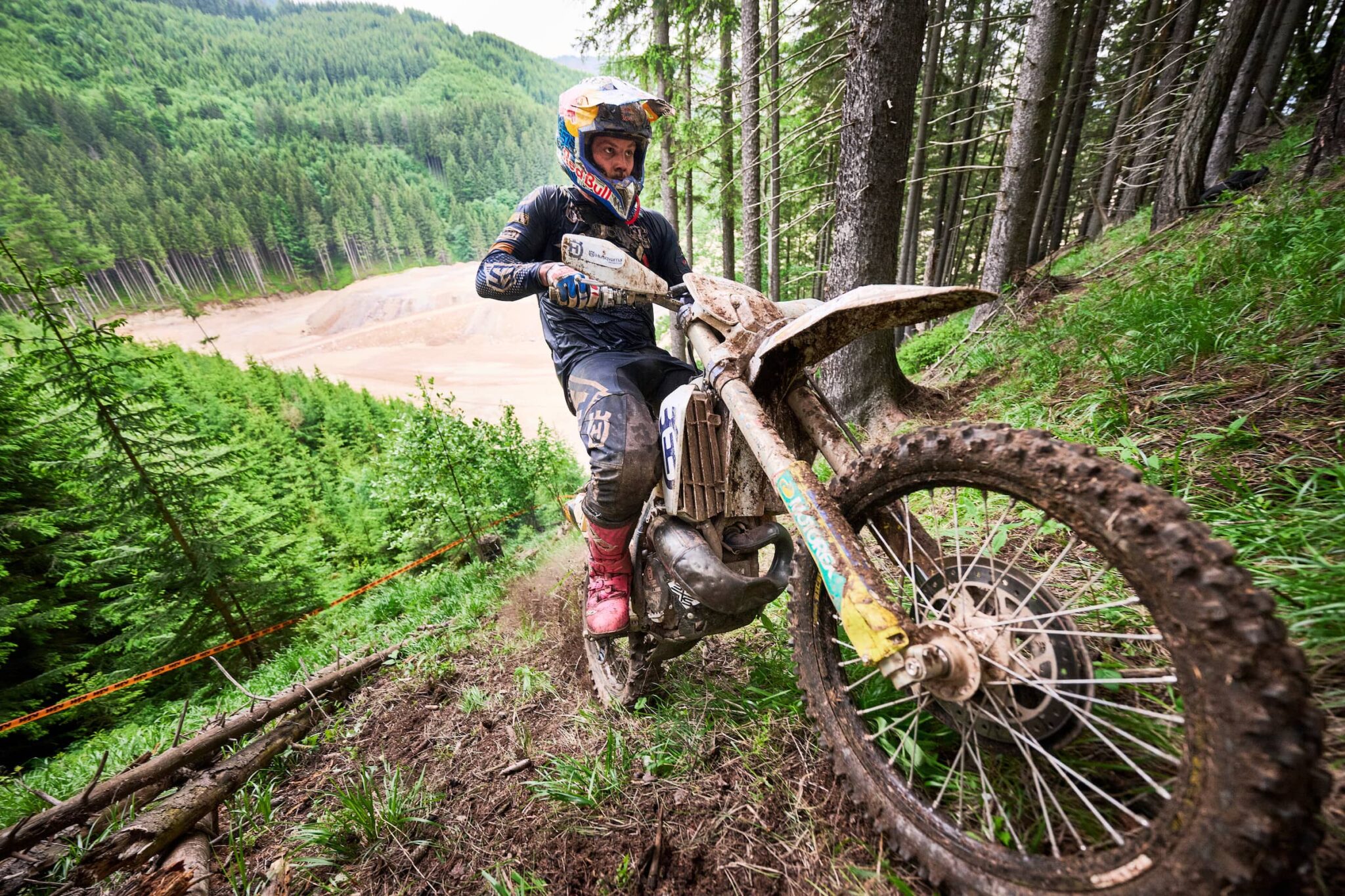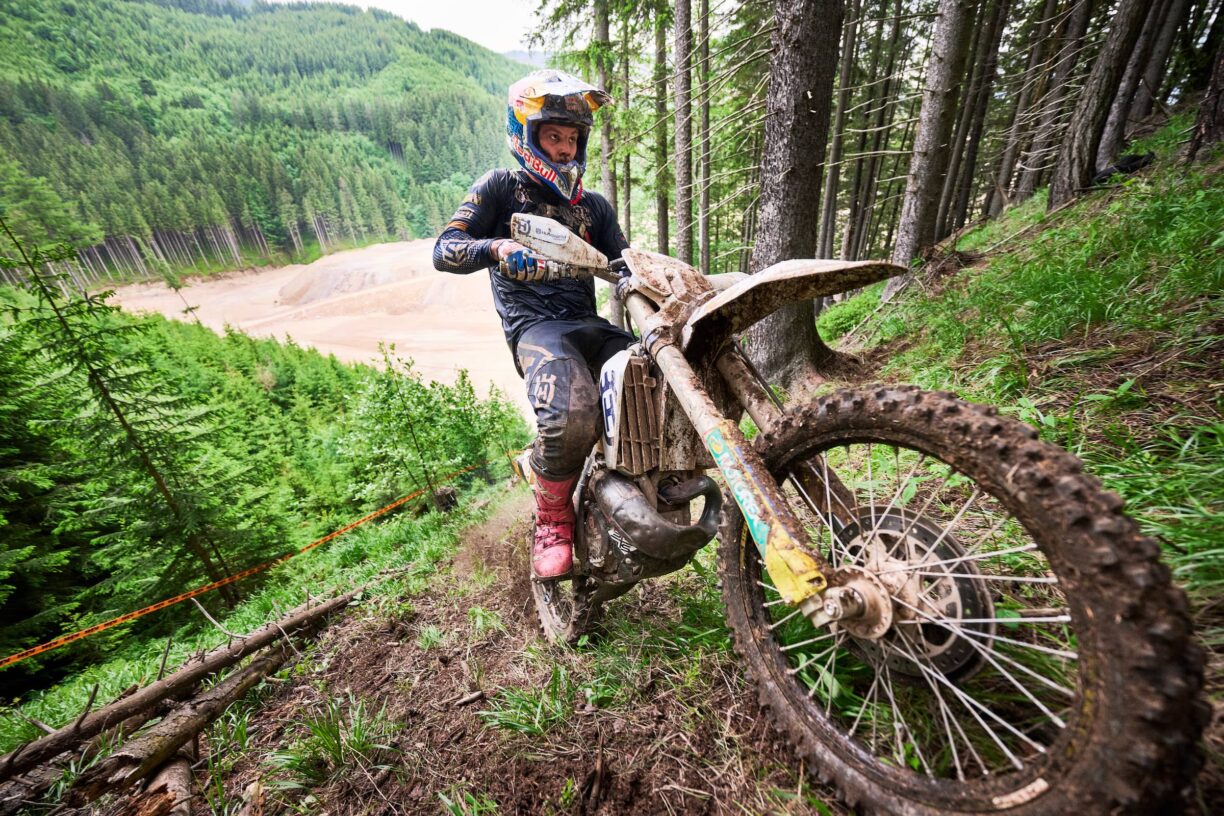 Once in the lead, Lettenbichler put on a masterclass to beat his closest challenger Bolt by 11 minutes. Of 500 starters, 17 managed to finish the course containing 27 checkpoints across varied terrain within the four-hour race time limit.
Held in the Austrian mining town of Eisenerz and first launched in 1995, the Red Bull Erzbergrodeo is the most revered race in the FIM Hard Enduro World Championship.
It takes place around the gravity-defying Erzberg mountain, a functioning mine producing more than three million tons of iron ore per year. At each edition of the race, a mix of professionals and amateurs take part.
Lettenbichler paced himself early in the race, trailing eventual third-place finisher Hart before taking the lead. Soon after he conceded first to a hard-charging Bolt, who had crashed at the beginning of the race and was on a mission to try and win the famed event for the first time.
After one hour and 17 minutes chasing Bolt, Lettenbichler snatched the lead back at checkpoint 22 of 27. From there he rode off into the distance to not only win the race for a second time but also secure wins at the first two stops of the 2023 FIM Hard Enduro World Championship.
Lettenbichler said: "I'm speechless that I had such a big gap at the end. I don't really believe it. I had a really good start and then Billy caught and passed me, and I tried to stay with him, but I couldn't.
He pulled a gap, so I tried to save some energy. When I could see him again, I decided to push and I would say he was pretty tired. Then I just rode a really good line to pass him.
This race is such a crazy motorbike festival and everyone in the world just comes and wants to do this challenge and finish this race. It's super unique. It feels amazing to win a second time in a row."
Despite seeing victory dissipate before his eyes, Briton Bolt managed to record his best finish at Red Bull Erzbergrodeo, despite a litany of drama which only became apparent after the race.
Bolt, 25, said: "That was my worst ever start and then the next 10 minutes was a blur, and I knew I needed to pass as many people as possible before the course got technical. I bent the front disc on my bike in the crash.
I also dented my exhaust pretty badly. I've had a fair bit of drama, all self-induced. When Mani passed me, I thought I would struggle to keep up with him. I didn't take it easy, I just made sure I could get home in second. But all things considered, I am very, very happy."
Hart, who has two podiums in three attempts, said: "Back-to-back podiums, lots of people would be happy but, to be honest, I'm not super happy. I put myself in a really good position, I was leading, which I didn't really expect and then I just got tight and made a lot of mistakes in the first hour.
To get the holeshot and then make a lot of mistakes like that is kind of heartbreaking. I was right where I needed to be with Billy and Mani, and then kind of threw it all away."
Red Bull Erzbergrodeo marked round two of the 2023 FIM Hard Enduro World Championship, however, only a small portion were elite professionals chasing the title, the rest being amateurs.
The prologue narrowed 1,300 entrants to 500 qualifiers for the start of Sunday's main race, and the predictably brutal course was mastered by just 17 riders.
The best-placed local was Austrian Michael Walkner, cousin of 2018 Dakar Rally champion Matthias Walkner, who finished seventh.
Compatriot Marcel Hirscher – a multiple times gold medallist at the Olympics and World Championships in Alpine Skiing made his second start. The skier turned motorcycle racer managed to make it to checkpoint 19, an improvement on 2022 when his race ended at checkpoint 17.
The FIM Hard Enduro World Championship now moves to Romania for Red Bull Romaniacs from July 25-29.
2023 Red Bull Erzbergrodeo finishers
1. Manuel Lettenbichler (Germany) 2:31:15
2. Billy Bolt (Great Britain) 2:42:15
3. Trystan Hart (Canada) 2:57:09
4. Jonny Walker (Great Britain) 2:59:30
5. Wade Young (South Africa) 3:04:21
6. Graham Jarvis (Great Britain) 3:13:55
7. Michael Walkner (Austria) 3:22:18
8. Alfredo Gomez (Spain) 3:24:30
9. Teodor Kabakchiev (Bulgaria) 3:25:00
10. Cody Webb (USA) 3:29:09
11. Matthew Green (South Africa) 3:31:45
12. Sonny Goggia (Italy) 3:49:21
13. Dominik Olszowy (Poland) 3:51:59
14. Jack Price (Great Britain) 3:52:08
15. Dan Peace (Great Britain) 3:55:58
16. Mitch Brightmore (Great Britain) 3:58:39
17. Will Hoare (Great Britain) 3:59:13

Watch the replay of 2023 Red Bull Erzbergrodeo on Red Bull TV HERE.