Last updated on September 3rd, 2021 at 08:37 AM
Lucy Spraggan has certainly not had an easy journey. After finding fame on The X Factor eight years ago, off stage, the successful singer and songwriter has been dealing with anxiety and depression.
At one point, Spraggan admits she wondered "if I'd survive" – but now is happily revealing what she describes as "a new Lucy".
It's a remarkable turnaround. She's three stone lighter, super fit and impressively toned thanks to a dedicated fitness regime, and recently celebrated 10 months of sobriety.
"I was in a really bad place for quite a long time, but now I'm the person I never imagined I could be," says Spraggan, whose sixth album, Choices, will be released in the autumn (if social distancing eases, she'll go on a UK tour too).
"I'm running every day, I've signed up for a marathon next year and train six days a week," she says proudly, chatting from her home in Chester.
"It's not just about the fitness  – although that's such an important part of my life now –  it's also that mentally I feel well and so much stronger. I'm happy within and without, and that's a really great new feeling for me."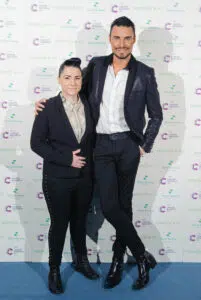 The Sheffield-born singer – who wowed X Factor audiences before quitting the show early, citing illness and bereavement – has since carved an impressive career, releasing an album every two years.
All, bar her debut album, have made the top 20 and she's performed twice at Glastonbury.
Life away from music has been more challenging though.  Although it seemed she'd found personal happiness and stability when she married Georgina Gordon in 2016 last year the couple split.
"I had a pretty s**t time last year and all sorts of things sort of came to a head," Spraggan reflects. During their six years together, the couple short-term fostered 12 children.
View this post on Instagram
"The break-up is heartbreaking because she absolutely saved my life when we got together," she acknowledges quietly.
"I'd been going through all those tough time
s with my mental health and she was very caring and supportive of the work I did to get better. She's a great person and made me a much better person, and we've had amazing experiences together – fostering was wonderful. But I started going through a lot of changes and sadly the new me didn't fit the relationship any more."
Spraggan's most significant personal change happened last July, when during an overseas tour in America, she quit drinking completely.
"I'd been on the road solidly for around six months and there was always drink around. I was in Las Vegas feeling quite fat and sad, and after a really big night out after a show, there was lots of drama and trouble," she recalls.
"I woke up the next morning and suddenly had this overwhelming feeling: 'I don't want this – I'm not going to drink anymore.' I got up and went for a run, something I'd literally never done before, and that's how it started. It was a real turning point for me. Since then, I literally run everywhere I can."
With her characteristic candour, she doesn't shy away from the term 'alcoholic'.
"I started drinking when I was 12 and for a long time, I've known I had a problem with it. I think people are really scared of saying that word because it's heavy, but I would say I'm an alcoholic in a very modern sense, in that although I don't wake up every morning and want a drink, when I drink, alcohol defines who I am," she confides.
"I realised I didn't even like the person I was when I drank, but despite that, I kept on drinking. But last year I knew I had choices to make about my life, and I needed to be mentally clear and sober to make them," she continues.
"The first six weeks was very hard because all the feelings and emotions that alcohol blocks out came to the surface, and that's pretty intense. Now, I feel I'm living my best life and can be the best version of myself without alcohol."
She describes her transformation as "like a miracle. All my life, from around the age of two, I've been a massive trouble-magnet. I've literally crashed through so many experiences and packed them into such a short time.
"I was in the building trade as a plumber's apprentice in my teens, then I did the fame and show business thing with X Factor, an experience I barely survived because it was so tough and stressful. Then I married and it was all about family stuff. I feel as though I've had so many lives, not just one, but this is the first time I've ever felt steady and in control."
Her fitness regime – running up to 15km daily as well as weight training – has seen her drop from a size 16 to around a size eight but she says it's not all about that, as exercise is crucial to her mental wellbeing.
"Depression is like an outfit you have in your wardrobe – you're not always wearing it but you know it's still hanging there on the rail," Spraggan says thoughtfully.
"But I recognise the triggers now and my new lifestyle makes it harder for it to intrude. I get such joy from pushing my body to its limits, in a way I never dreamt was possible. That's hugely beneficial for me mentally.
"While I used to drink to alleviate my anxiety – which was like pouring liquid depression onto the problem – now I'm able to calmly pinpoint what's causing it. Then I run, lift weights, or do a skipping session which boosts my mood and eases away negative, repetitive feelings."
Spraggan, who began performing at music festivals aged 12, has poured her feelings and emotions about the last transformative year into her new album, Choices. Tracks include Sober, Run and Roots, focusing on her marriage break-up.
"My passion for music, which has always driven me, has been reignited. I'm really proud of this album because I feel there's an emotional maturity to it, a real depth and honesty," she says.
"I never wanted to get categorised as 'Lucy from The X Factor', that's a sort of pop pigeonhole, and although it was hard sticking to my guns, I think I've proved I'm way more than that."
She declares herself currently single and content. "I'm just concerned about myself and want to focus on my own wellbeing. In the past, I was always very dependent on someone else to make me happy. Now I'm learning about who I want to be and that's my focus, before I even look for someone else to be in my life.
"Who knows where I'll end up, but I'm so looking forward to the future and being able to enjoy and take on all the challenges."
Lucy Spraggan's new album Choices is due for release on October 16 with plans for a UK tour. For further information, see lucyspraggan.com.