Last updated on April 15th, 2022 at 03:54 PM
Snowmobile legend Levi LaVallee embarked on a mission to accomplish a lifelong dream of riding an inverted loop feature on a sled, a feat only ever previously conquered by a few riders before him. 
LaVallee's Full Circle project aimed to revisit the history of snowmobiling at the birthplace of the sport in Québec City, Canada and challenged his skills on a custom course built on one of the country's oldest military bases, La Citadelle.
The freestyle snowmobile icon has had a decorated career and accomplished many unique projects in his lifetime, but there has always been one elusive item on his bucket list, the loop.
The inspiration comes from The Polaris Thrill Team, who completed the world's first loop on a snowmobile in 1969. In Full Circle, LaVallee brings this idea to Quebec and pushes himself to new limits by taking on an ambitious course culminating in a 30ft (9.14m) loop.
LaVallee says: "This is the bucket-list feature I have yet to do. In 2004 Polaris had their 50th anniversary and I saw the loop for the first time. I remember looking at it and thinking that's something I could do.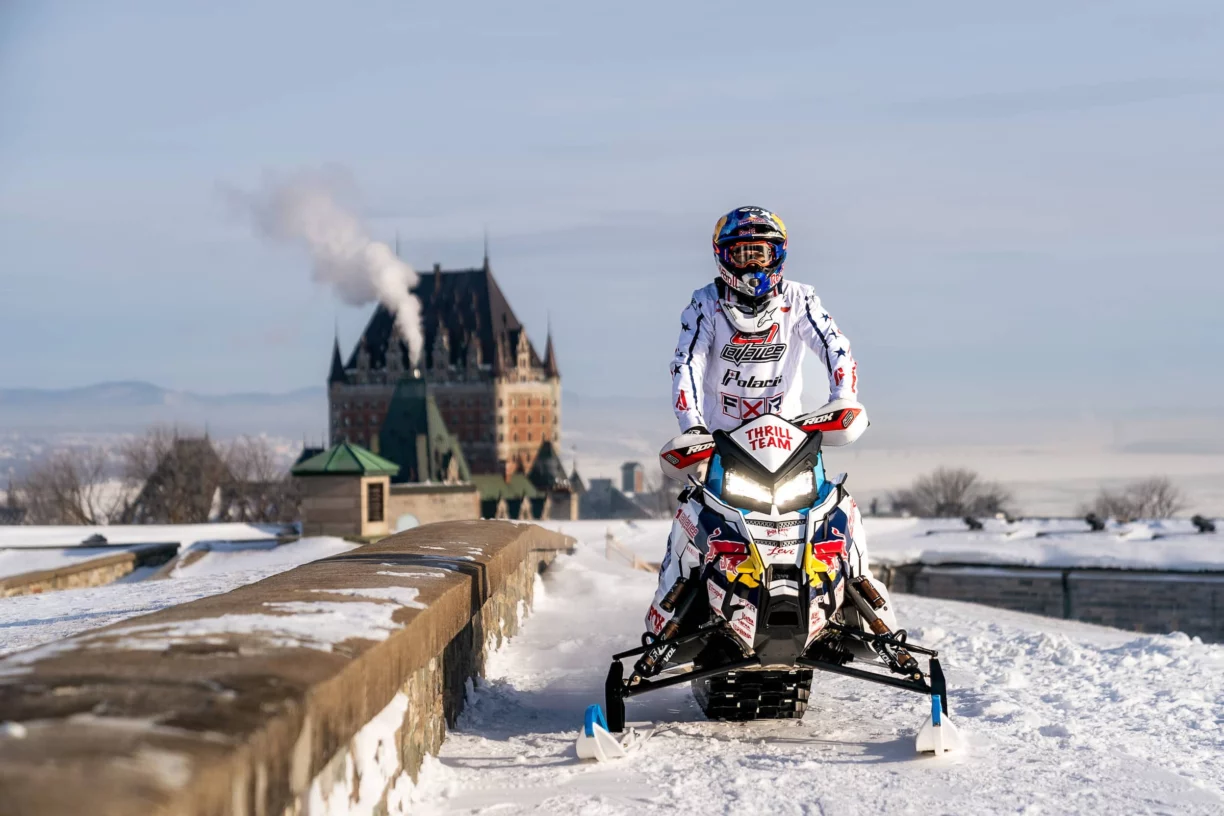 But the amount of preparation that has gone into this project is insane. There are all these little things that if you do them wrong, it turns into a big disaster. I think about how incredible it is that my snowmobile brought me here. This is where snowmobile started, here in Québec, it's a true honor to get this opportunity."
With that goal in mind, hours of research and development went into making the course and building a loop feature fit for a snowmobile.
Snow park and design creation company Today's Park partnered with LaVallee to serve as lead engineers on the project. One of the biggest challenges was developing a design to bring such a large feature into the location.
– Clocking up high speeds on a snowmobile, Levi had to negotiate the twists and turns of the course built on La Citadelle with just inches between the edges of steep hills and drops.
The course, over a kilometre in length, includes step ups, banks and jumps offering a freestyle paradise for the professional snowmobiler.
Watch Full Circle on Red Bull TV.