Last updated on June 3rd, 2023 at 07:04 PM
Sir Keir Starmer, leader of the Labour Party, met with three-time Olympic champion Andy Triggs Hodge and young people enjoying London Youth Rowing's (LYR) Big Jubilee Lunch.
The event at the Queen Elizabeth Olympic Park brought the East London community together for food, rowing fun and celebration.
Sports charity London Youth Rowing welcomed Sir Keir to its new venue on the waterside beneath the iconic ArcelorMittal Orbit Tower and close to the London Aquatics centre.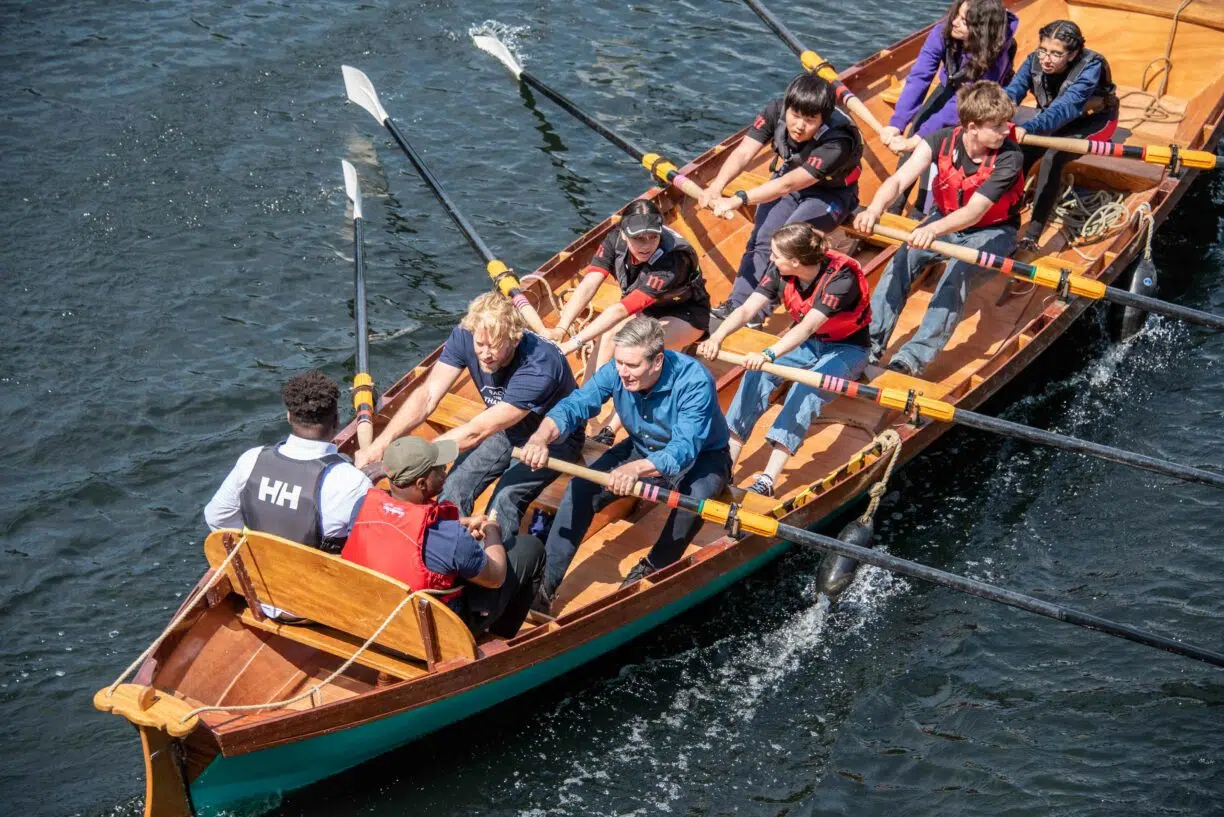 Andy Triggs Hodge plays a key role in LYR supporting young people from all backgrounds to have access to rowing opportunities opening up their future sporting potential.
With celebrations in full swing, Sir Keir joined the community at their Big Jubilee Lunch event, where young people and their families got together to share a picnic lunch and get out on the water to try their hand at a range of water sports.
Ten years on from the 2012 Olympics and the Diamond Jubilee, three-time gold medal winner Andy, introduced Sir Keir to young people supported by the sports charity.
The Labour leader learned about the activities and the impact of improved access to water sports the young people now enjoy, as well as their excitement around The Big Jubilee Lunch celebrations.
Andy Triggs Hodge, three-time Olympic rowing champion who now works with LYR, said: "We've had a brilliant day here at the Queen Elizabeth Olympic Park to mark Her Majesty The Queen's Platinum Jubilee.
Our Big Jubilee Lunch event, supported by our partner Lendlease, was designed to further open up water sports to young people who otherwise may never get the chance to get on the water and experience the many benefits that sport has to offer.
"Having the Leader of the Opposition, Sir Keir Starmer, join LYR for our Big Jubilee Lunch has been a huge privilege. Not only did it give the young people and LYR team such a great opportunity to meet him, but it was an honour to introduce him to the work we do at LYR."
Joining a group of young people and coaches for a waterfront picnic, Sir Keir also had front row seats to a special rowing training demonstration led by Andy, showcasing some of the new water skills and confidence building activities.
LYR's flagship programme Active Row reaches thousands of young people each year across London, Leeds, Kent and Nottingham, helping them to be more active through indoor and on-water rowing. The programme focuses on inclusion, with 49% of participants in London being female, 72% from ethnic minority backgrounds and 8% having special educational needs or a disability.
Keir Starmer MP said: "I was delighted to join Andy and London Youth Rowing at their Big Jubilee Lunch today and want to thank everyone for making me feel so welcome.
"We have seen Big Jubilee Lunches of all shapes and sizes enthusiastically organised up and down this country as we embrace the chance to get together again.
"I cannot visit the Queen Elizabeth Olympic Park without thinking of my friend Baroness Tessa Jowell whose name rightly graces one of the boulevards here.
"Tessa was a passionate believer in the power of sport not just to be great fun but to also drive better outcomes for our young people. That's why she persuaded the last Labour government to bid for the Olympics and Paralympics.
And that's why I'm so pleased to see the work that London Youth Rowing is doing to make their sport open for all, especially for women, for those from an ethnic minority and those with a disability.
"The Big Jubilee Lunch is a fantastic opportunity to say 'thank you' not just to The Queen for 70 years of service but also to all those such as London Youth Rowing who do so much to put Her Majesty's commitment to public service into action."
Sir Keir joins millions of people celebrating HM The Queen's 70 years of service with Big Jubilee Lunches taking place UK wide this weekend.
Peter Stewart, Executive Director of the Eden Project in Cornwall, home of The Big Lunch idea, said: "We're delighted that Andy was able to welcome Sir Keir Starmer to The Big Jubilee Lunch this weekend – and what better location for it than London's Queen Elizabeth Olympic Park!
Whether your celebrations are taking place on water or land, millions for people are joining in the celebrations in a variety of ways, including street parties, barbeques and even picnics to mark the Platinum Jubilee.
It's brilliant to see London Youth Rowing joining the party – they're an incredible demonstration of the creative and powerful things communities everywhere can achieve when they come together."
Started in 2009, an idea from the Eden Project made possible by The National Lottery, The Big Lunch encourages communities to break down barriers between neighbours and get together for an annual moment of food, friendship and fun.
To join in or find an event taking place near you go to www.thebigjubileelunch.com