Last updated on October 10th, 2021 at 08:10 AM
Frankie & Benny's has announced the launch of their delicious Christmas menu featuring classic Italian dishes and a vegan offering in every course.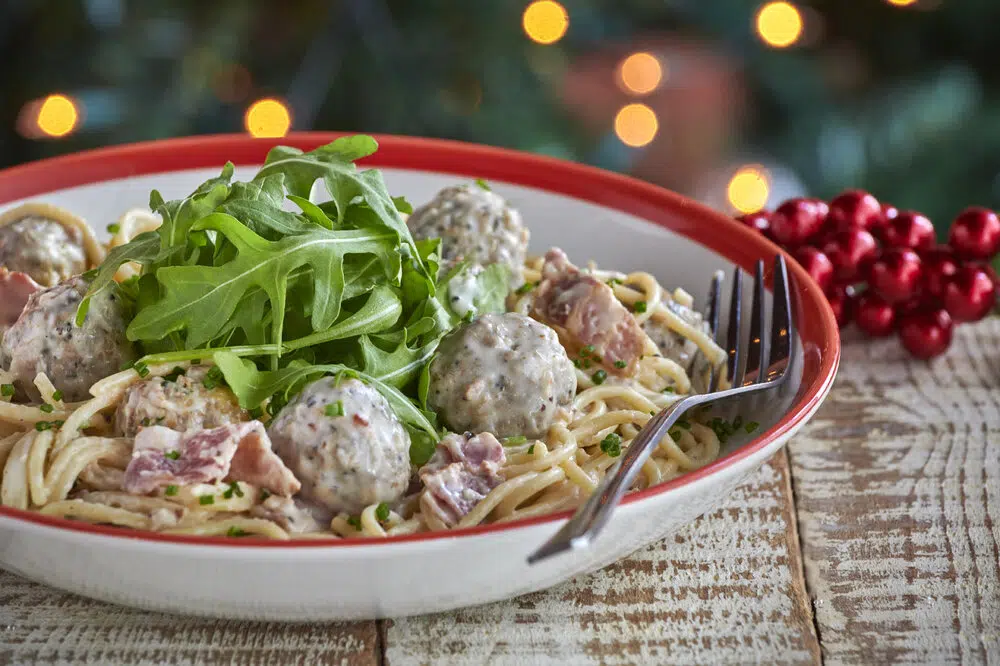 The festive range features delicious classics with an Italian American twist.
Combining Frankie's favourite dishes and flavours and their love of a good time, there's something for everyone – including vegan options in every course, a meatball homage to the Christmas turkey, naughty (and nice) sweet treats and of course festive drinks to top it all off.
The Christmas menu follows a national refresh of the Italian American brand focusing on their passion for quality food and community spirit of Little Italy.
The nationwide rebrand of the 230+ restaurants, which next year celebrates its 25th anniversary, is designed to attract a more grown up audience as well as inviting friends and families.
The Christmas menu which launches on 12th November starts with a twist on a Christmas classic with Breaded Shrimp Cocktail, a hearty vegan Tuscan Soup and cheese-filled Quattro Formaggi Ravioli.
Main courses include a homage to the Christmas Turkey inspired by the much-loved guest favourite of Frankie's Classic Meatballs in the shape of a creamy Turkey Meatball Carbonara and Turkey Meatball Pizza with cranberry sauce, an indulgent Brie & Cranberry Burger and a vegan Mediterranean Lasagne.
Desserts are inspired by classic festive recipes such as Trifle Sundae, Chocolate Profiterole Cake, and an unbelievably creamy vegan Mince Pie No-Cheesecake.
Drinks include a naughty and nice Cookies & Cream Martini, a vegan Frisky Lemonade and for those looking for an alcohol-free option, Sleigh All Day featuring Ceder's non-alcoholic spirit as well as unlimited refills of Appletiser and Coca-Cola Zero Sugar for the designated drivers.
Brand & Strategy Director Elise Ash said: "At Frankie & Benny's we love nothing more than creating lasting memories over good food & drink with great company. So this year, try Christmas Frankie & Benny's style and make it a season to remember."
The festive specials will be available to enjoy as part of a great value set menu starting at 14.99 or on their own from Tuesday 12th November.
More detail available at www.frankieandbennys.com/christmas
FULL CHRISTMAS MENU
Starters
Breaded Shrimp Cocktail –
Breaded shrimp with chopped lettuce, avocado, tomato and onion in a creamy Marie Rose sauce
Tuscan Soup –
A hearty mix of tomato, mixed beans, vegetables and herbs. Served with warm, toasted ciabatta and a garlic & herb dip
Quattro Formaggi Ravioli –
Pasta parcels filled with four cheeses and deep-fried until crisp and golden. Served with cranberry sauce
Mains
Turkey Meatball Carbonara –
Soft seasoned turkey meatballs in creamy carbonara sauce with crispy bacon and spaghetti
Brie & Cranberry Burger –
6oz* burger with breaded brie, crispy bacon and rocket. Served with cranberry sauce and fries
Turkey Meatball Pizza –
Soft seasoned turkey meatballs
with bacon, tomato & mozzarella. Finished with rocket & cranberry sauce
Mediterranean Lasagne –
Layers of grilled Mediterranean vegetables with pasta, dairy-free white sauce, vegan cheese & tomato
Desserts
Trifle Sundae –
Layers of ice cream with waffle pieces, custard, whipped cream and rhubarb compote. Sweet memories
Chocolate Profiterole Cake –
Cream stuffed profiteroles deep set in chocolate mousse on a biscuit base. Served with vanilla ice cream
Mince Pie No-Cheesecake –
Our unbelievably creamy vegan cheesecake with a mince pie & caramel flavoured drizzle. Served with vegan choc-chip ice cream
Drinks
Merry Spritzmas –
Smirnoff Infusions Raspberry, Rhubarb & Vanilla with Schweppes ginger ale and a hint of grenadine
Sleigh All Day –
A mix of Ceder's non-alcoholic spirirt with cranberry juice and a hint of gingerbread syrup
Cookies & Cream Martini –
Both naughty and nice! Baileys Irish Cream shaken with cookie syrup and cream
Frisky Lemonade –
Zesty & refreshing. Johnnie Walker with Sicilian cloudy lemonade over ice.