Last updated on September 4th, 2022 at 02:06 PM
The world's fastest-growing fitness race HYROX, announces months earlier than planned the release of three new race dates for UK Season 22/23, due to overwhelming demand for the hugely popular indoor, mass participation race for everybody, which launched for the first time in the UK in 2021.
This early release for the 22/23 season has been prompted by unprecedented ticket sales in the upcoming sold-out London race on April 30th.
Over 4,000 athletes will compete in London, in the largest ever indoor fitness race, which will be hosted at ExCel London.
The race in London is also one of the final opportunities for competitors to qualify for the Las Vegas World Championships on May 14th, which will conclude this HYROX Season 21/22 worldwide.
HYROX UK Season 22/23 Races Announced:
Birmingham October 15th, 2022
London November 19th, 2022
Manchester January 28th, 2023
Sign-ups for these three races are now open, with early bird pricing for the first 300 tickets in each category:
Individual Pro £69 (London £79): for the experienced racer, heavier weights make for a more challenging experience
Individual £69 (London £79): take on the standard HYROX for a challenging but achievable race for everyone
Doubles £119 (London £139): find a partner and take on the challenge as a pair running together but splitting the workouts across the event.
Team Relay £156 (London £196): perfect to work as a team and split the work up between 4 people for the fastest and most accessible version of the race
Participants in HYROX can also attend one of the gym tour events, hosted across the country at gyms, run clubs and community fitness groups to get a taste for the competition.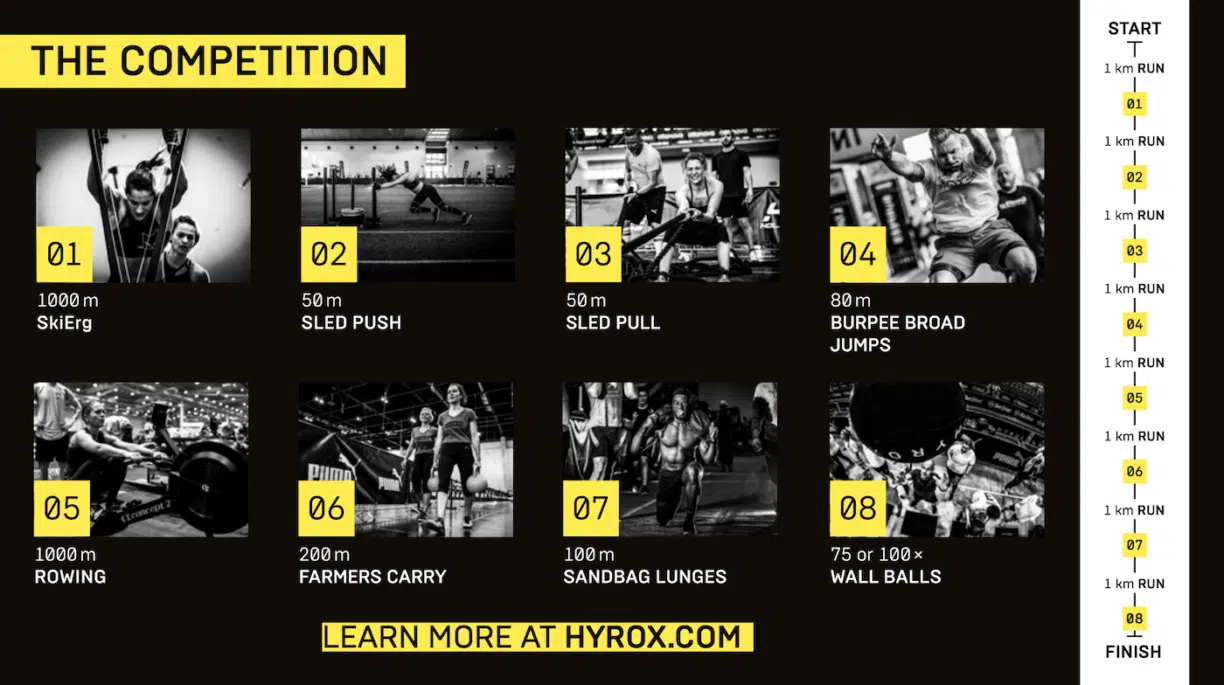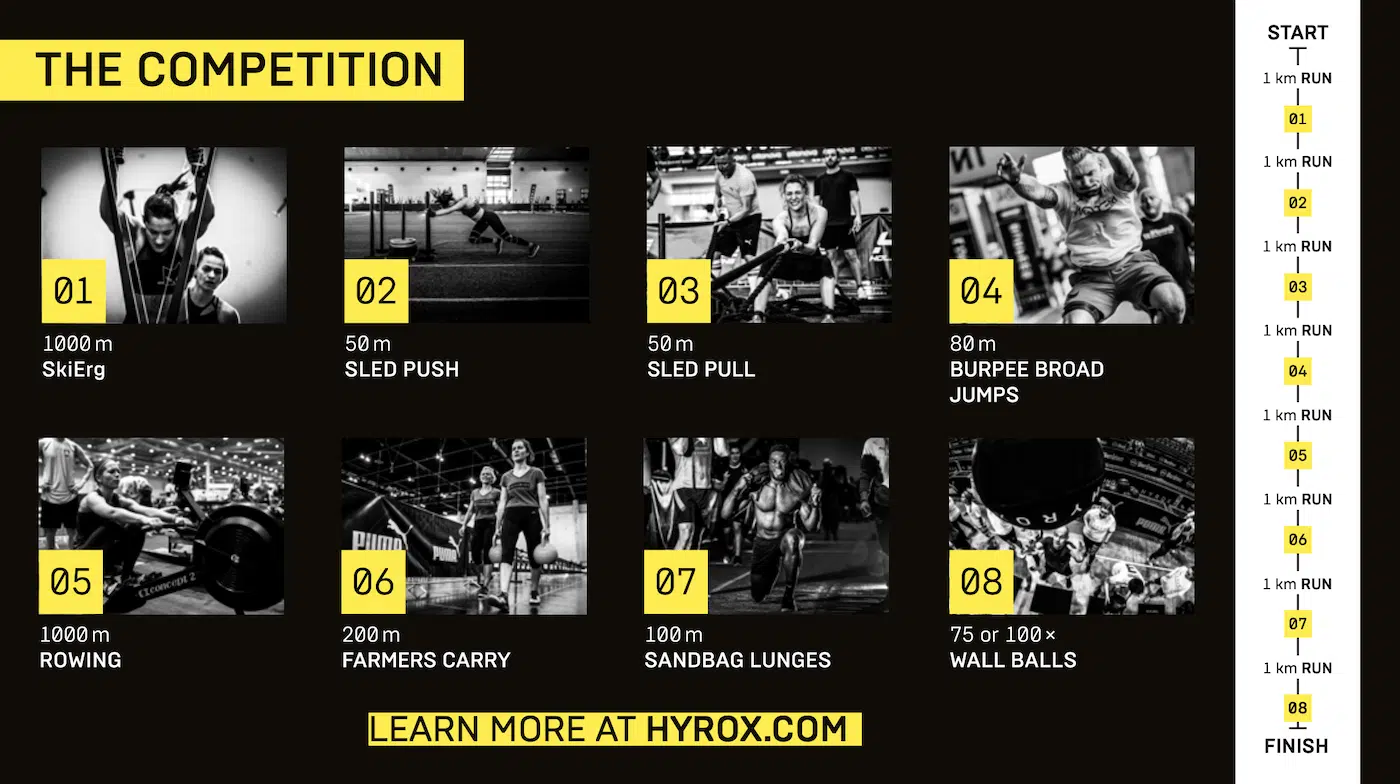 HYROX was founded in 2017 in Germany and has since rapidly developed a large international following for its universally accessible fitness racing concept.
Combining running, and functional movements each race is the same wherever in the world it is hosted with participants running 8 X 1KM laps and performing a functional movement challenge between each lap. (see functional movement above)
HYROX has enjoyed a remarkable debut season in the UK with 4 races fielding progressively larger fields of athletes (London Sept '21 679 athletes, Birmingham Oct '21 729 athletes, Manchester Jan '22 2,280 athletes, London April '22 4,003 athletes) granting the UK accolades as both the most successful First Season market ever and host of the largest individual event ever.
HYROX was founded in 2017 by Christian Toetzke, an industry veteran in the international cycling, marathon and triathlon world, and Moritz Furste, one of Germany's greatest ever hockey players and successful entrepreneurs.
HYROX was born out of the founders' desire for an event that would bring the endurance and functional fitness worlds together in a format that replicated the activities that regular gym-goers did in their workouts.
HYROX bridges the gap between traditional long-distance endurance events and functional fitness and attracts competitive athletes and enthusiasts from all sporting backgrounds.
HYROX has experienced remarkable growth in Europe and the US, with the World Series in Hamburg seeing 3,000 participants, 10,000 spectators, and live television coverage in 2019.
Bolstered by investment from the Infront Sports & Media Group in 2019 and aligned with significant international brand partners, including Puma and Red Bull, HYROX is now continuing its rapid global expansion plans following the curtailment of in-person events in 2022/23.
*HYROX Race Format:
1km run
1km Ski Erg
1km run
50m sled push**
1km run
50 m sled pull***
1km run
80m burpee broad jump
1km run
1km row
1km run
200m kettlebell farmers carry****
1km run
100m sandbag lunges*****
1km run
75 or 100 wall balls******