Last updated on July 30th, 2022 at 10:52 AM
It's 8 pm, and that annoying niggle in your calf is becoming one of those pains that you know will keep you awake, so what you wouldn't give for a massage or someone on hand to get to the exact spot and relieve that tension for you!
If you had the Hyperice you would have just that in the palm of your hand.
This latest fitness tech trend originally kicked off with Theragun, the brand that made the most noise about the handheld technology when celebs like Justin Bieber and NBA sports stars posted videos of themselves using the portable massage device online.
Now though Hyperice throws their hat into the ring with a plethora of sports stars investing in the wonderful bit of technology, with the likes of Rory McIlroy, Daniel Ricciardo, Connor McDavid, Klay Thompson, Jayson Tatum and more joining Naomi Osaka, Erling Haaland, and Virat Kohli as Hyperice Athlete-Investors.
So what is it that is so special about the Hyperice Massage tech, I took hold of the Hypervolt 2 to see what all the fuss is about from these sports stars who are championing the gun.
The Hypervolt 2 offers noticeable updates from the original, including an improved ergonomic design and reduced weight. Three speeds of powerful percussion help give muscles the relief they've been asking for, every day.
On first inspection the Hypervolt 2 Isn't just a massage gun, this nifty device comes with a brilliant app full of techniques to help you alleviate those niggling tension hotspots.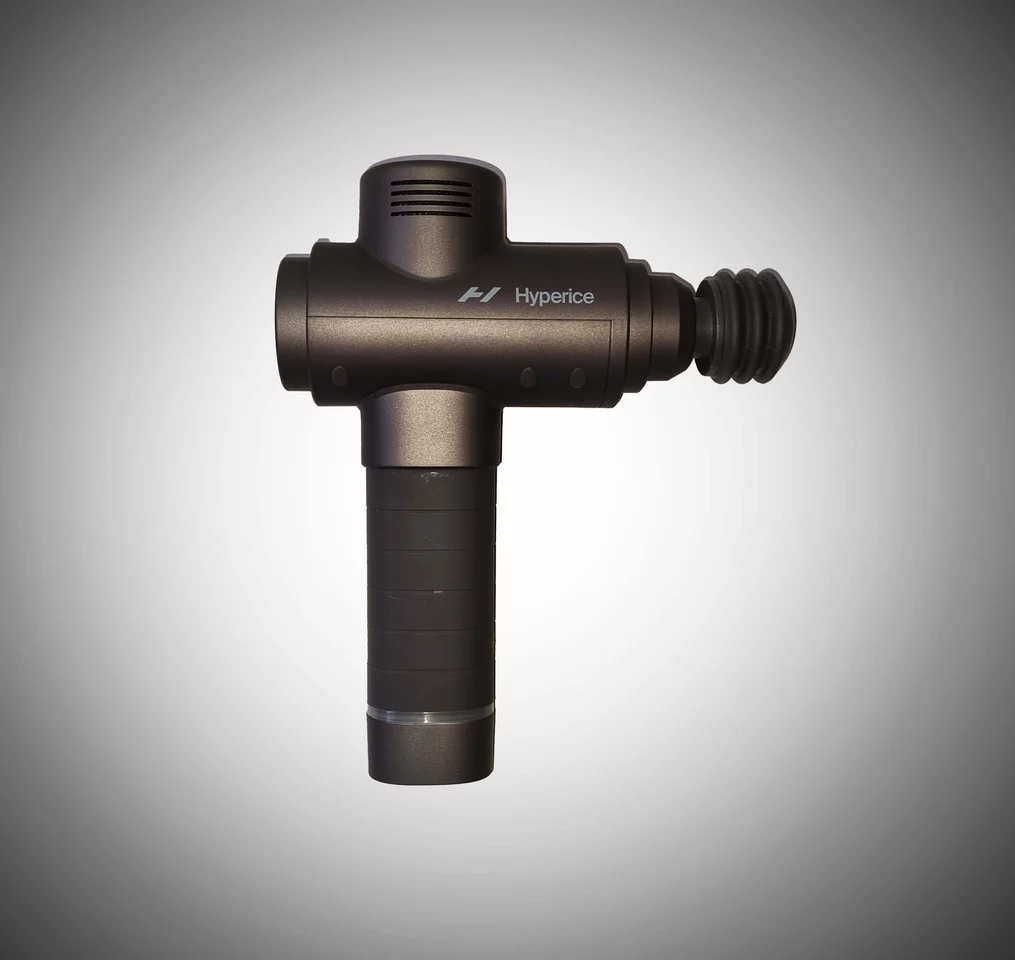 How does it work?
You can target certain areas or go for a nighttime relief set programme that shows you exactly where to hold the gun whilst automatically adjusting the speed settings and timers.
The Hyperice comes with plenty of easy-to-change adaptor heads for all areas of the body and the app tells you exactly what to use where.
It's like it not only relieves tension and aches and pains, but it teaches you the right positions to hold the device, so learning about massage at the same time.
What's the verdict?
Right now, there's growing emphasis on how what you do outside of the gym is just as important as the time spent sweating and racking up reps, and a lack of recovery could be the reason you're seeing sub-optimal results from your training.
Not only will this gadget speed up recovery time after strenuous workouts, but it will also improve your muscle flexibility and range of motion, which helps to avoid injury in the long run.
I can't wait to get my hands on some other Hyperice products as they are an absolute game changer and is an integral part of how I practice, play and recover on fitness and sports regimes.