The 2022 Sailing season has kicked off across the globe with SailGP's first stop in Bermuda, the TF35 Racing Tour season got underway in Lake Geneva, Switzerland, and the GC32 Racing Tour set sail again for its ninth season with the GC32 Riva Cup this weekend.
Three Sailing tours, all with their eyes on one prize – the Superbowl of Sailing, the prestigious 2024 America's Cup yacht race.
The blisteringly fast pace of catamaran racing provides a crucial battleground for the teams training for the infamous yacht race, as they fine-tune their coordination and skill to master the elements.
The GC32 Racing Tour allows teams to test out young blood and is a breeding ground for the best new sailing talent. The first stop is in Lake Garda, Italy this weekend and the competition is heating up.

Alinghi Red Bull Racing have two teams competing in the TF35 and GC32 in a campaign for the oldest trophy in international sport.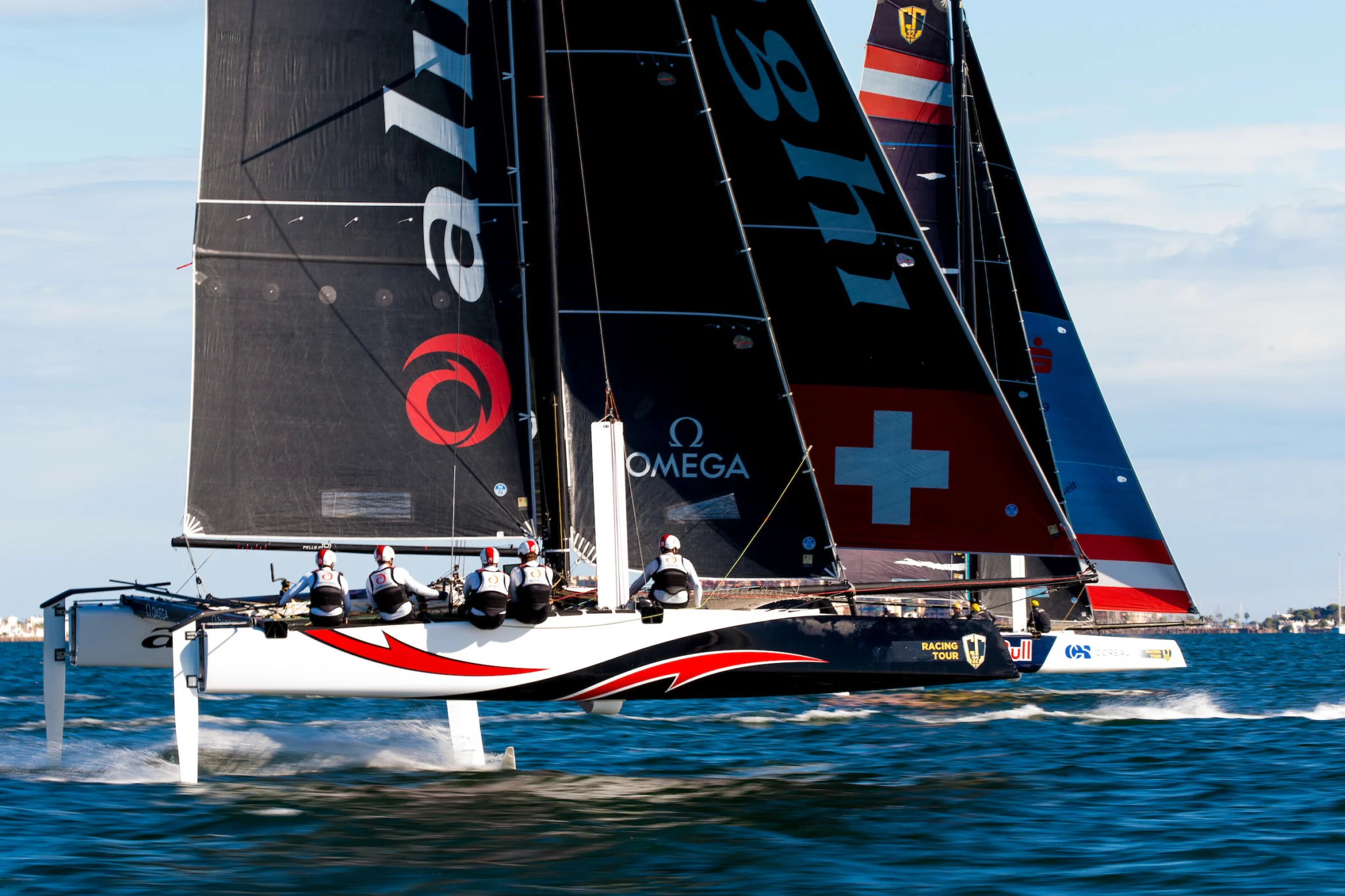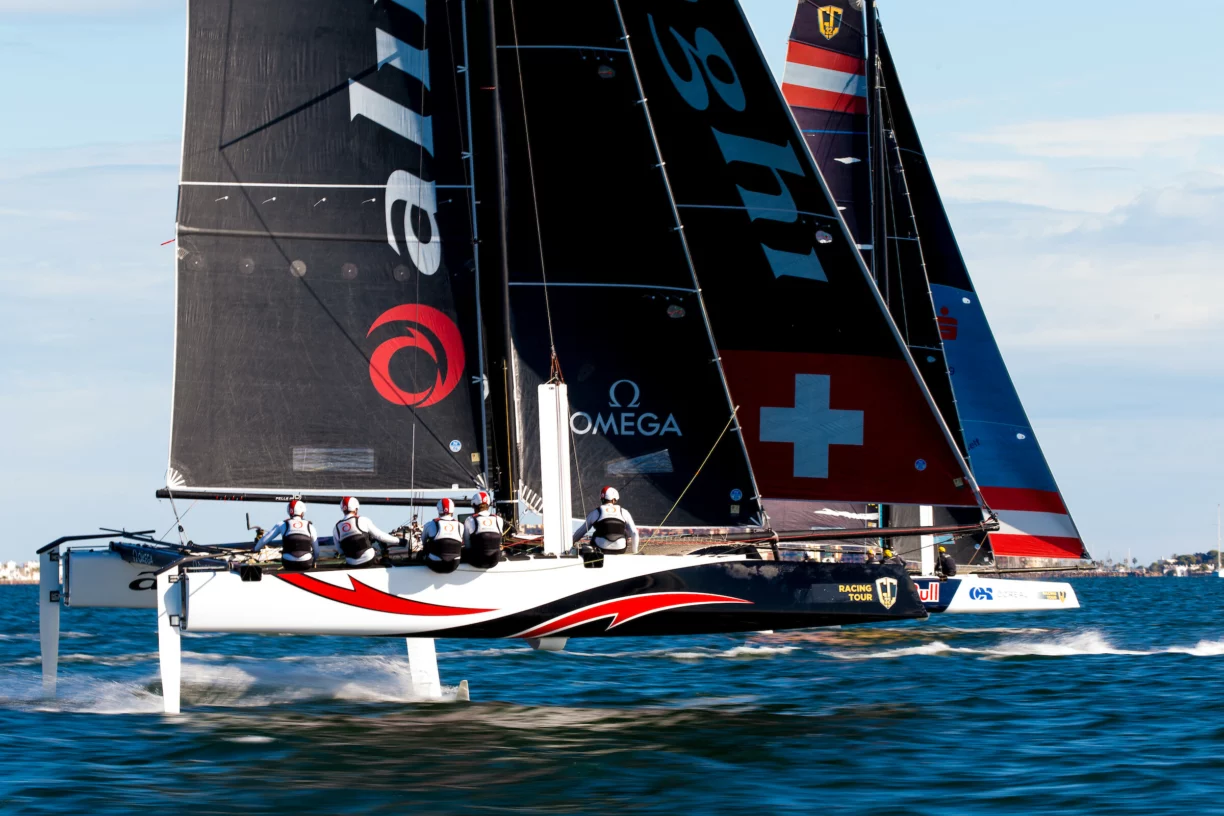 Team USA is racing in the SailGP tournament and is poised to defend its prestigious America's Cup crown in 2024.
SailGP uses the F50 Catamaran – state-of-the-art technology that is engineered to increase speed, reduce drag, optimise aerodynamics, and allow precision movement.
While the TF35 Racing Tour uses TF35 Catamarans, a simpler design for fast and efficient racing that combines lake sailing with open water racing.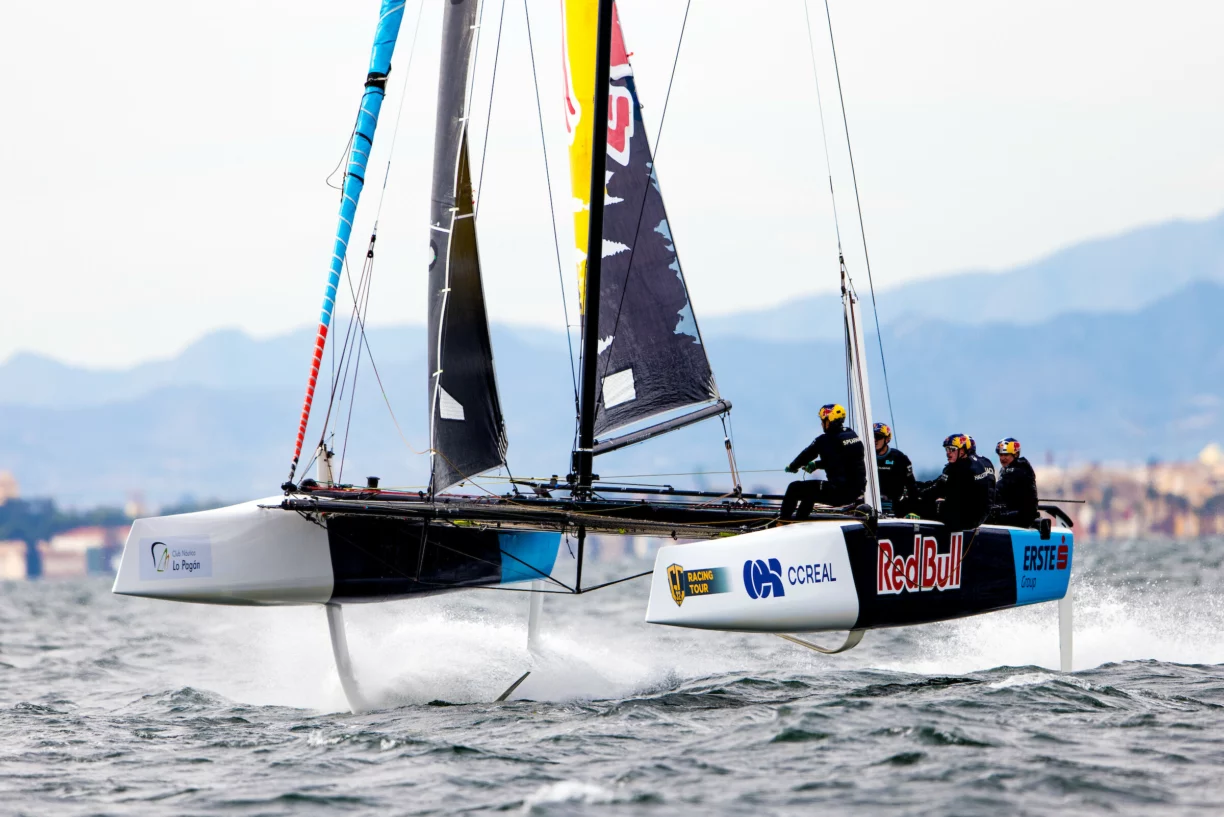 The GC32 Catamaran is a 10m long (12m including bowsprit) by 6m wide foiling catamaran that is a simplified version of the America's Cup yachts as it doesn't contain hydraulics or a wing.
The boats possess huge beams on a stiff platform that minimise flex and twist within and between the hulls as they routinely achieve 30+ knot speeds and staggering acceleration on the water.
What is the GC32 Racing Tour exactly?
Similar to the America's Cup, the GC32 Racing Tour visits venues that provide optimum wind conditions for foiling catamarans and racecourses large enough to enable the boats to hit maximum speeds.
This tour sees private owner-driven teams and commercially-backed foiling catamarans battle it out on the water with heated rivalries at a series of scenic destinations around southern Europe.
Teams are permitted to use a certain number of sail teams during the season. Since there are no hydraulics, the teams adjust the foils and sails manually through an army of grinders/cyclists.
While in the final stages of recruiting their team for the America's Cup, the Alinghi Red Bull Racing team made the bold move to sail with a new crew configuration for their first Grand Prix of 2022.

The GC32 Racing Tour 2022 Teams Overview:

Alinghi Red Bull Racing – SUI 8 (SUI)
Skipper: Arnaud Psarofaghis
Alinghi Red Bull Racing – SUI 15 (SUI)
Skipper: Maxime Bachelin
Argo
Owner-driver: Jason Carroll
Black Star Sailing Team (SUI)
Owner: Christian Zuerrer
.film AUS Racing
Owner-driver: Simon Delzoppo
Team Rockwool Racing (DEN)
Skipper: Nicolai Sehested
Zoulou (FRA)
Owner-driver: Erik Maris
What rivalries have emerged over the years?
The abbreviated 2021 season saw Alinghi win three out of the four events in an imperious display, only spoiled by a superb Red Bull Sailing Team victory at the GC32 World Championship in Villasimius.
Both boats and Swiss contender Black Star Sailing Team produced dramatic racing across all four stops with Alinghi having to dig deep and draw on all of its elite series experience to triumph.
Their rivalry goes back even further with Alinghi holding off both Austria's Red Bull Sailing Team and eventual runners-up Oman Air in 2019 over four action-packed stops, while previous champions also include NORAUTO (France) in 2018 and 2016, and Realteam (Switzerland) in 2017.
This season, the Alinghi Red Bull Racing crews are likely to face the strongest competition from the SailGP teams who are used to racing at very fast speeds and the traditional GC32 contenders.
What can we expect at the opening stop?
The GC32 Riva Cup – back on the calendar for the first time in three years due to the pandemic – is the first of five 2022 exciting events for the foiling one-design catamaran fleet created by Dr Martin Fischer – Chief Designer with the INEOS Britannia America's Cup challenger.
Lake Garda has the picturesque Dolomite mountains on three sides and is renowned for its flat water and strong winds with four privately-owned teams, two America's Cup teams and a SailGP team competing.
Alinghi Red Bull Racing – SUI 15 skipper Bachelin, 24, told the official website: "For me, it is a bit weird because I've always followed the GC32 Racing Tour over the past years and now it is me on the helm of one of the Alinghi Red Bull Racing boats! It is very exciting to start this regatta on beautiful Lake Garda. Hopefully, it will be windy, perfect conditions."
Psarofaghis revealed that the reason for entering a second team with a young crew is "to create team spirit, learn how to sail on a bigger boat than they are used to and to learn from each other."
Where do they go after Italy?
They head to Lagos in Portugal for the next two stops, including July's GC32 WORLD CHAMPIONSHIP, before rounding out the season with rounds in Sardinia and the Spanish coastal resort of Menor.
GC32 Racing Tour manager Christian Scherrer said: "It's great to see such a strong line-up of teams returning to the GC32 Racing Tour for 2022, including some new faces and some old.
I am looking forward to some fierce competition on Lake Garda for our classic season starting event out of the Fraglia Vela Riva and to more teams joining for the coming events of the season."
2022 GC32 Racing Tour calendar

May 25-29: GC32 RIVA CUP – Riva del Garda, Italy
June 22-26: GC32 LAGOS CUP – Lagos, Algarve, Portugal
July 13-17: GC32 WORLD CHAMPIONSHIP – Lagos, Algarve, Portugal
September 14-18: GC32 VILLASIMIUS CUP – Villasimius, Sardinia, Italy
October 19-23: GC32 MAR MENOR CUP – Menor, Spain