Last updated on May 4th, 2023 at 11:13 AM
Harlequins hosted its second annual Big Summer Kick-Off event, which saw the launch of the brand-new Summer Squad competition, giving young supporters a chance to fulfil a number of exciting matchday and media roles during the Gallagher Premiership fixture against Bath at Twickenham last Saturday.
Ten children between the ages of 7 and 14 years old were handpicked by Club Captain Stephan Lewies to undertake a range of different roles on the day, including; match day announcer, kit assistant, post-match interviewer, reporter and commentator. 13-year-old, Syd was selected to lead the squad's famous pre-match walkover from the Stoop to Twickenham, alongside Lewies and his teammates, and Head Coach Tabai Matson.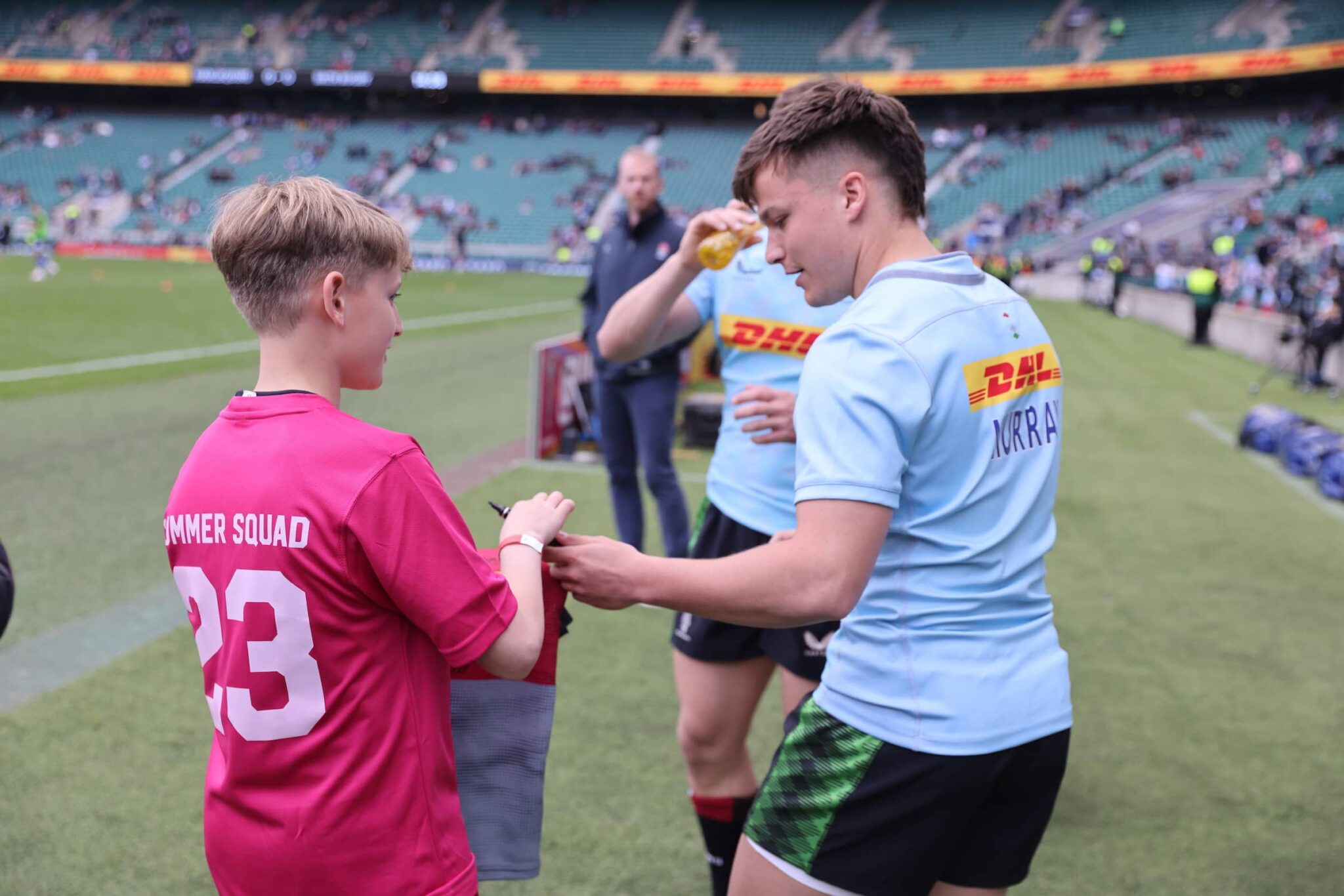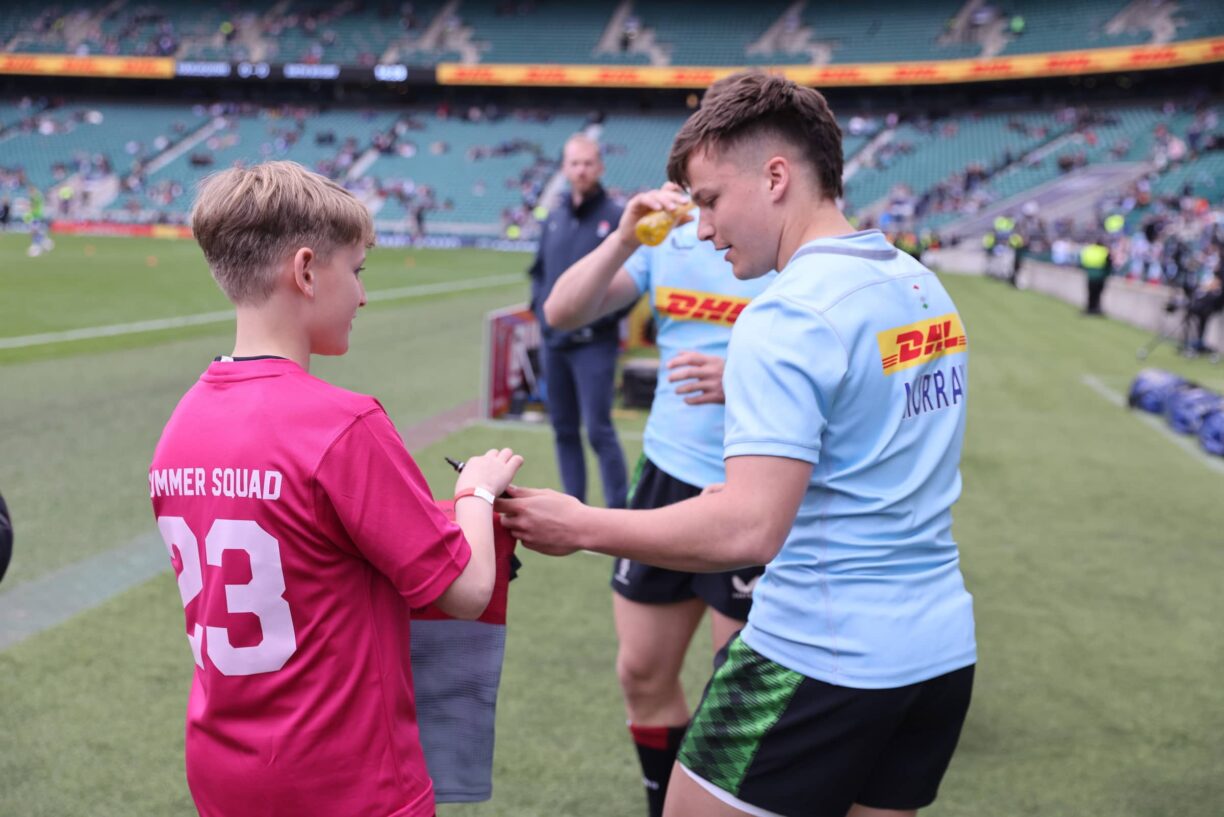 The event created memorable moments for each child to take away. None more so than Frankie-Paul, who was also celebrating his eighth birthday, and was presented with the chance to meet and interview Tabai Matson as part of his match-day role.
Having grilled Matson on a range of issues, Matson then turned the tables and interviewed Frankie-Paul on his thoughts and favourite players. Matson presented a signed Harlequins jersey to him as a surprise birthday gift.
All of the ten lucky winners who were chosen for this once-in-a-lifetime experience are listed below:
Matchday reporter, 11-year-old Kyla
Photographer, 13-year-old Sam
Photographer, 14-year-old Alex
Pre-match announcer, 14-year-old Joseph
Club commentator, 12-year-old Ethyn
Squad walkover leader, 13-year-old Syd
Post-match interviewer, 8-year-old Frankie-Paul
Ball collection team member, 13-year-old Delyth
Ball collection team member, 14-year-old Archie
Kitman, 14-year-old Conal
Joseph McLachlan, the day's pre-match announcer, said:
"It was a real privilege to be part of the day and have such an important role. It's been more than I could ever have imagined, and I never thought I'd ever get the chance to be on the pitch at Twickenham and meet the players that I cheer on each week. It's 100% been the best day that I've ever had at a sporting event and one that I'll remember forever."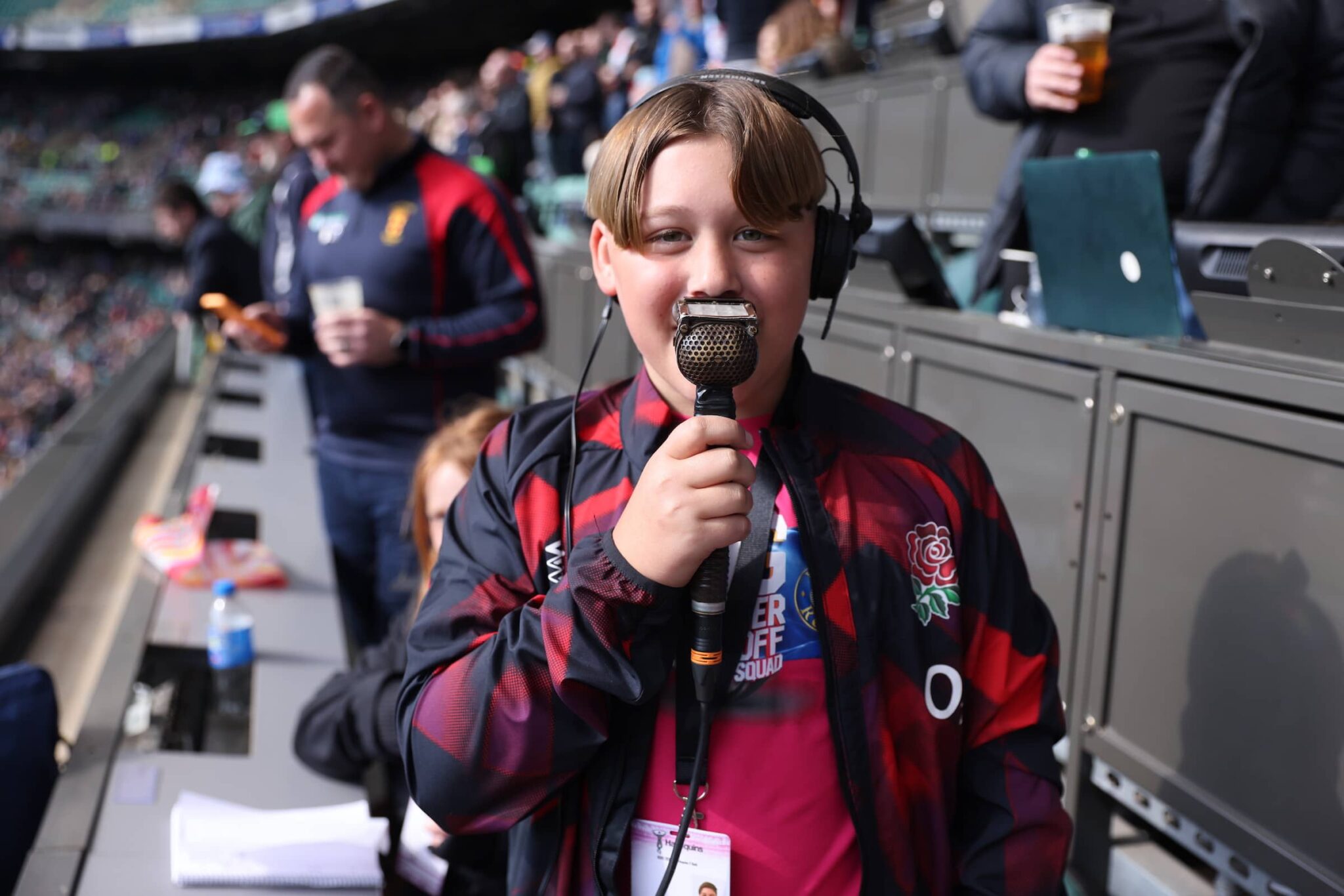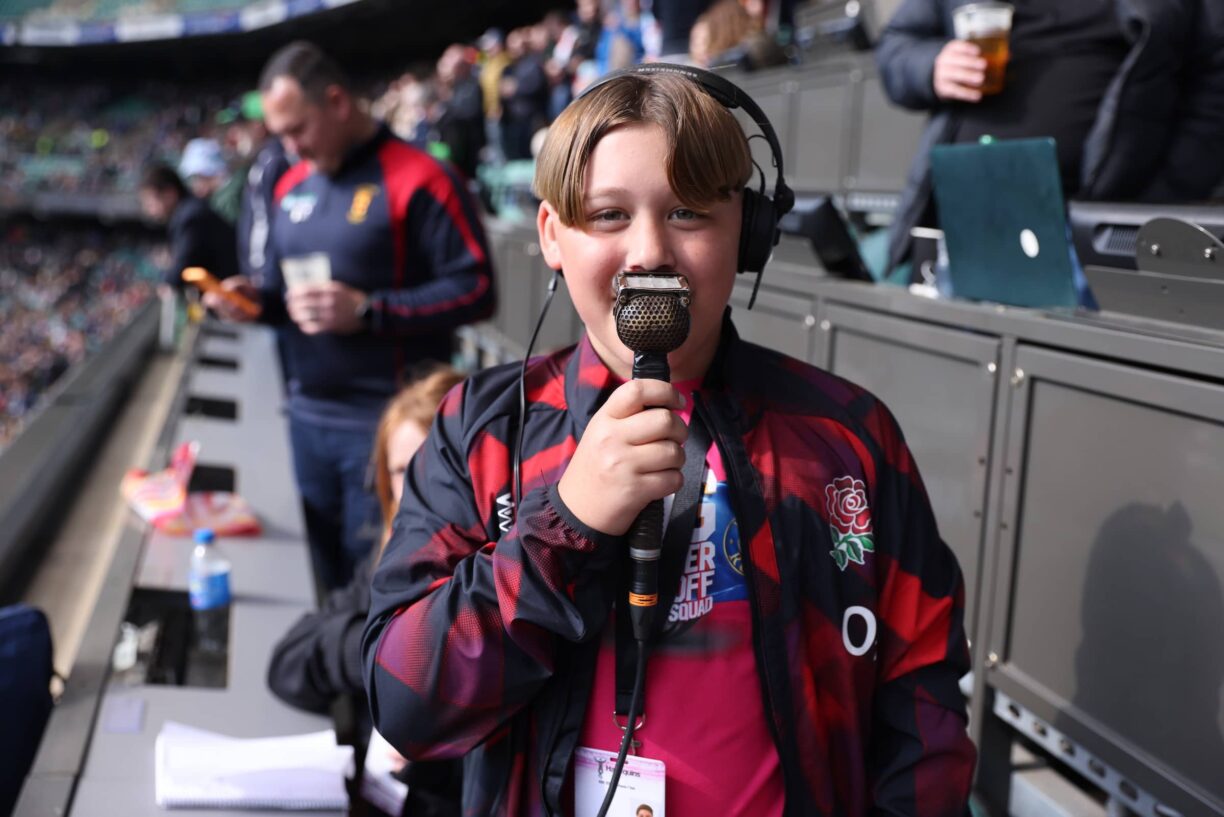 Arran McLachlan, Joseph's father, said:
"It was a proud moment for me to see my son do such a great job and look so happy. I don't think we could have asked for a better day out, it's the sort of thing that kids can usually only dream of!
I never had opportunities like this when I was growing up and I'm over the moon that Joe's been able to have this experience. We can't thank the Harlequins enough!"
Laurie Dalrymple, Chief Executive Officer at Harlequins, commented:
"The Big Summer Kick-Off is all about creating a unique experience and atmosphere, and our young Summer Squad were instrumental in providing this on Saturday.
All of the competition winners were fantastic on the day, and it was great to see the huge smiles on their faces as they got to not only meet their heroes but get a unique insight into the different match-day roles that most other fans never get to experience.
"It's safe to say that the club's backroom staff and media team are in good hands for the future. From the ball team to the commentators and matchday reporters, they all played a crucial part in the build-up, and delivery on the day, which hopefully provided them with memories that will last a lifetime."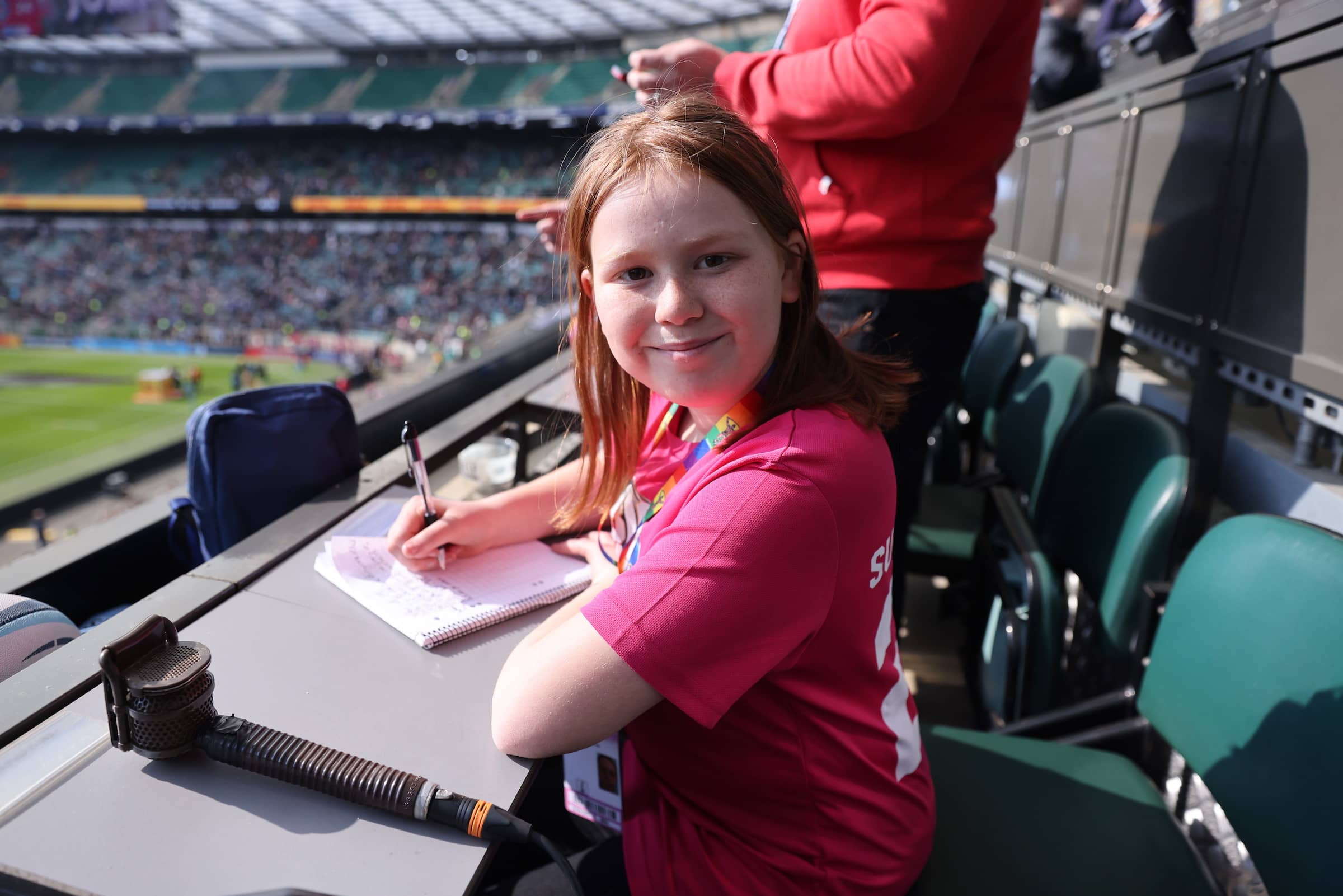 The quality of the game was fitting for the occasion, with both teams putting on a show to produce a high-scoring fixture. Despite Harlequins being on the wrong side of the 35 – 45 result, the supporters were still left smiling as they enjoyed post-match celebrations in the fan zone, with fairground rides and Massaoke keeping everyone in good spirits.
The annual event was designed with the whole Harlequins fan base in mind, with fantastic entertainment and activities suitable for all ages.
Fans from across the world enjoyed the pre-and-post-match entertainment at the West Fan Village at Twickenham, as well as the electric pre-match music performance from the legendary Kaiser Chiefs.
The day saw the culmination of the inaugural Harlequins Cup, as the finals of the Under 15 and 16 categories of Boys & Girls competitions were held at the Twickenham Stoop prior to the Gallagher Premiership clash.
The day also saw the under 10's community rugby festival taking place on Twickenham's turf, with 10 affiliate teams from Bath and 10 from the Harlequins community competing.