Last updated on October 15th, 2021 at 10:22 AM
One man. Seven days. A 500-mile cycle for Sport Relief to raise cash and deliver the BBC Sports Personality of the Year trophy to this year's winner.
Rugby star Gareth Thomas is taking on the toughest and most intense physical challenge of his career for Sport Relief, pushing himself to the limit to cycle 500 miles across three nations in just seven days.
Kicking off next week in Cardiff, the Tour De Trophy sees Gareth cycle a mammoth 12 hours a day for seven days straight, where his mission is to not only raise life-changing cash for Sport Relief, but also to deliver the BBC Sport Personality of the Year trophy from 2018 winner, Geraint Thomas' hometown to the lucky 2019 winner – live on stage in Aberdeen.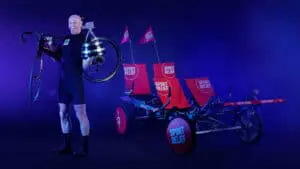 The former Welsh and British Lions rugby captain will pick up the trophy from Bute Park in Cardiff on Monday 9 December. He will then begin a week-long journey to the P&J Live Arena in Aberdeen where this year's BBC Sports Personality of the Year takes place.
He will battle the unpredictable British weather, in a heroic attempt to deliver the trophy in time for the crowning of the winner at the culmination of the live awards ceremony on BBC One, from 7 pm, Sunday 15 December.
En route, Gareth will travel through three nations including Ludlow, Warrington, Kendal, Gretna Green, Whitburn, and Dundee.
Gareth will switch between a solo bike and a Quattrocycle, four-person pedal bike, with the additional seats filled with friends and familiar faces from the world of sport and entertainment, as well as people who have been supported by money raised by Sport Relief.
While raising money, Gareth will learn about the work being done to tackle stigma in the UK, that Sport Relief makes possible, and highlight some of the great work being done to tackle injustice on home turf.
Gareth says: "We all deserve to live without being stigmatised for who we are.
Everyone deserves acceptance, everyone should be celebrated and feel able to access support.
I want to help break the cycle of the stigma and raise vital funds for Sport Relief projects that include supporting mental health issues, homelessness, domestic abuse, LGBTQ+ discrimination and vulnerable people."
On this challenge ahead, Gareth adds: "I know this is going to be incredibly tough, I have been training my heart out and the nerves are really building.
I am going to really need the support of people across the UK to get me through this."
Support Gareth at sportrelief.com.