Last updated on January 23rd, 2023 at 02:15 PM
Top Italian American restaurant Frankie & Benny's has been swamped with applications after offering a FREE wedding for Valentine's.
The popular restaurant has launched the ultimate cost of living crisis-busting wedding and they've already had thousands wanting to say 'I do'.
The team at Frankie & Benny's have been astounded by the number of applicants, many of the lovebirds had their first date at one of the restaurants and want to celebrate their special day where they first met.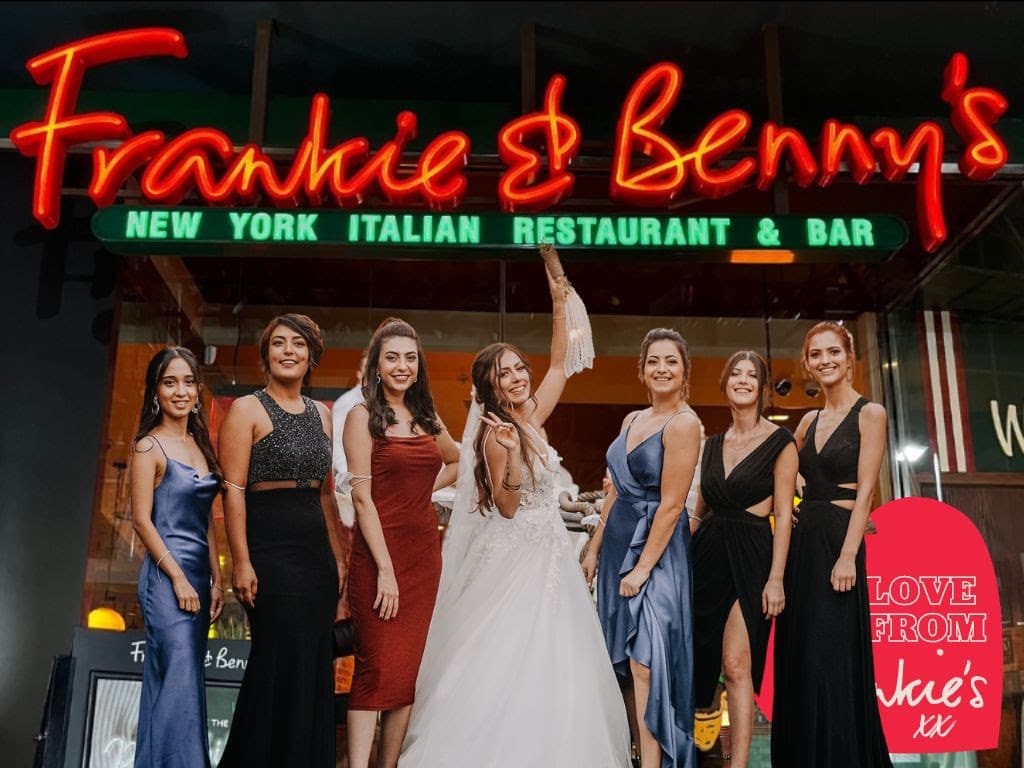 Frankie & Benny's announced on its social media channels that with disposable income at an all-time low they were stepping in to play Cupid.
Frankie & Benny's believe that money might not buy you love but it can buy you a free wedding reception with food, drink, a photographer and a special celebrity guest as a secret wedding crasher!
The spectacular event called 'With Love From Frankie's', worth £10,000, includes a tailored ceremony for the lucky couple and twenty friends and family.
The chosen Frankie & Benny's restaurant will be decorated for the big day and the bride, groom and guests will be greeted with tasty bites and fizz upon arrival.
The wedding party will be treated to Frankie & Benny favourites and work with the couple to create their perfect Frankie's menu. Anything from the much-loved garlic pizza bread with gooey mozzarella to the unbeatable creamy carbonara and the extensive vegan offerings. There will also be a videographer on the day to capture the magic moments.
So long as you've just tied the knot, or are about to, have a great love story, then you can apply for the free wedding. All applications need to be submitted via Facebook/Instagram by January 29, 2023.
To enter the prize draw you must complete the following steps on at least one platform (Facebook or Instagram) during the entry period. Instagram: Follow @frankienbennys on Instagram, and like Frankie & Benny's competition posts.
Direct message @frankienbenny's Instagram account and share your love story with their team and why you and your partner deserve to win this all-inclusive wedding reception.
For a bonus entry share Frankie & Benny's competition post to your story, and tag @frankienbennys.
Facebook: Follow Frankie & Benny's on Facebook and like Frankie & Benny's competition posts. Direct message @frankienbenny's Facebook account and share your love story with our team and why you and your partner deserve to win this all-inclusive wedding reception.
The winner will be drawn from a pool of all valid entries received from both Facebook and Instagram and will be notified by private message from Frankie & Benny's account on the relevant social media platform on which the winning entry was selected from.
Winners will be drawn and contacted by January 30 2023. If the winner does not respond within 48 hours, Frankie & Benny's reserve the right to draw a new winner.
Sasha Storey, Frankie & Benny's Head of Brand, said: ""At Frankie & Benny's we believe nothing should get in the way of love! We understand that with the current cost of living crisis it may be hard for couples and families to prioritise paying for a wedding when disposable income has become so squeezed. We're thrilled to help take that pressure off and throw an all-out wedding and reception, bringing families and friends together in true Frankies style!"
Please do read below Frankie and Benny's 'With love from Frankie's – Wedding Function' Terms & Conditions
Be in with the chance to win a free wedding reception, courtesy of Frankie & Benny's!
This spectacular event includes the following (but is not limited to):
Tailored ceremony for the beautiful couple (Please Note: This event is not a legally binding ceremony)
Decorated wedding reception for you & your partner, surrounded by 20 of your nearest and dearest.
Bites & drinks reception on arrival
Your Frankie's favourite dishes*
And much more*
All participants may enter this competition from the 18th of January 2023 – the 29th of January 2023
This event is non-refundable and cannot be exchanged for cash.
We reserve the right to switch the inclusions for this event to the inclusion of equal value.
We reserve the right to amend the terms and conditions of this competition & event.
Those entering must be 18 or over.
All participants must be engaged to be married/ or recently married.
Videography and photography will be present during this event for marketing purposes (Content taken on the day can be provided to the winning couple if requested)
TRG are the promotor of this competition.
Wedding attire, hair & makeup are not included within this competition.
This event will take place on one of the following days 10th – 12th February 2023, between 9am -12pm (Changeable at our own discretion)
*At our own discretion.