Last updated on April 25th, 2023 at 12:48 PM
Top Italian American restaurant Frankie & Benny's has launched a nostalgic 'Bring It Back' menu with 2003 prices!
The popular restaurant has unveiled a delicious new spring menu with dishes which are back by popular demand.
And what's even better for the next two weeks the prices are the same as when the dishes were first on the menu 20 years ago.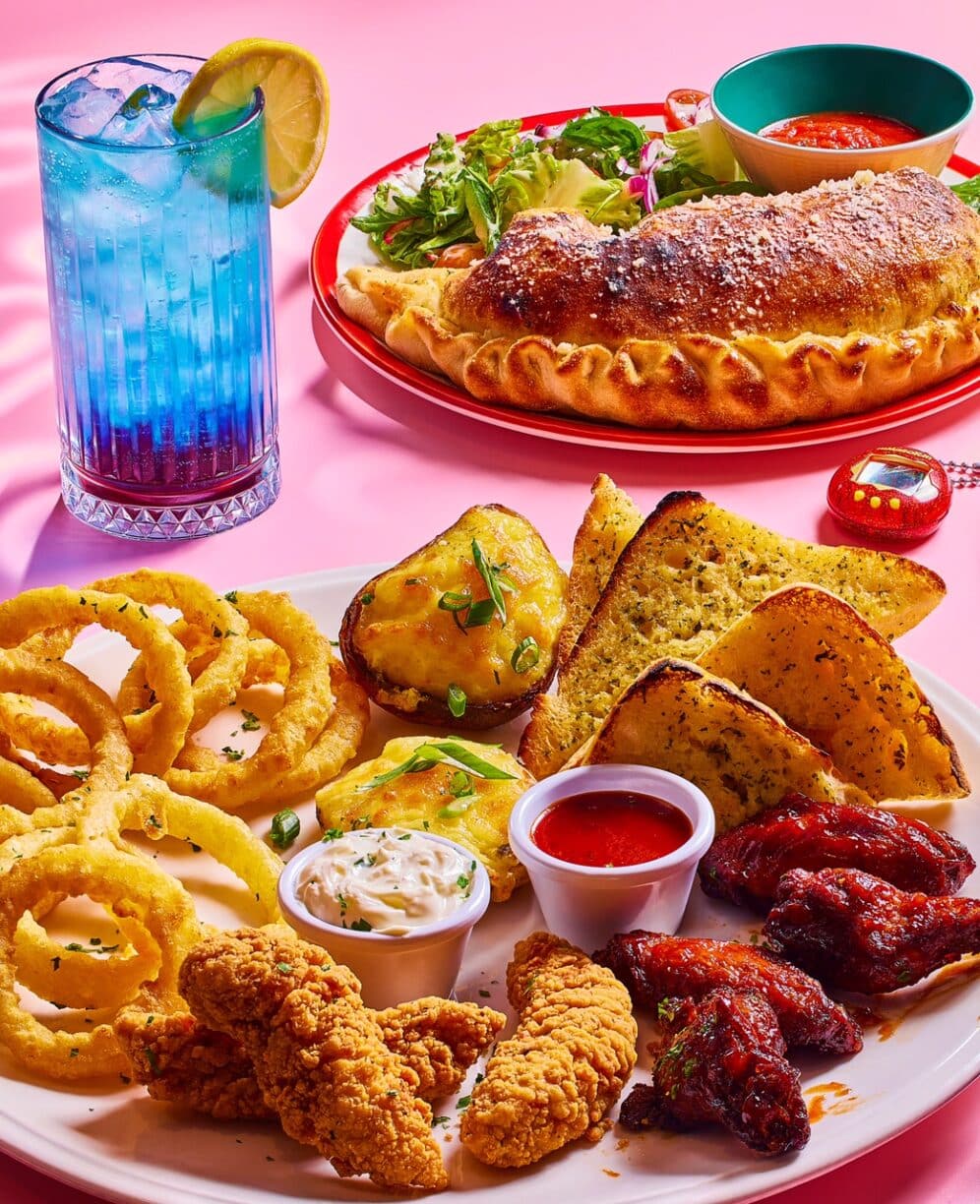 The nostalgic noughties menu takes us back to 2003, a year that first brought us iTunes and Finding Nemo, and sees Frankie & Benny's most loved dishes make a triumphant return in 2023, a year of nostalgic comebacks including S Club 7 reunion tour, LimeWire and noughties fashion. 
In a year of cultural nostalgic movement, what a year to launch a bring it back menu and with special offer prices to tackle the cost of living crisis.
The Bring It Back Spring Menu features classics such as cheesebake, a sharer platter which includes chicken wings, loaded potato skins, chicken strips, garlic ciabatta bread, onion rings and dips. Calzone pizzas, ice cream sundae, a Purple Rain cocktail and a Coca-Cola float with delicious vanilla ice cream. 
For these special dishes to be worthy of a return Frankie & Benny's the restaurant asked guests, employees and fans alike what they wanted to see on our Bring It Back nostalgia menu.
Following feedback, and some seriously epic development work from the food team, they created all the most-loved dishes from Y2K but with some fresh new twists and tweaks. The result? A menu that radiates nostalgia, inspired by our menu circa 2003, and delivers on our food quality goals for 2023 – and then some.
The Bring It Back menu will launch on April 25 and be available until July 4. The dishes will be discounted by 20.03 per cent to take the prices back to where they were in 2003. These special prices, designed to tackle the cost of living crisis, are available for two weeks until May 9.
Frankie & Benny's Marketing Director, Andreia Harwood, said: "There's nothing that lights up a conversation more in the UK right now than nostalgia.
Whether we're fondly reminiscing on fatal fashion faux pas from years gone by or reciting lines from our favourite shows, we are well and truly down to chat all things 90s and Y2K.
"Frankie & Benny's played a key part in our lives during that time and no childhood would have been complete without a birthday party at Frankie's or a quick bite to eat before heading to bowling with friends.
"We wanted to tap into those core memories this year, at a time when we're all craving a generous, delicious dose of nostalgia which inspired the Bring It Back nostalgia menu. Head over to our website to explore the menu and book a table www.frankieandbennys.com/bring-it-back."
The Bring It Back Menu:
Starters
Mamma's Cheesebake 7.90
A blend of our finest cheeses, baked on Mamma's Napoletana sauce and served with warm ciabatta bread for dipping
Benny's Sampler Platter 15.20
Ideal for 3-4 people
A sharing selection of BBQ chicken wings, loaded cheese potato skins, chicken strips, garlic ciabatta bread & onion rings. Served with sour cream, BBQ & hot sauce dips
Main – Loaded like never before, a Frankie's favourite served with a side salad & extra sauce for dipping!
New Yorker Calzone 15.40
Crisp folded pizza brushed with garlic & herbs, sprinkled with Italian cheese, filled with bacon, pepperoni, ham & mushrooms with Napoletana sauce
Siciliana Calzone 15.40
Crisp folded pizza brushed with garlic & herbs, sprinkled with Italian cheese, stuffed with beef meatballs, Bolognese sauce & 'Nduja
Desserts
East Coast Sundae 5.90
Chocolate & vanilla ice cream layered with honeycomb, mini marshmallows, Maltesers & chocolate sauce, topped with whipped cream
Drinks
Purple Rain 7.80
Smirnoff vodka mixed with blue curacao syrup & sours, topped with lemonade & a dash of grenadine
Coke Float 4.20
Coca-Cola topped with a scoop of vanilla ice cream
Terms & Conditions:
This offer entitles guests with a valid QR code to redeem 20.03% of food & drink on Frankie's Bring It Back Menu.
This offer is available from the 25th of April 2023 – 9th May 2023.
This offer is applicable on new menu items only from our Bring it Back Spring Menu – This offer does not include our Purple Rain Cocktail.
To qualify for this offer, diners must present a valid QR code
This offer is valid for up to 4 people per table
This offer cannot be used in conjunction with other promotions, including the Lunch, Evening and Kid's set menus
This offer is not valid at our Praed Street restaurant.
This offer may not be valid in event restaurants on event days and will be processed at the manager's discretion. Please call ahead if you are looking to redeem at any of our event restaurants: Wembley Designer Outlet, Cardiff St David's, Greenwich O2, Burleigh House, Sheffield Meadowhall, Oxford, Manchester Printworks and Sheffield.
This offer is only valid for orders made whilst dining in the restaurant.
We have the right to amend or withdraw this offer at any time.