Last updated on August 22nd, 2021 at 03:13 PM
It's been a long cold winter, so why not celebrate the first signs of spring by planning a camping trip with a range of new equipment.
Whether you are heading on an adventurous weekend in the dramatic Peak District, or a relaxing nature-filled mini-break in the Welsh country side, Decathlon's range of high performing camping equipment is sure to help make your next trip to the great outdoors enjoyable.
Whether campers are looking for the perfect new tent to ensure they get the best night's sleep or a new sleeping bag that keeps away the chill on a fresh spring morning, Decathlon has everything required to camp in comfort.
Tents
QUECHUA AIR SECONDS 4.2 F&B TENT – £299.99
Looking to camp in style? This tent is all about getting the most from your camping break.
The inflatable structure and pre-assembled bedrooms makes pitching a breeze, simply inflate and start enjoying everything this tent has to offer, without any need for tent poles. Helpfully, the tent also features zip-in removable ground sheets for added ease.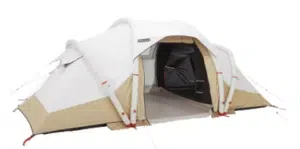 The Fresh&Black technology means the bedrooms in these tents are 99% dark, so late risers can enjoy a lazy morning uninterrupted by the sun.
Thanks to the two separate bedrooms this tent is perfect for camping with friends or older children who want their own space. What's more, no matter how many campers decide to stay, the Fresh&Black technology, plus the ventilated living room, will keep the tent cool and condensation free.
QUECHUA 2 SECONDS XL FRESH & BLACK POP-UP CAMPING TENT | 3 MAN – £109.99
For camping parties who need a little extra space for their camping equipment, this spacious three-man tent comes with a handy separate storage space at the front of the tent, ideal for boots and rucksacks.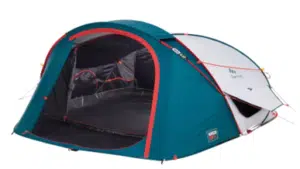 The pop-up tent is incredibly quick to assemble and comes with clear instructions on how to fold away once the camping fun is over.
The Fresh&Black technology means this tent remains cool and condensation free, whilst blocking out 99% of the light, allowing everyone to get a goodnight sleep before an exciting day in the great outdoors.
QUECHUA CAMPING TENT MH100 – 2 MAN – £24.99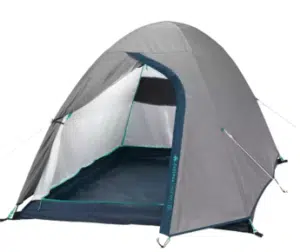 First time campers will love this compact but mighty tent, as it comes with all the components you need to enjoy a romantic camping break for two or an adventure weekend away with your best friend.
The traditional dome shape of this tent makes for quick and easy pitching and dismantling. The tent also comes with guy ropes for additional security, when pitching up in windy weather.
The tent folds away into an easy to carry compact bag weighing just 2.4kg, ideal for bringing along on a road trip or carrying in a backpack during a trek.
QUECHUA ARPENAZ 4.1 FAMILY CAMPING TENT | 4 MAN – £79.99
This four-man tent makes camping with family and friends easy as it comes with oodles of space including a large living area – the perfect place for games after a long day exploring the great outdoors.
This waterproof tent will protect your camping party from the elements and is durable enough to withstand up to gale force six winds.
The colour coded pole system makes this tent easy to assemble, so the camping fun can start as soon as possible, without having to handle complicated pitching instructions.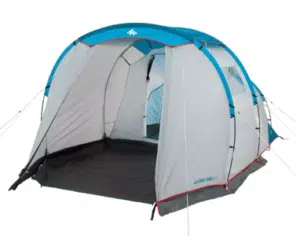 Air Mattresses
QUECHUA INFLATABLE CAMPING MATTRESS – AIR BASIC 140 CM – 2-PERSON – £17.99
Combining affordability and all-important comfort, the velvet top of this mattress will be a welcome feel at bedtime after a day of camping fun.
Durable enough to withstand at least 60 inflations, this mattress is sure to become your new camping best friend, as you take it on trip after trip.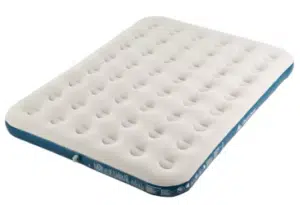 Easy to assemble, the mattress can be inflated in just one minute and is simple to deflate once it is time to pack up the campsite.
FORCLAZ TREK 700 AIR L TREKKING MATTRESS – YELLOW – £34.99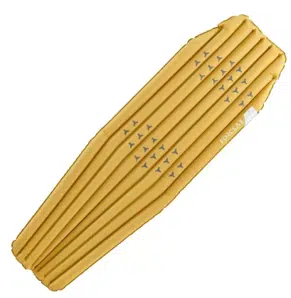 For the adventurous souls who are planning a trekking trip, this mattress offers a comfortable sleeping base after an exciting day. The ultra-compact mattress weighs just 510g when folded, perfect for when trekking to several locations on one trip.
The thick foam bedding surface adds thermal insulation from the cold ground, ensuring campers stay warm and comfortable.
The mattress comes with handy silicone patches on the surface, which prevents sleeping bags from slipping, keeping campers secure whilst they sleep.
Sleeping Bags
QUECHUA 2 IN 1 SLEEPING BAG – SLEEPIN BED MH500 15°C L – BLUE – £59.99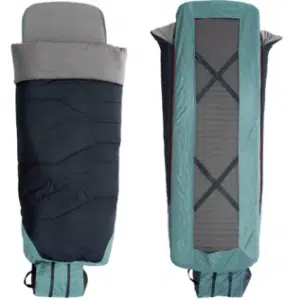 Perfect for those who want to add a little bit of luxury to their camping trip, this two-in-one sleeping bag comes with a cosy mattress attached.
Campers needn't bring a pump along simply unroll and release the 'in' valve allowing the mattress and sleeping bag to self-inflate.
Despite adding a touch of home comfort to any camping trip, this sleeping bag and mattress combination saves valuable packing space, as it folds into one compact carry bag, so no need to bring two items of camping equipment along.
What's more, this mattress can attach together with any other Decathlon sleeping bag, making it perfect for enjoying a weekend break away for two.
FORCLAZ TREKKING SLEEPING BAG – TREK 500 10° – LIGHT GREY – £39.99
Snuggle down after a day of trekking in the great outdoors with this cosy sleeping bag. Designed in an insulating mummy shape (tapered in at the feet) and with two ¾ zips for ventilation, sleeping adventurers can ensure they stay at the optimum temperature.
The water repellent sleeping bag fabric keeps moisture away, keeping weary campers dry warm.
Easy to transport, this sleeping bag weighs just 970g, making it perfect to stuff into backpacks as you continue on your trek.
Decathlon has 45 stores in the UK and sells a variety of sports equipment, clothing and accessories perfect for those want to get active or maximise their performance.
For more information, visit www.decathlon.co.uk