Last updated on April 12th, 2022 at 07:26 PM
Eatplanted, have announced their partnership with David Lloyd Leisure, Europe's largest health and leisure group launching five delicious dishes on the new spring/summer menu in the group's UK Clubs, all based on the award-winning Eatplanted.chicken.
Capitalising on the ever-growing expectation for popular destinations to have a tasty variety of plant-based and sustainable dishes on the menu, David Lloyd Clubs chefs have created five vegan 'takes' using Eatplanted.chicken, including two kids menu options, to help their members make the healthiest and most planet-friendly food choices.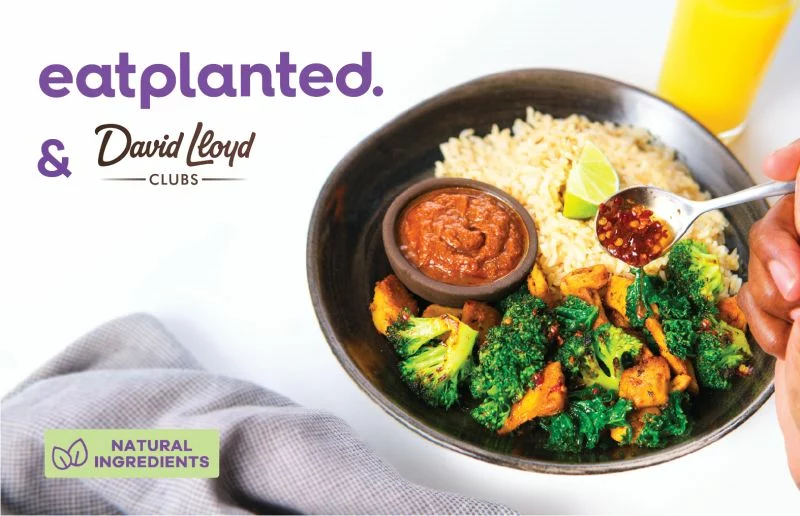 Michele Mawhinney, F&B Product Development Manager at David Lloyd Leisure said, "Our partnership with Eatplanted means we are offering our members the tastiest and most sustainable menu we have ever had.
Our members are really enjoying tucking into our Eatplanted range of healthy protein dishes and a clear early favourite is the lemon & herb Eatplanted.chicken katsu curry."
In November 2021, the Swiss Foodtech start-up, Eatplanted, which prides itself on hero-ing plant proteins and elevating them to gastronomy, officially launched in the UK.
With distinctive, quality products made from a 'bio-structuring approach' that creates 'meat like fibres', all Eatplanted products consist of different protein sources (peas, oat, sunflowers), made from simple, natural and clean ingredients with no additives.
UK Country Manager, Matt Done, said: "David Lloyd Clubs' members expect quality, health and taste from dishes served in their restaurants so the partnership with Eatplanted.chicken on the new menu is a natural fit.
We've been told we are the 'Roger Federer of alternative meats' because of our top quality, clean ingredients so now we've partnered with the UK's premier wellness and leisure brand, it must be true".
The five David Lloyd Club and Eatplanted dishes available on the main menu and kids menu are:
Cobb salad with Eatplanted chicken
Eatplanted chicken katsu curry
Eatplanted chicken fajita pizza
Kids Eatplanted chicken katsu
Kids Eatplanted chicken topped pizza