Even in times of hardship and uncertainty, Dwayne Johnson will always try to push forward, show up, recommit, and restart.
His latest Project Rock collection with Under Armour is a rallying cry—motivating audiences to take that first step and complete that first rep, to emerge better and stronger than before—because success and progress begin with us.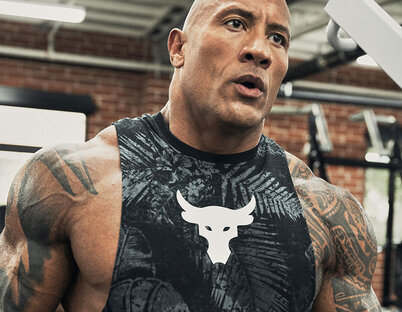 As the world changes, and we change with it, Dwayne delivers a message of resilience: In the face of fear and doubt, our desire for overcoming odds will never go away.
Joined by Project Rock Global Ambassador Lindsey Vonn, who surpassed each obstacle and injury to become a champion, they prove that through the work, we can rise up, we can break through, and emerge stronger in spite of the hurdles we face.
Johnson and Under Armour are proud to commit a portion of the collection's proceeds to Team Rubicon, a non-profit organization Johnson is passionate about which serves communities by mobilizing veterans to continue their service while leveraging their skills and experience to help people prepare, respond, and recover from disasters and humanitarian crises.
This Project Rock donation adds to Under Armour's recent initiatives related to COVID-19, which include manufacturing and delivering protective gear, supporting food banks, and launching digital at-home workout content and fitness challenges.
With this collection, Project Rock extends its offering of gym-focused apparel for men, women, and children, which feature the motivation needed to tackle the first step as we rebuild.
The assortment includes leggings, hoodies, shirts, shoes, bags, and more, which are composed of Under Armour's innovative technology and available in neutral colorways and bold prints.
The newest Project Rock collection can be purchased online at UA.com, in Under Armour Brand Houses, and through select global retailers starting Thursday, May 21.