Last updated on April 24th, 2021 at 09:04 PM
By David Saunders | UPDATED: 05:28, 27 January 2020
Are you tired of the same old sandwich, crisps and yoghurt combination at lunchtime?
Do you struggle to find time for meal prep?
Concerned that you and your family aren't eating a healthy, nutritious lunch?
You are not alone:
–        According to a study by researchers at the University of Leeds, fewer than two in every 100 packed lunches eaten by children in English primary schools meet nutritional standards, and nutritional quality has declined over a decade.
–        Ham sandwiches are still the staple of our children's lunchboxes, and one third of adults eat the same lunch every single day, with no variety.
–        On average, people spend £6.08 on average each day on lunch alone, with those in London spending £15.51. This adds up to £13.6bn annually.
–        Even salads are not the healthy choice, often containing more calories and fat than sandwiches.
–        It's not just our diets that are being impacted – so is the environment. The 'Lunch on the go' habit generates 11bn items of packaging waste a year.v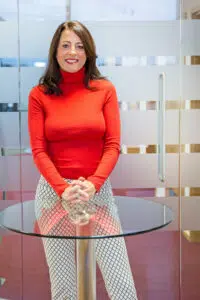 Fear not, help is at hand thanks to Jenny Tschiesche's new book, Real Lunchtime Food.
This easy to read book is the perfect guide for parents who want to create healthier, more inspiring meals for their children and for adults who are fed up of the staff canteen and local shop offerings.
The book is jam packed with deliciously simple recipes as well as practical nutritional information and advice that will put readers in control of lunchtime once again.
Also included are tips on how to shop smart, how to make use of leftovers, as well as tips on environmentally-friendly packaging solutions to help get your lunch to work or school so you can actually enjoy what you have taken time to make.
Jenny says, "It's very clear that both adults and children need to make sure they are well fuelled and able to keep up with the demands of a busy lifestyle. Many of us grab a pre-packed sandwich and an energy drink at lunchtime, but this just won't cut the mustard on so many levels.
This book is all about being able to create healthy food, and because everything is simple and easy to make, they don't add to your stress levels. What we eat impacts how our bodies and brains function, and that's exactly what Real Lunchtime Food is about.
She adds, "There's no rule to say that lunches have to be made up of salty sandwiches and soggy salads and that is something that needs to change. As well as recipes, I talk about stocking the store cupboard with good quality, readily available foods, what basic equipment you need and hopefully empower people to take positive control of their family's diet and health.
Lunchtime is an opportunity to enjoy a delicious and nutritious meal and this book makes that a reality, rather than a job for another day."
Author Jenny Tschiesche Biography
Presenter and nutrition expert, Jenny Tschiesche is the founder of LunchboxDoctor.com, which provides a range of resources, menu plans, recipes and nutrition advice.
She has a degree in Nutritional Therapy from Bedfordshire University and her career as a nutritionist has seen her work with Olympic athletes; design recipes for the likes of the BBC, Cancer Research and Premiership Rugby amongst many others; and make regular appearances in the national press as a nutrition expert.
Jenny is an inspired and inventive cook who has worked with athletes, sporting bodies, people dealing with illness, parents, fussy eaters and children. She has helped thousands of clients and conducted seminars, workshops and lectures globally. A gifted speaker and presenter, she is also a regular contributor to the national press, BBC radio and TV.
Real Lunchtime Food Book Details
Title – Real Lunchtime Food  – Delicious, Healthy Lunches to Suit Your Family's Busy Lifestyle
Author – Jenny Tschiesche
Publication date – Thursday, December 12, 2019
Price – £8.99
Publisher – Robinson
EANISBN-13 9781472142863
BIC 2.1 Health & wholefood cookery (WBH), Quick & easy cooking (WBF), Dietetics & nutrition (MBNH3)
Binding – Paperback
Format – B Format
Extent – 240 pages
Word Count – 40,000 words
Buy on Amazon
Previous Titles – Sheet Pan Cooking: 101 recipes for simple and nutritious meals straight from the
Oven; The Modern Multicooker Cookbook: 101 recipes for your Instant Pot; Gut Health and Probiotics: The science behind the hype.