Last updated on August 31st, 2022 at 07:58 PM
With a firm belief that knowledge is power, elite Personal Trainer, Group Fitness Instructor and Online Coach Chelsea Labadini is on a mission to educate women about results-based fitness and help women get their body confidence back without the fad diets and excessive exercise regimes. 
Helping women to take control of their bodies, learn how to train and build self-confidence, Chelsea is passionate about dispelling the fitness myths which have shaped the mindset and training regimes of so many women, often with unrealistic goals and restrictive diets that take the fun out of life.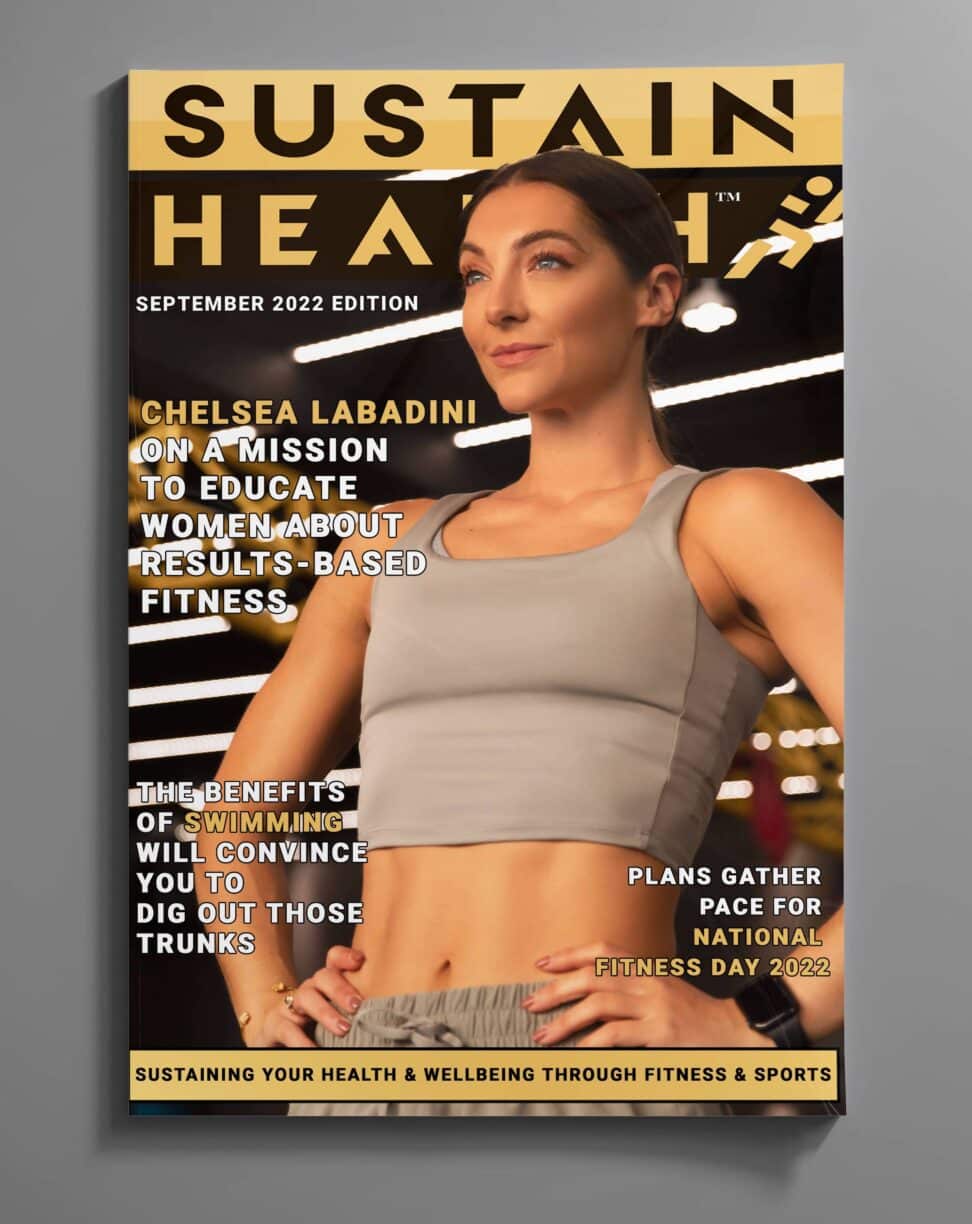 Coaching a wide range of models, actors, and dancers, as well as teaching part-time at one of the UK's leading gyms, Equinox, Chelsea recently launched an online platform to be able to share her advice and training style globally.
Using her app to create personalised nutrition guides and workout plans, Chelsea does not subscribe to a one-size-fits-all approach and works personally with clients to keep them accountable with realistic regimes which take into account individual goals and lifestyle.
It's time to ignore the fitness myths of the past and get more bang for your buck when it comes to working out with Chelsea Labadini, a leading Personal Trainer and Online Coach. 
What's your favourite and least favourite exercise?
My favourite type of exercise is without a doubt strength training. It's the most empowering feeling when you are strong. I love the technique that's involved, I love how you can see your progress and I love how it can transform people's bodies and minds.
Before I was a trainer I always thought that it would make me bulky however it actually transformed my body.
This sounds cheesy but I'm not sure of my least. I don't dislike any form of exercise and love learning new things and ways to challenge my body.
If I think about the one that I dread the most then it's running. If I want to do some cardio I need to book into a class and have loud music and someone shouting at me or else it's likely that it's not going to happen!
How often do you train yourself and how long is each session?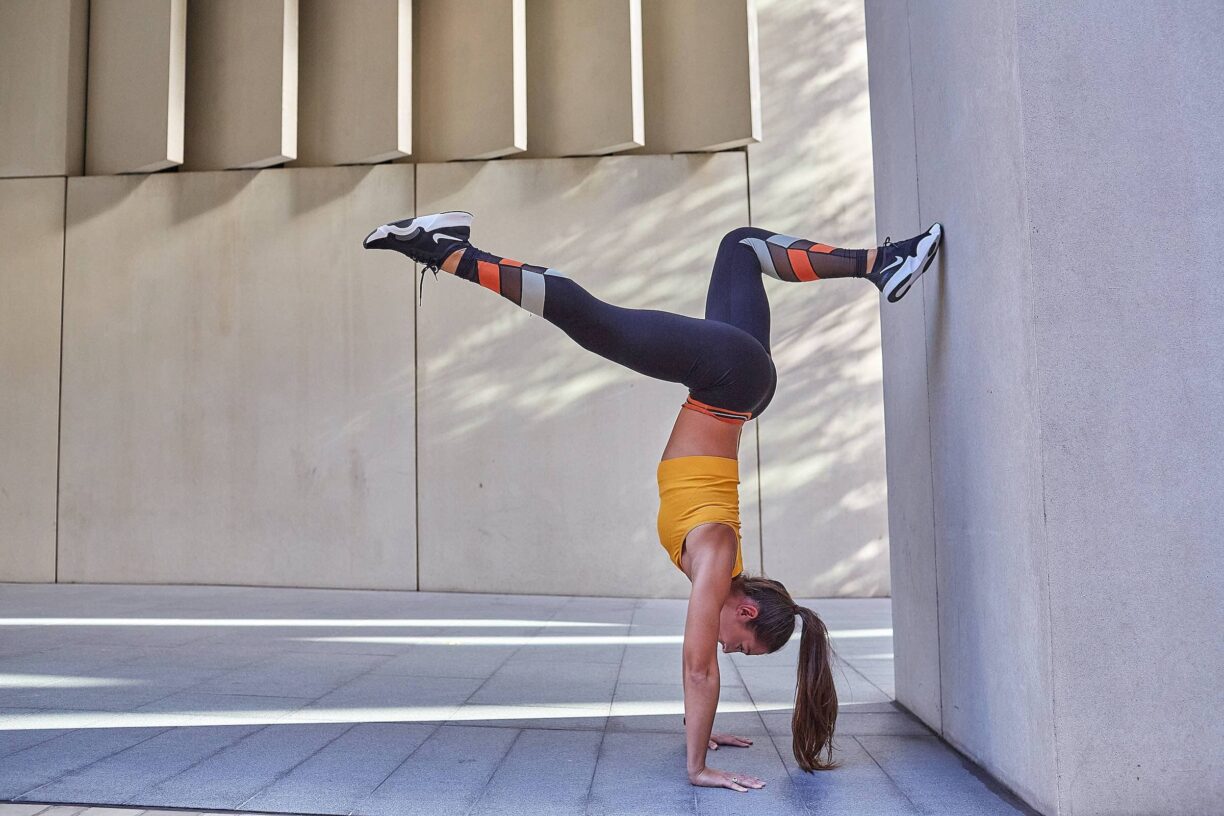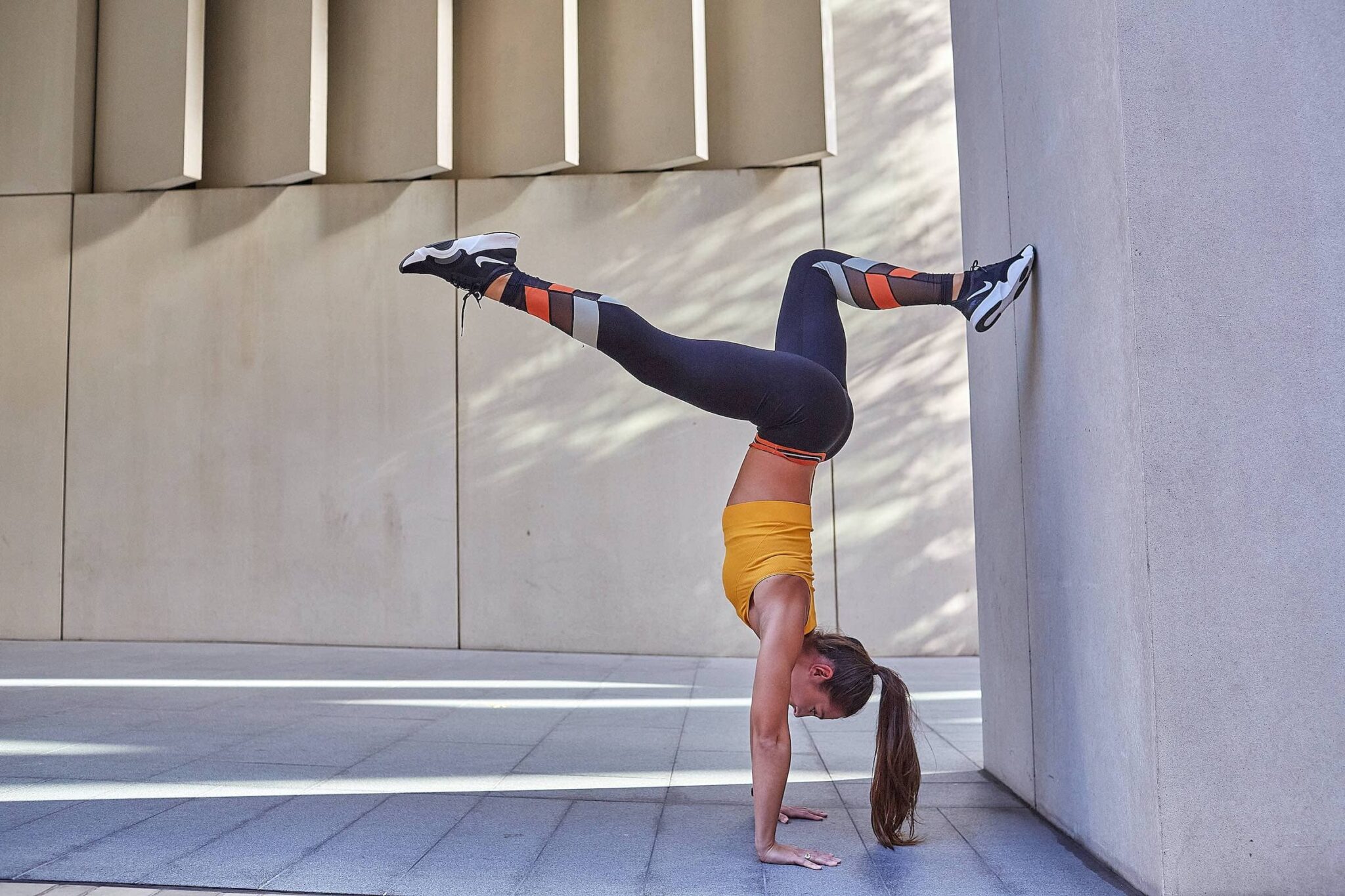 I train 3/4 times a week and train for at least an hour. An hour and a half is ideal if I'm training at the gym but sometimes I have to try and get it done in an hour if I have a really busy day.
It's ironic that I work and have access to so many amazing gyms however sometimes struggle to get my own workouts in too.
I also make sure that I hit around 10 thousand steps a day. It helps me focus, improves my mood and helps me maintain my shape.
Lots of my work is online now and I am sitting down a lot so I have to make an effort to walk. If I am losing concentration I take myself out for 15 minutes and then reset
What's the most annoying thing someone at the gym could do whilst you're there?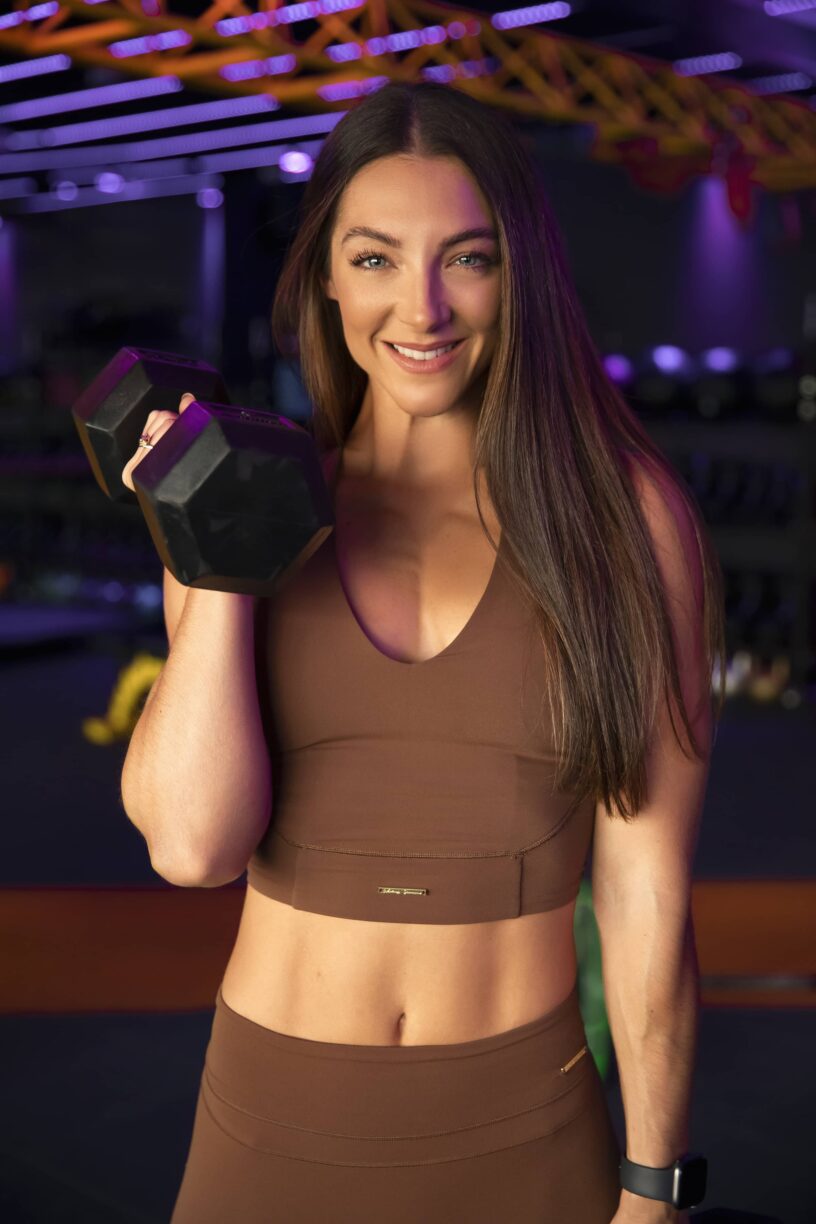 The most annoying thing that someone could do in a gym is make someone else feel stupid. The gym is an intimidating space for so many therefore those with ego and attitude can really put people off.
The gym should be a supportive environment where everyone feels like they belong there. We all started somewhere and I think lots of trainers forget that.
I also can't stand people who don't look after the space and don't put things back in the correct place.
What are some fitness myths you would like to dispel?
Oh god, where do I start! Maybe the ones that I believed for so many years. Weights make you bulky, carbs make you fat, eating late is bad, how some workouts create long lean muscle, every FAD diet that's out there, the rubbish on social media.
I sometimes feel as though I'm banging my head against a brick wall trying to get the facts about fitness and nutrition out there!
What is your day-to-day routine and diet mostly like?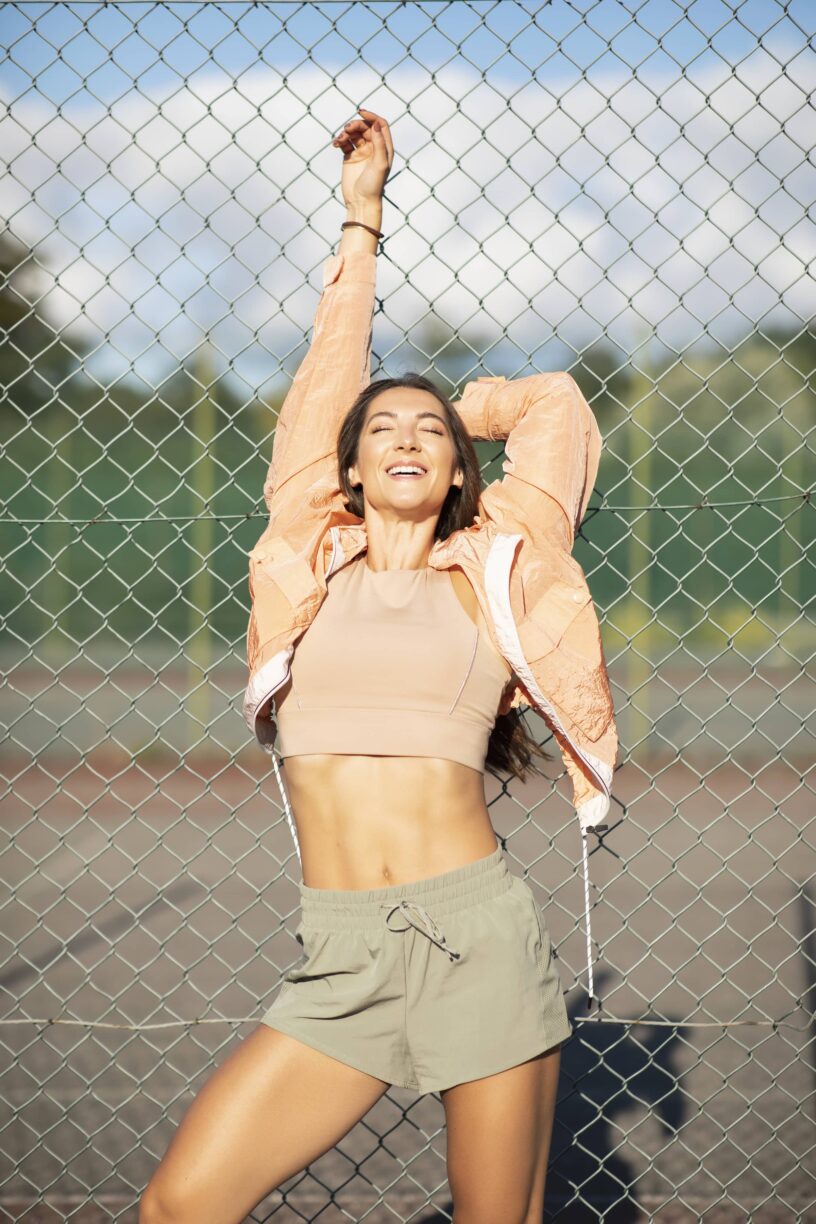 I really struggle to have a set routine as my schedule changes so much each week. I have recently tried to create a routine where I try and walk/exercise in the morning however it's hard sometimes if I have early morning clients or classes.
I have to mix training personal training clients, online coaching and going into central London to teach classes. My online coaching where I programme workouts and create meal plans is like having a full-time office job.
What's a typical day's meal/nutrition plan for you?
Monday – Friday I try to avoid booze because I am up early and I like to have a drink at the weekend. I LOVE food and drink and socialising however I try and find a balance if I want to stay in the shape that I'm in and say no to drinks when I don't really need them.
Breakfast is usually overnight oats or any type of oat with berries and protein powder, lunch is usually a wrap/bagel with a form of protein, or I grab something like a salad/poke bowl from Pret on the go.
It's so easy to eat well on the go now. Whatever I eat I make sure there's a serving of protein and veggies and carbs. I need them to keep me going all day.
Dinner is usually a stir fry or protein-based meal with loads of veg and a form of carbs like rice or egg noodles (I pop them in the microwave).
Snacks are easy snacks that I can eat on the go like fruit, yoghurt, baby bells, and protein bars.
I eat foods that are high volume, high protein low-calorie foods so that I feel full and satisfied. I have thousands of recipes on my app so I usually choose something from there!
Do you divert away from the food regime when you aren't training?
The weekend is different, I go for dinner at least once a week and drink. I save drinking and meals out for when I'm socialising with friends and family.
Have you got a cheat meal?
I hate the phrase cheat meal. What am I cheating on? It doesn't ever feel like I am cheating if I eat badly because I understand calories and know how I can stay on track.
I love a roast dinner and a glass of red wine. A winter roast dinner at Soho house is the best.
I like the way that I eat and enjoy it. It's a way of life now. I spent so many years feeling restricted as a dancer through not understanding food or calories.
Since learning more about food and calories its completely changed my mindset and I'm not fearful of foods or 'bad' things.
I try not to buy chocolate and sweets for the house because once I start I can't stop. I'm like a monster and my boyfriend tells me to slow down. If it's there then I will eat it and I know my body doesn't really need it.
I go really off track when I'm on holiday eating out and drinking every night. When I'm on holiday I exercise and walk a lot because I like it and it makes me feel good. This creates some balance from all the wine!
Have you been affected by body confidence and if so how did you overcome it?
I worked as a dancer for 10 years before working in fitness and struggled with body confidence a lot.
Every day you are being judged and told no and even though it's part of the job some days it's really really hard. Always comparing yourself to other dancers and wondering if you look right was part of my everyday life.
I think that's why I'm so passionate about helping other women learn about nutrition and how fat loss actually worlds. Being active has always been part of my life and I'm really lucky.
Working with women who have always struggled with their weight and felt uncomfortable in the gym was a real learning curve for me and I love changing people's mindsets and helping them feel better through movement.
I used to HATE my legs. I only started wearing shorts when I started lifting weights. I hold my fat in my legs and even when I have lost a lot of weight they are still pretty solid with a thick ankle!
Lifting weights has really improved my legs and the shape is so much better. There's still cellulite and dimples but this is normal and I don't care anymore. Maybe it's an age thing too.
Do you have any advice for those looking to begin their fitness journey or overcome body confidence issues?
My tips are to get started and get some guidance. It's hard doing it on your own so find a plan that works for you! You can make amazing progress from training at home to starting if you don't feel comfortable in the gym.
Investing in a trainer is amazing to teach you basic form for exercises. If you have confidence with exercises then it's a game changer.
People set themselves unrealistic goals and waste time on things that don't work. Start by training 3 x a week and moving as much as you can.
Set a goal, schedule it in and have someone to hold you accountable. If you have the income then get an online coach because you get it all! Workouts, food, check-ins, someone you can speak to. If you can't afford it then find the type of exercise that you ENJOY and show up to. You need to stay consistent in whatever you do.
Is there advice you always get asked for?
Yes, sometimes I feel as though I am on repeat because we are so brainwashed by things we have been taught.
People can't believe that I give them carbs or say they can eat chocolate (not all the time of course) and they will still make progress.
People also can't believe that I don't need them to run much or do cardio or HIIT training. I actually ask them to do the opposite and just walk sometimes because it makes lots of people hungrier.
Most people ask how they can get rid of their tummy and what ab exercises they need to do. Abs are made in the kitchen and from lifting weights.
Who has been your biggest inspiration?
My biggest inspiration in the fitness industry is Emma Storey-Gordon and Chloe Madeley.
I am always inspired by women who have made it in the fitness industry and who are promoting strength training as I find the majority of women work in the pilates and yoga realm.
They are amazing coaches, have great knowledge and are relatable. I have listened to hours of their podcasts and learnt so much from them.
I'm also inspired by my team at EQUINOX. It's an amazing company to work for and I have learned so so much about how to deliver an amazing class. Working for a luxury gym is amazing because our classes have to be great.
Have you got a favourite goto tune for when you workout and have you got a Spotify playlist dedicated to your workout that you'd like to share with our readers that may inspire them?
YES. I spend hours and hours creating playlists and looking for music for my classes and my own personal workouts. Music can transform a workout.
I love playing more upbeat house music with loads of remixes for lifting weights. My fave summer 2022 tune is LA DANZA. Close your eyes and you are in IBIZA.
All my playlists are on my Spotify account and you can have them all if it gets you through your workout. My name on Spotify is Chelsea Labadini.
What's next for Chelsea Labadini?
I have lots of plans for the future. I am expanding my online coaching and taking on more clients so I can help more people get results that last.
I would like to build it and have a team of like-minded passionate coaches working for me so that we can reach as many women as possible.
At the moment I only ever have 40 clients at a time so that I can give them my full support. I am continuing to learn and grow and build a following.
A dream of mine would be to create a TV show about women transforming their bodies through lifting weights so that the world can see and learn.
Where can I readers find out more about you?
Readers can find out more about me on my Instagram @chelsealabadini and my website chelsealabadini.com