Fitness brand Built For Athletes and Borussia Dortmund, one of the most popular teams in the German Bundesliga, join forces with the release of an exclusive, limited edition Borussia Dortmund branded sports backpack.
Built For Athletes specialise in backpacks and fitness accessories for both elite and everyday athletes. The UK-based company, founded by brothers Nick and Danny Costello, has enjoyed rapid growth since the company launched in 2018, designing practical, stylish and tough backpacks, bags and accessories for fitness enthusiasts across the world.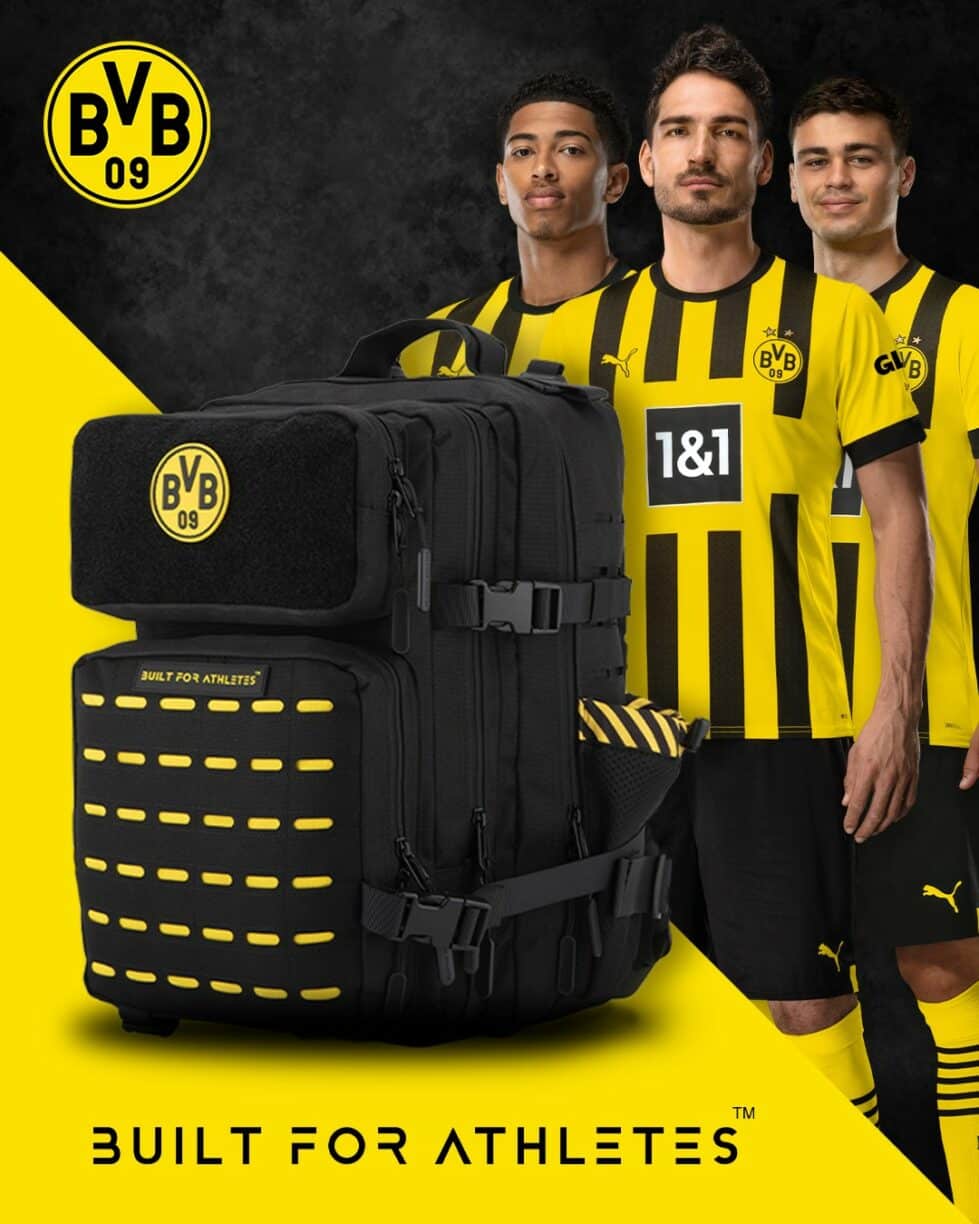 This high-profile multi-year collaboration is the latest in a busy six months for the brand after successfully launching a series of partnerships with several international sports and fitness brands.
Building on the international exposure enjoyed by the company following their partnership with the Alfa Romeo Formula One Team, Built For Athletes sees great opportunity in strategic collaboration with brands that closely align to their own values of quality, strength and durability.
The company has worked with Borussia Dortmund to develop an exclusive new backpack that features distinctive Borussia Dortmund branding, a new 35-litre capacity and Built For Athletes' signature laser cut molle construction, water and tear-resistant material and hook and loop upper pocket for personalisation.
Nick Costello, CEO Built For Athletes said:
"This latest collaboration is a significant step for us as we continue to build our brand in the German market and beyond. Borussia Dortmund is a remarkable club with an incredibly rich and successful history and enjoys huge support domestically and across international territories.
"The collaboration is a perfect fit; we are a young and ambitious brand, and through strategic partnerships, with brands that share our values of quality and performance we can continue to build visibility of Built For Athletes with customers in key markets."
Benedikt Scholz, Director Internationalisation & Commercial Partnerships | Managing Director BVB Fußballakademie GmbH, said:
"We're delighted to be the first German football club to be working with Built For Athletes. The players love the design of the new backpack, its versatility and its ability to accommodate all their kit in a single bag for training and match days.
"Equipping our team as well as our supporters with high-quality products is crucial to us. The new backpack fits these requirements perfectly and we're looking forward to growing our relationship with Built For Athletes in the future."
The new backpack is available now from www.builtforathletes.com and www.bvbonlineshop.com