Last updated on April 24th, 2022 at 12:13 PM
Luke Aikins and Andy Farrington take to the skies above Arizona to attempt their world-first Plane Swap, anticipation is building.
On April 24, the skydivers hope to go down in history as the first pilots to take off in one aircraft and land in another after sending their planes into a nosedive and jumping out of them to skydive in tandem into each others' craft, before regaining control and landing safely.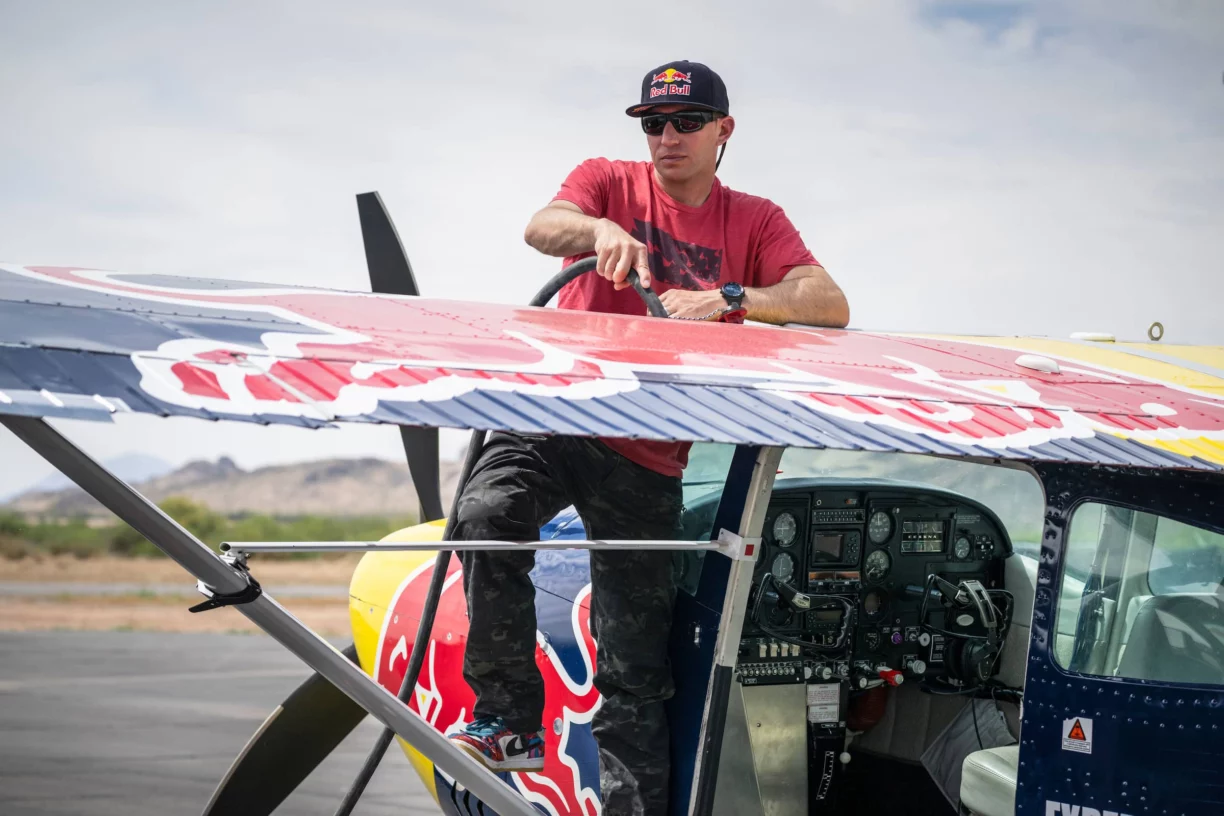 With a little more than 24 hours to go, the anticipation is brewing. Pilot Luke Aikins revealed how he's feeling in the lead-up to Sunday.
"I think as the project gets closer, you know, it's been 10 years, uh, up until yesterday, it was excitement. And now there's a little bit of nerves coming up, you know, like all of this, it, it feels like Christmas is coming. And then Sunday after this is over at 7:00 PM that, uh, it's gonna be like, you opened all your Christmas presents and what's next."
With all the training in progress, Akins said "The training's been pretty good. Except yesterday we missed out yesterday was a wash for us. We had a little bit of engine problems with the silver plane. So we spent the day sorting that out and test flying it.
So that steps into your psyche. You know, you, you missed out on a few training jumps that you had planned on doing so up until yesterday, the training was going great. And the training now needs to build, we have to make up for that this afternoon and hopefully get a few jumps in."
Aikins and Farrington are cousins who put their aviation heritage down to their grandfather, a World War II fighter pilot who set up a skydiving school.
Aikins and Farrington's fathers also flew and jumped, and both boys grew up on an airfield, allowing them to jump as much as possible. They also took up flying and made their first solo flights at the age of 16.
The cousins are highly in-tune with each other and have completed more than 5,000 jumps together. This is why Aikins picked Farrington as his Plane Swap partner. The pair know instinctively what the other one is going to do.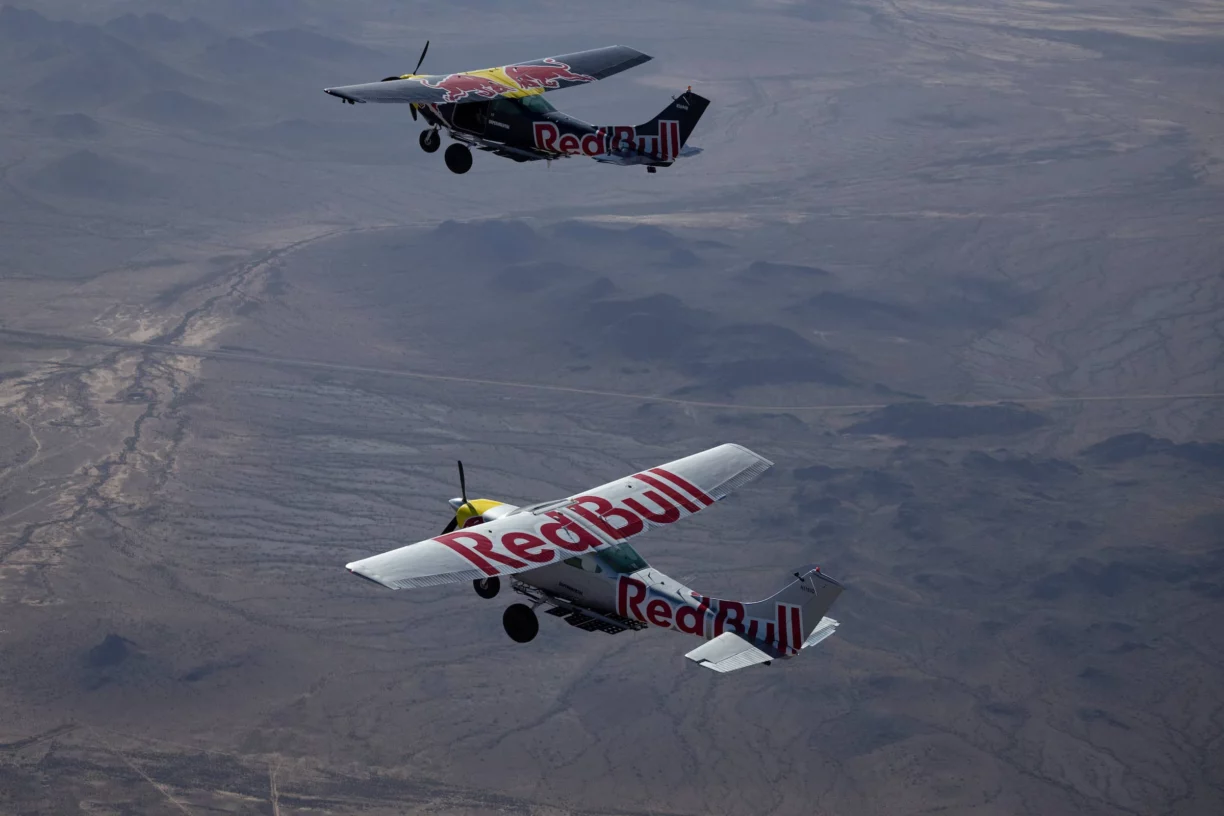 When the moment comes and Plane Swap gets the green light, the two planes will take off one at a time and ascend to 14,000ft (4,265m), where the pilots will get into formation and complete their last checks.
When the 'go' call is made, Aikins and Farrington will put their Cessna182 aircraft into a tandem nosedive. For the planes to remain in a nosedive, they've been fitted with a custom-built autopilot system to ensure they stay on the correct trajectory.
Each aircraft has also been fitted with a speed brake and larger than standard wheels to help create more drag and slow the rate of descent in order to ensure the skydivers can catch up to them.
With the planes holding their trajectory in the nosedive, Aikins and Farrington will then skydive to approximately 2,000ft (610m) above ground level before getting into the other aircraft.
Once back inside their new aircraft, each man will switch off the autopilot, retract the speed brake and restart the engines, whilst pulling level. They'll then switch off the smoke trails to show that the mission has been successful.
Tasked with modifying the Cessna 182 aircraft Aikins and Farrington will use to make sure Plane Swap is even possible was Paulo Iscold, a professor of aircraft design and applied aerodynamics. He's also a pilot himself.
Iscold met Aikins in 2016 after the skydiver had just completed his 25,000ft (7,260m) jump without a parachute where he landed into a giant net, so he knew what was in store when he was asked to help with the science on this project.
The Cessna 182 is a workhorse plane that's been in production since 1956 and is the perfect companion for Plane Swap, but for the plan to be a success there were several questions that needed to be answered.
The first thing was to work out a way to slow down the descent of the planes whilst they're in the unmanned nosedive. A falling skydiver will reach a terminal velocity of around 130mph (209kph), whereas a falling Cessna 182 must not exceed 200–210mph (321–327kph), as it will start to break apart.
The aircraft would also fall quicker than both men, so Iscold came up with a speed brake design to slow the planes down.
This is a large surface area that sits vertically under the belly of the plane and produces nine times more drag than the aircraft itself, which is the amount needed to stabilise the plane to Aikins and Farrington's average speed of125mph (200kph).
The next issue is keeping the aircraft on the correct trajectory whilst they're unmanned. An autopilot was needed to ensure both the Cessnas stayed on target.
With no autopilot designed to keep an aircraft flying straight down towards the ground, the team had to develop their own. The autopilot will activate once the pilots have manually entered the nosedive and deliberately stalled their planes in mid-air.
There is also the issue of Aikins and Farrington being able to get in and out of the aircraft, and also climb into the pilot's seat at a vertical angle. Farrington found a solution during a test flight.
He worked out that by holding onto the wing strut, he can pull himself towards the cabin door. Then, with one leg and arm inside the plane, he can deactivate the nosedive and be able to sit back in the seat once the plane had begun to level out.
Aikins revealed "The most difficult part of it is from the wingtip into the fuselage. Uh, Andy was flying the plane and I was coming up trying to get into it.
You grab ahold and you walk in, so you have 140 miles an hour wind holding you up, basically the same as the airplane. But as soon as you get behind the door and you get inside, part of your body gets inside. Gravity takes over and you actually fall forward against the dashboard.
So the first time was pretty exciting. You know, we've only done this a few times at that stage of it. And as we reach into the plane, you kind of stumble and fall against the floor and the floor is now the front of the plane. So we had to build a false floor on the dashboard for us to have somewhere to rest."
Finally, there's the target. Aikins and Farrington will be aiming for a moving target no bigger than a refrigerator door whilst diving at 130mph (209kph). That's why 5,000-plus jumps together helps enormously.
Plane Swap has been 10 years in the making and a year of planning, with hours and hours put in by Aikins, Farrington, Iscold and the project's Aerial Coordinator Aaron Fitzgerald to ensure the plan goes off without a hitch.
Aikins and Farrington have been training for Plane Swap in San Luis Obispo, California, but the actual challenge will take place over the Arizona desert this Sunday, April 24.
The timing of the flight will largely depend on the air temperature. If the temperature is too hot, the air is less dense and the aircraft will fall quicker. With Arizona having a warmer climate than where the team has been practising, Iscold has planned for Aikins and Farrington to be taking off in the late afternoon.
With Aikin's son Logan on-site with him during training, he reflected on the message this project will leave on his son.
"I think what's interesting for me with my son, is that exactly the main reason that I do these things is, Logan's dyslexic and has a hard time with the learning stuff a little bit, but he's got such this crazy engineering mind when we're doing stuff. He's so ahead of his scale for physically, doing things.
And it's really important for him to see that it's not just this skydive thing. It's not that that you have to learn, you have to study and you have to focus on something that you find something that encourages you that's exciting to you, and it makes you learn parts.
Like I had no idea about all the engineering that would have to go into something like this and hanging out with Paula and all of that.
It's hopefully showing my son that, yeah, he knows dad hates doing the bookwork and all that stuff, but that has to happen. It's part of the process. And I'm trying to hopefully show him that, hard work pays off."
Hulu is the exclusive streaming partner of Plane Swap in the US, and Red Bull TV is the broadcast platform globally.
You can watch Plane Swap Live on Hulu and on the free sport tv app Red Bull TV HERE on April 24, beginning at 4:00 PM PT / 7:00 PM ET / 00:00 AM BST / 01:00 AM CEST / 09:00 AM AEST.