Last updated on September 26th, 2021 at 12:40 PM
Providing a non-invasive, painless, and cost-effective solution for accurate health testing on-the-go, santéPatch, a new, cutting-edge, and game-changing micro-patch which monitors your vitamin and mineral levels launches on Kickstarter, aiming to raise £60,000 to enter the next phase of product development.
Allowing health-conscious consumers to take control of their health and gain a deeper understanding of their bodies from the inside out, the launch of santéPatch will challenge conventional and widely used methods of invasive, expensive, and often time-consuming health testing and offer a credible alternative.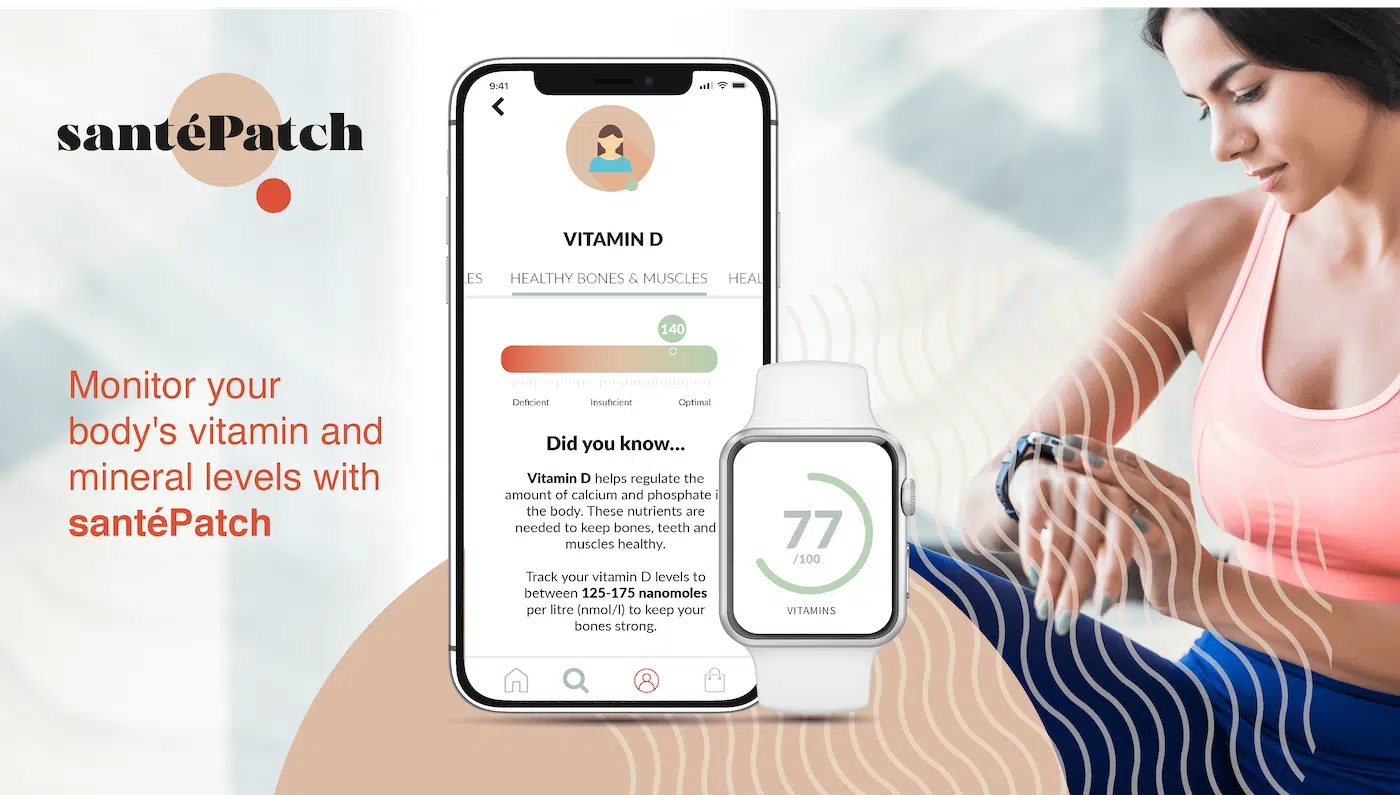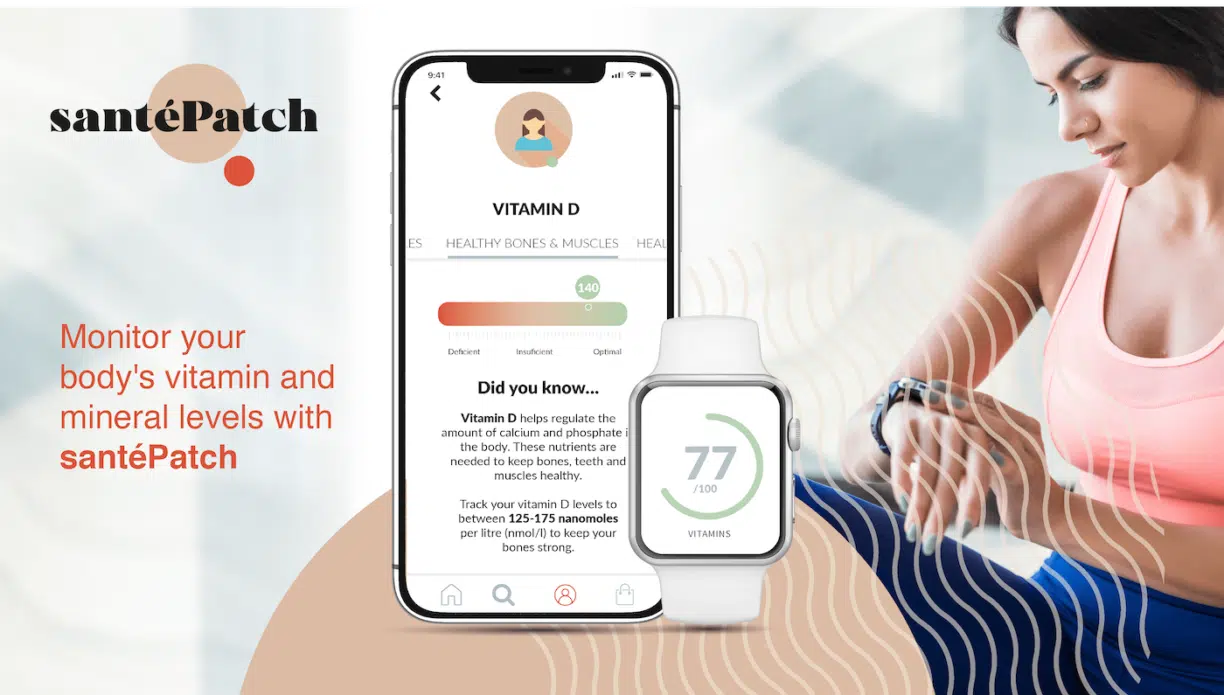 The santéPatch is a painless, non-invasive, wearable micro-patch which is placed directly onto the skin to measure and monitor your vitamin and mineral levels in just 15 minutes.
Suitable for all, it uses unique patented technology and an advanced biochemical process known as reverse iontophoresisto obtain a precise picture of your health in real-time and on-the-go.
The santéPatch works by applying a small, painless electrical pulse through a positive side to a negative side of the patch.
This process creates a reaction called electro-osmotic flow on the area the santéPatch is attached to, bringing interstitial fluids and sweat onto the surface and into the santéPatch spectrometer sensor.
These fluids then pass through a frequency scan in the patch, with the spectrometer accurately determining how much of each nutrient it has picked up and then identifying if the levels are high, low, or within a normal range.
The data obtained is then wirelessly transmitted to an AI-powered app on your smartphone or smartwatch, explaining the findings in a simple, bite-size format.
In addition, the app provides users with real-time personalised nutrition plans, recipes, and health tracking on-the-go, based on the precise data provided by the santéPatch.
These plans will then adapt and evolve as the user's health and wellbeing improves over time, presenting a 'new norm' for users which is led by their bodies and supported by tailored packages which allow them to enhance their health and optimise their wellbeing.
The brainchild of Yasar Tunc, an entrepreneurial innovator who came up with the idea for santéPatch following the need for invasive medical testing, comments: "Following a personal medical situation, I was offered a wide range of intrusive and painful investigative operations and blood tests to reach a diagnosis.
I resisted the idea wholeheartedly and it got me thinking about other methods of health testing such as AI powered patches and sensors, which would offer a credible and accurate alternative to conventional, unchallenged procedures and techniques.
The launch of santéPatch will offer consumers a painless and precise picture of their health in real-time, arming them with the knowledge they need for optimum health and wellbeing and giving them more control over their health status."
Dr Duncan Purvis, previously Chief Scientific Officer at Vantix Diagnostics Inc, the main inventor of biosensor technology currently being developed for rapid point-of-care diagnostics and in santéPatch continues: "It is incredibly important to be aware of your vitamin and mineral levels, with this knowledge helping to improve your overall health, general wellbeing, and immunity.
The innovative and revolutionary technology used in santéPatch provides physicians and consumers alike with a complete diagnostic solution that delivers lab-quality results in real-time, improving outcomes for all, without the need for invasive, time-consuming, and often expensive testing.
Having the ability to test and monitor vitamin and mineral levels will help support a healthier lifestyle and empower individuals, giving them an in-depth, accurate analysis and overview of their health on an ongoing basis."
Whilst governments and health groups have placed great efforts and investment into educating people on the importance of health and good nutrition, the majority of the population still have a poor diet, with the most recent NDNS1 revealing only 30% eat the recommended 5-a-day, and only 9% eat enough fibre.
This leads to lowered energy levels and can impact upon general wellbeing, causing individuals to supplement their diet with vitamins and minerals they may not be deficient in, in a bid to boost their health without an accurate picture of what their body really needs.
Rob Hobson, a registered nutritionist with extensive experience in the field continues: "I am very excited about this cutting-edge piece of technology.
The world of nutrition is evolving and with it comes new, innovative ways to help people personalise their health.
The ability to analyse your micronutrient status remotely in this way can help to lessen the load on GP time, as well as having the potential to be used in the field of both public health and sports nutrition research.
This technology offers a myriad of benefits and could become a leader in the field of personalised health and nutrition".
santéPatch will launch their fundraising bid on Kickstarter on 21st July 2021, looking to raise £60,000 to reach the final stage of production and bring santéPatch to the mass market.
Backers will be rewarded with special Kickstarter discounts on santéPatch units. To learn more or show your support for the campaign, please visit the santéPatch Kickstarter campaign here.
To access the santéPatch Kickstarter campaign and make a pledge, click here.
1 National Diet and Nutrition Survey 2020