Since the beginning of the year, wellbeing has been a prominent topic of interest among Brits, in fact searches for the term 'wellbeing' have increased by 257% in the past five months.
As people continue to spend more time indoors, here's some of my ideas on how to create a calming oasis to maintain wellbeing at home.
Maximise natural light
Maximising natural light in the home is important to maintain concentration levels and reduces the need for artificial light, helping to maintain good eye health.
Rebecca says: "Inviting natural light indoors is an easy way to infuse a sense of wellness and tranquillity at home. Along with creating a bright, airy space, it also has health benefits such as allowing the body to follow circadian rhythms and maintain regular sleep patterns – both of which are incredibly important at this time.
"To maximise natural light, place a mirror opposite the window to reflect and double the sunshine coming in. This might also be a good time to shift your workspace to be as close to the window as possible, to take advantage of the light and rest your eyes by looking outside."
2. Make clear distinctions between spaces to work and relax
As much of the nation continues to work from home, it's important to prioritise having a separation between work and rest. One easy way to do this is by creating distinct spaces and zones in the house.
Rebecca advises: "Designate a desk as your working area, and most importantly, don't underestimate the value of a comfortable chair!
"Carve out a working space in your home that works for you – for instance, by keeping it organised the way you would have in your office. Keeping a dedicated working area means that when you leave your desk, you're signalling to yourself that you're done with work for the day.
"The same principles apply to the parts of the home meant for relaxation. The bedroom should be a cosy place to unwind, so indulge in softer textures and finishes for comfort."
3. Create a reading nook (or craft zone)
As life staying at home continues, people are turning away from their devices and delving into a good book, starting DIY projects and exercising more, so why not have a dedicated space for your lockdown hobby?
Rebecca suggests: "Along with work and rest, making space for self-care and enrichment goes a long way towards enhancing wellness in the home. Whether it's a warm reading nook or a place for crafts and hobbies, it's a crucial space to have, and likely to become a quick favourite.
"This should be a part of the home that focuses on a healthy or creative activity, or one that feels restorative," Rebecca comments. "Soft, soothing colours such as sage green and grey are especially good choices to create a space that's versatile, chic and cosy. Just add an armchair, storage space, and some fresh greenery, and you're good to go!"
4. Tidy up and declutter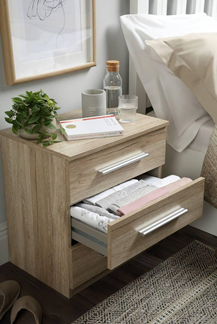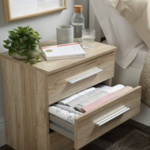 Part of creating a calm space is having one that is free of unnecessary clutter, where it's easy to locate what's needed. Rebecca says: "Take the opportunity to spring clean the home, and rearrange it in a way that maximises space, functionality, and ultimately, happiness and satisfaction.
"This is a big project, but it's important that your home is best suited to your needs and taste. Take a moment to assess what you need to keep, and donate what you no longer want. Then evaluate your habits and patterns, and arrange your rooms and furniture in a way that best suits how you live. It can feel like a major change, but it will help you feel more comfortable and settled within your own space."
Rebecca summarises: "As we continue to spend more time in our homes, there has never been a more important time to ensure we focus on our wellbeing, and what better place to start than in the home?
"Maximising the sunlight into each room will really help to bring the outdoors in, and regulate your sleeping pattern, while dedicated work areas will help to ensure your body knows when to work and when to relax. We hope these tips have inspired you to declutter and focus on your wellbeing."
For more inspiration on how to promote wellness in your home,  please visit:  https://www.furniturechoice.co.uk/advice-and-inspiration/how-to-stay-in-and-stay-well_a10000110