Last updated on February 7th, 2021 at 08:41 PM
Considering recent events, those with health issues such as type 2 diabetes may be looking for helpful advice for staying healthy at home.
To help support you, Dr Brewer working in association with CuraLin (www.curalife.com) the all-natural supplement that helps balance blood sugar levels and CuraLife, share their expertise, shopping tips, recipe ideas and lifestyle advice to help keep you healthy at home.
Keep A Healthy Routine
It is likely that you will be at home for most of the day, whether you're working or not it is so important to keep occupied. Dr Brewer says, 'Keep occupied as boredom can lead to snacking and comfort eating, which can wreak havoc with your levels. You should aim to exercise as much as possible at home, you can find lots of videos of home workouts to follow along with on YouTube.
It is imperative that you check you have enough medication and request new supplies in plenty of time to avoid any delays. It is also imperative that you keep in touch with family and friends as best you can to avoid loneliness!'
Shop smart
It has recently been advised that we should only be leaving the house for essential trips. Therefore, it's advisable to create a diabetic-friendly shopping list of items that have a good shelf life. Dr Brewer recommends keeping these items stocked up:
Brown rice and pasta – White rice and pasta have long been known to have a negative effect on blood sugar. Like most white foods, they cause blood sugar spikes.

Brown rice and pasta  are full of fibre which is important when managing diabetes – fibre is not digested by the body therefore it does not affect blood sugar levels.

This helps to keep blood sugar levels steady and may prevent glucose spikes. They also has a long shelf-life so are ideal for stocking your cupboards with.

Chickpeas- Chickpeas have an extremely low glycaemic index. The high fibre and protein content of chickpeas also translates to these super-legumes being useful in the regulation of blood-glucose levels, and they have also been shown to help control appetite.

Tinned Tomatoes – The versatility and long shelf-life of tinned tomatoes make them ideal for isolation cooking.

Tomatoes are a super-food for diabetes, they are packed with vitamin C, are an excellent source of vitamin A, and are a good source of potassium. They're also low-carb and low-cal!

Frozen Vegetables and Berries – It's wise to opt for frozen veggies and berries that you can store for longer and easily incorporate into lots of healthy dishes.

Frozen vegetables are great for adding to soups and stews and berries can be used in delicious breakfast smoothies or with unsweetened Greek yoghurt.

Oats –  Oats can be a great addition to your diet to help manage diabetes. Especially if you use it to replace other high-carb, high-sugar breakfast choices.

When using oats for porridge, consume with protein or healthy fats such as eggs, nut butter, or Greek yogurt.

Adding 1–2 tablespoons of chopped pecans, walnuts or almonds can add protein and healthy fat, which can further help stabilize your blood sugar. Oats contain soluble fibre, which helps regulate blood sugar.
Try an all-natural supplement
CuraLin (RRP £59.00, www.curalife.com) is a specially tailored natural formula that promotes healthy and balanced blood sugar levels and insulin production in those suffering from Type 2 Diabetes.
The nutritional supplement is made from a mixture of ten natural ingredients, which work with the body to help balance the blood sugar profile.
Dr Sarah Brewer recommends CuraLin for those suffering with type 2 diabetes due to the positive effects reported and measured by its users.
Dr Brewer explains, "The blend of 10 Ayurvedic herbs within CuraLin have a range of beneficial effects on glucose control and metabolism. As a result, users report that their glucose control quickly improves and, in some cases, normalises within 4 weeks.
Users also report reduced cravings for sweet food, and experience improved energy, sleep and general quality of life.
Join A Community 
As people are increasingly advised to remain indoors and health services focus on dealing with the most urgent cases, it's wise to seek support and comfort from online communities.
CuraLife have created 'Winning Type 2 Diabetes Together' a safe online space of over 8,000 individuals around the world suffering from high or erratic glucose levels or indeed living with type 2 diabetes. It provides a platform to talk openly about their experiences and help one another with any queries or concerns.
If you're going through something, it's likely someone else will have too! Whether you're newly diagnosed or have been coping with the condition for years, it's the ideal place to find support, knowledge, lifestyle tips and recipes. Search 'Winning Type 2 Diabetes Together' on Facebook to join.
Get creative in the kitchen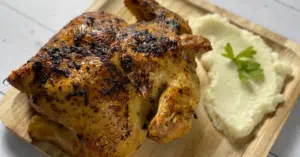 CuraLife have developed CuraFood, a comprehensive bank of recipes specially tailored to a diabetic diet. Why not try their harissa spiced turkey and cauliflower mash recipe below.
Ingredients:
-turkey, about 2.5 kg
-1 orange, juiced
-1 lemon, juiced
-1 tbsp olive oil
-1 tbsp honey
-1 tsp grated ginger
-4 garlic cloves, grated
-2 tbsp harissa paste
-2 tsp coriander
-1 tbsp ground cumin
-1 medium cauliflower
-Salt
-Pepper
-1 tbsp olive oil
-3 cloves garlic
Method for Turkey:
Mix together all the ingredients for the marinade and rub over the turkey. Cover and marinate in the fridge overnight if possible!

Heat the oven to 180C/fan 160C/gas 4. Put the turkey in a baking parchment-lined roasting tin and cook for 1 hour or until the turkey is cooked through. Remove from the oven and rest for 20 minutes.
Method for Cauliflower Mash:
Bring a large pot of salted water to boil, add the cauliflower and garlic and cook for about 10 minutes or until the cauliflower is tender. Drain, return it back to the hot pan and let it stand for 2 to 3 minutes. Keep the lid on for steam.

Transfer the cauliflower and garlic to a food processor, add olive oil, salt and pepper and purée until smooth. You can use a blender, an immersion blender, or a potato masher.

Garnish with chopped fresh thyme, salt, pepper, and a drizzle of olive oil (optional)

Enjoy!
Nutrition Facts: Per Serving of Turkey
KCal: 570
Fat: 42.5g
Carbohydrates: 1g
Protein: 57g
Nutrition Facts: Per Serving of Cauliflower Mash
KCal: 96
Fat: 3.8g
Carbohydrates: 14g
Protein: 5.1g
Home Workouts
We know that living a non-active lifestyle is unhealthy, even risky for diabetics, but finding the right exercises to keep your body active and healthy while you stay at home can be hard to do. Luckily, CuraLife have found some great at home exercises to help you keep your body moving and mind busy while at home!
These exercises can be done daily, giving your body a chance to move, stretch and work out, so that you can stay on top of your lifestyle as a healthy diabetic! Check out these home-workout post for some inspiration!