Southampton Football Club announce that its official 22/23 Home kit is now available to pre-order from today.
Created in partnership with hummel, the new Southampton FC home shirt draws inspiration from those worn by the flamboyant and free-flowing Saints side of the early 80s.
Reversing the colours of the shirt first worn by trailblazers like Kevin Keegan, Alan Ball and Charlie George, the striking central red stripe and central badge mark a brave new direction for the club.
Bravery forms a key part of the club's core identity, wanting to always push the boundaries, challenge the convention and continuously innovate.
Launched under the campaign, Bold is Brave, the club is celebrating bravery both on and off the pitch. Taking inspiration from the single bold red stripe, the club hopes to inspire its fans to be brave, whatever their challenge is – just as its players seek to be brave on the pitch.
Further subtle detail is reflected in the contemporary geometric pattern taken from the iconic stanchions of St Mary's, and the central badge stands this kit apart from previous seasons.
The sleeves are complemented with two chevrons, taken from hummel's iconic design trademark, and have been inspired by their retro kits. The inside neckline also features the hummel logo.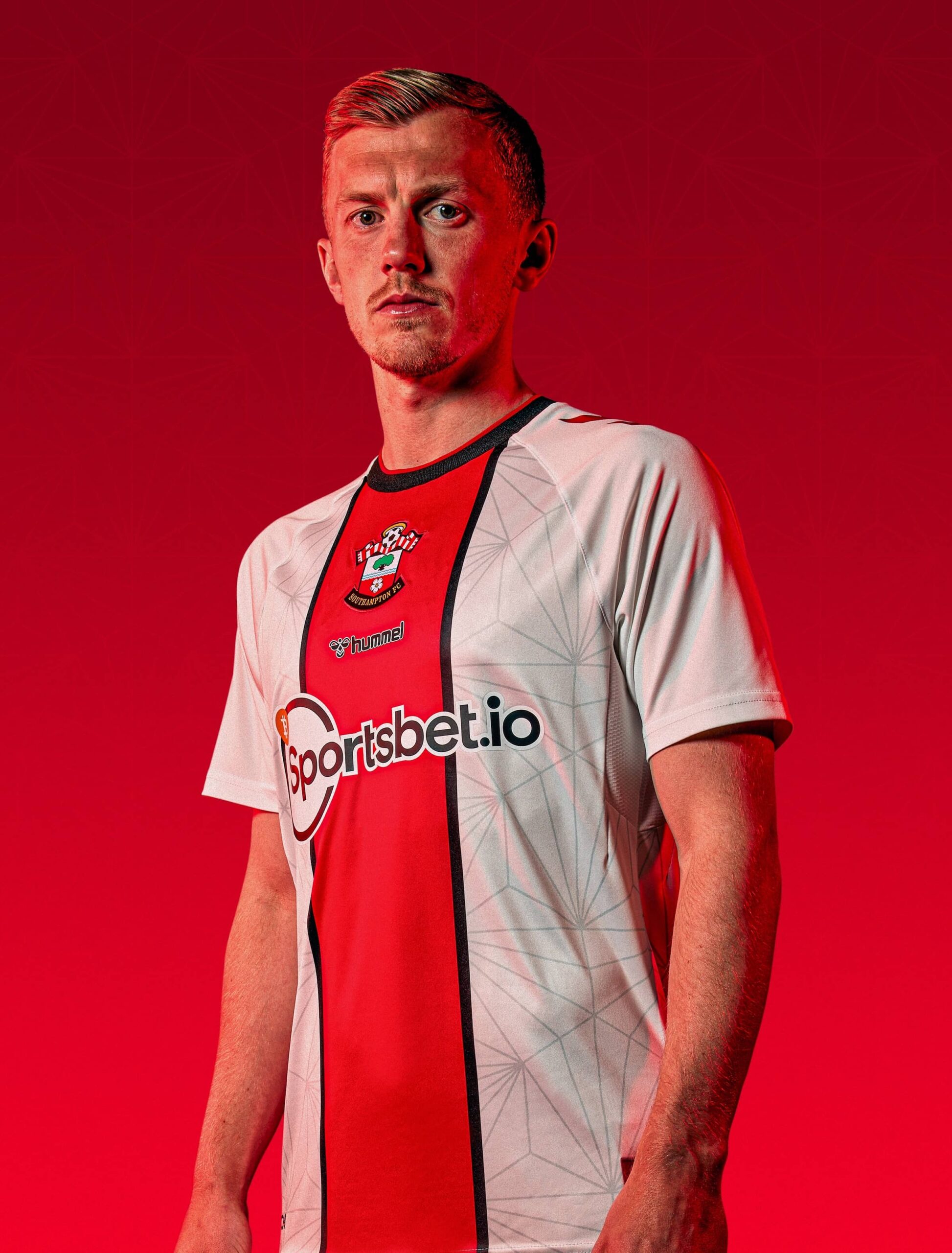 The club is fully committed to creating a positive impact on the environment, as part of its dedicated sustainability strategy, The Halo Effect. Therefore, like last season, this season's kit has been produced using Eco8 material made from fabric created using recycled plastic bottles.
"Being brave is in our DNA. We've always looked for new ways to push boundaries and this season's kit is no different. As part of this launch, we asked players, staff, and fans what bravery means to them and in time we will be releasing some of these stories.
Working with hummel enables us to creatively push our kit designs and this shirt is no different. Celebrating our heritage with a flip on the classic 1980 shirt but modernised with nods to St Mary's stadium and a bold central badge," says Sarah Batters, Director of Marketing & Partnerships for Southampton Football Club.
Southampton FC partnered with hummel because of its shared values and mission to change the world through sport.
This season's kit drop has been carefully designed to start conversations. Giving Southampton FC the opportunity to tell the unique stories of the fans, players and people that make the club so special to be part of.
Southampton FC asked its fans to tell them what bravery meant to them and what they wished they could do if they were brave. The conversations will shine a light on bravery and a willingness to push boundaries, challenge ourselves or stand out.
This is something fans will be able to see as part of an upcoming three-part Bold is Brave docuseries, with part one launching on 30th June.
"We are very proud of our association with Southampton, and this kit launch is another exciting step on our united journey.
The club's values of hard work and innovation are consistent with ours – and it's a pleasure to be working with a club that's always looking for new ways to push boundaries and challenge conventions.
This has resulted in, what we believe, is a really strong design for next season, and we hope the new kit will strike a chord with all Saints supporters around the world to create new and lasting memories both on and off the pitch," says Allan Vad Nielsen, CEO for hummel.
Saints launch the first Premier League football shirt design NFT collection
With this kit launch, Southampton FC will become the first Premier League club to release an NFT collection of the design for its football shirt. One football fan will be able to own the artwork of the original digital design of the kit.
The recipient of each NFT will also receive as a bonus the first off-the-line matching physical shirt.
As a club that is known for doing things differently, Southampton FC will be launching just one NFT per kit, making each one a true collectable item for football shirt collectors in web 3.0.
The NFTs will be launched on Opensea with each kit launch. The home kit NFT will be going up for auction from 29th June, with the away and third kit launching in the coming weeks and will conclude in August.
Be among the first to pull on the 22/23 home kit
Due to supply chain delays the 22/23 home shirt is available for pre-order only until the 27th July*. After this date, the shirt will be available for purchase in-store and online.
For more information and to pre-order visit https://www.southamptonfc.com/kit-2223