Last updated on March 9th, 2022 at 11:22 AM
Have you heard of Reiki Healing? Do you think it's a bit 'woo' and New Age nonsense or do you believe there is something more to energy healing? As Reiki becomes more mainstream and accepted in clinical settings the effects are becoming more widely recognised.
More clinical studies are taking place and hospitals such as St George's are integrating Reiki into accute and high dependency settings making a fantastic difference to the well-being of patients.
I began my own journey with Reiki 13 years ago. I was a young mum of three, I was stressed, anxious, lonely and I had really lost myself.
I had everything I could ever want yet something felt missing. Reiki came into my life and I found a way to connect to something more, something greater than myself.
I found my way back from chronic anxiety and despair to living a life with intentionality and purpose. I reconnected to myself, to nature and the world around me and developed a spiritual practice that gave me a deep contentment and happiness.
Reiki has this way of getting to the core, peeling those layers back, shedding our old skin to reveal something new.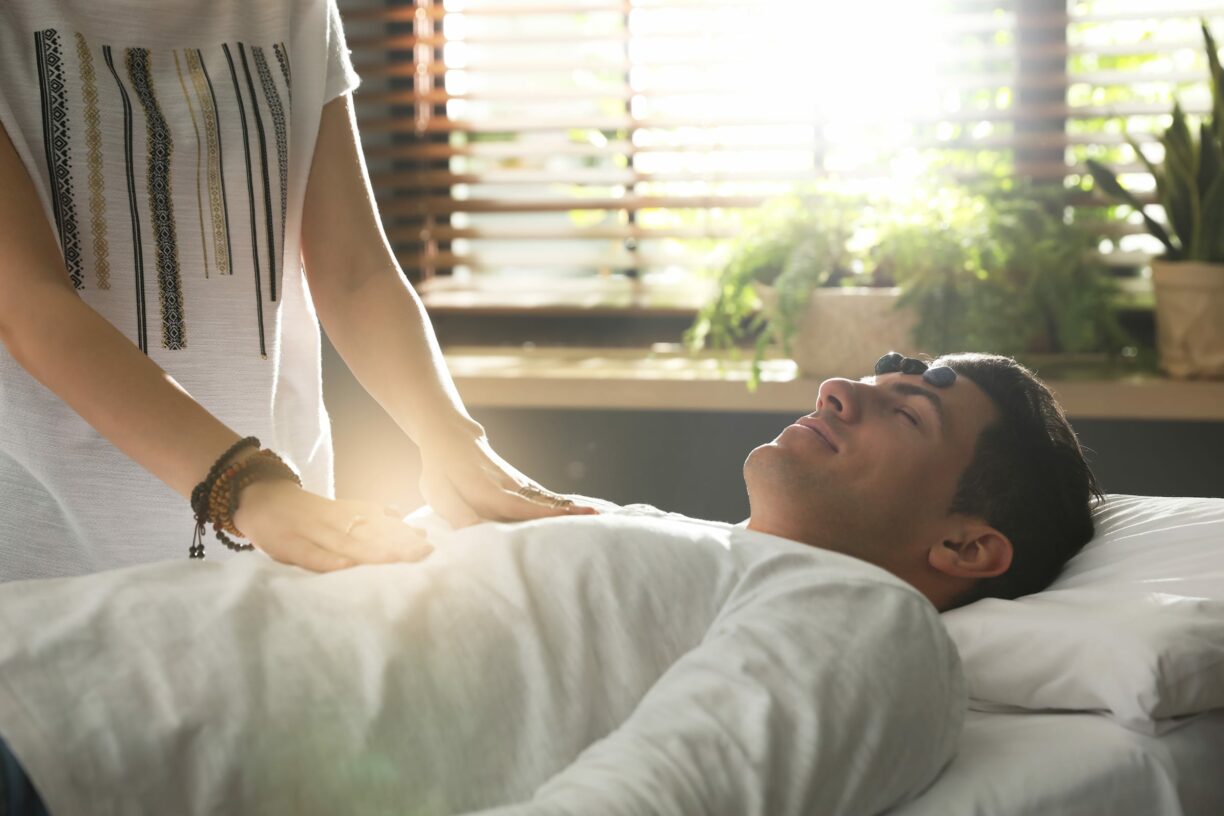 Reiki awakens your innate healing ability, something we all have inside us. Deep down, we all feel an imbalance in our lives, but most of us don't know what that is or what the solution looks like. For me, Reiki was that solution.
Reiki works on all levels; Physical, Emotional and Spiritual. Body, Mind and Soul. Reiki is a Japanese word that translates to The Sacred Energy of Life.
It is a natural healing system founded by Mikao Usui and holds a Buddhist perspective that is very simplistic but also profound.
However, you do not have to be religious or have any spiritual beliefs to work with or learn Reiki. I believe that Reiki is the path to Wholeness, healing any past hurts and allowing us to let go of anything we are holding onto that no longer serves us allowing us to move forward.
The Reiki Principles are a way of living our life with a deeper awareness of self. We are taught to recite these morning and night, focusing on the present moment.
Just for today, I will not Anger
Just for today, I will not Worry
Just for today, I will be Humble
Just for today, I will be Honest
Just for today, I will be Compassionate towards myself and others.
In my practice, I'm seeing huge shifts in the women I work with. They come to me feeling lost, at a crossroads, not sure which way to turn or even why they are feeling this way. After a few sessions they notice a difference.
Many go on to take training in the first level of Reiki and tell me that it's changing their lives. I know Reiki changed mine. My life was enriched and my whole outlook on life changed.
Reiki is empowering women and men to take control of their own spiritual and emotional well-being and helping them find their true North again.
It's taking them on a healing journey connecting them back to their true selves. If you've never experienced the gentle energy of Reiki then I suggest you do. It might just be the thing you are searching for, the missing piece of your jigsaw.
About the Author
Laura Clark is a Holistic Wellness Practitioner, Reiki Master Teacher, Master Energy Healer and 'Bringer Together-er' of Women. With 13 years of experience, Laura's focus is on spiritual and emotional wellness, self-empowerment and helping women discover their own innate healing power.