Last updated on September 20th, 2021 at 05:59 PM
Reebok and Japanese fashion retailer, BEAMS, announce their latest product collaboration: the Club C Laceless Mule – a versatile, genderless silhouette designed to complement every outfit.

Founded in 1976, BEAMS initially imported and sold fashion and homeware products displayed to feel like a student dorm room.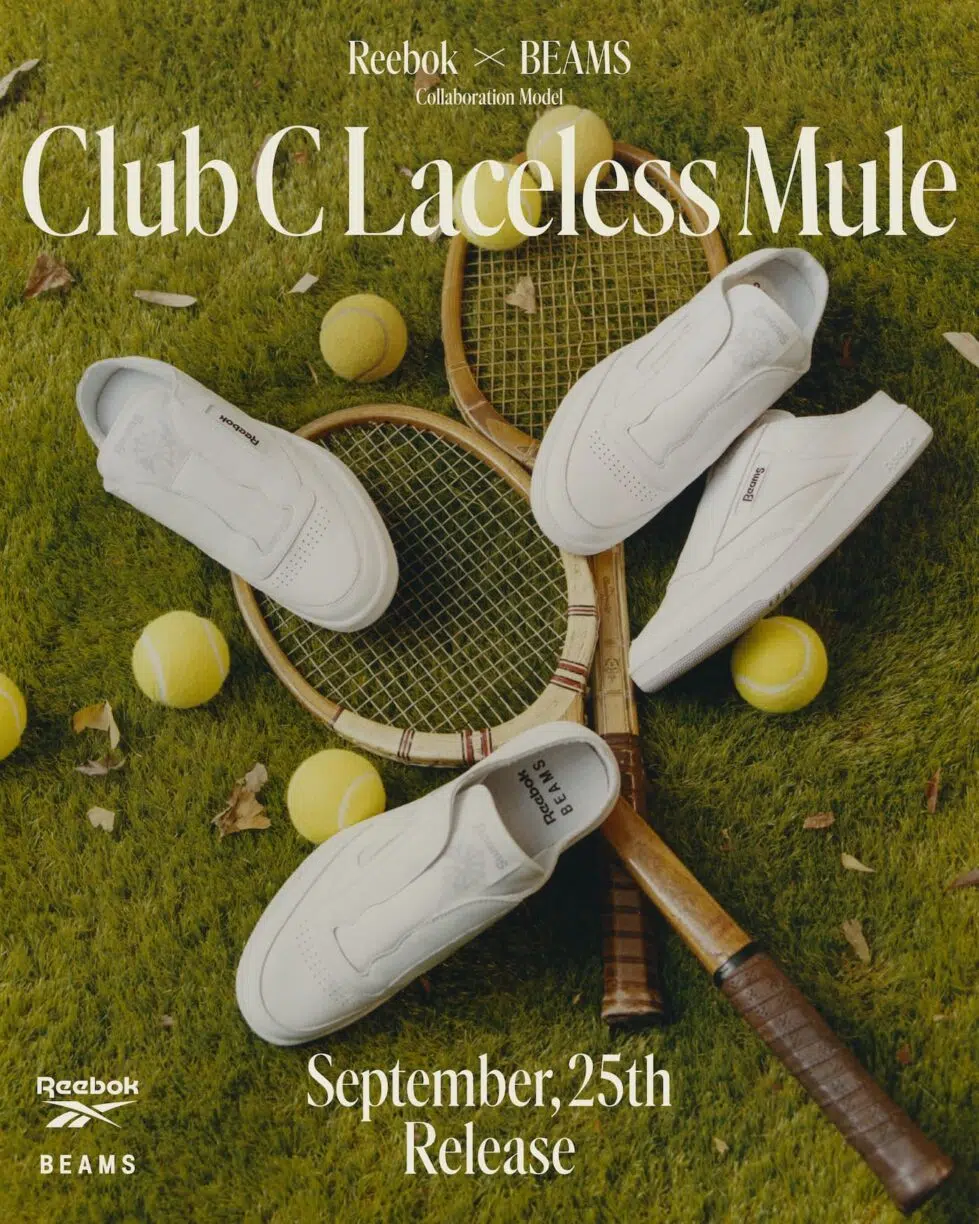 Within a few years, the company quickly expanded its realm to the American east coast and European trends and eventually created its first women's label and store, Ray BEAMS, in 1984.
Throughout the past forty years, the company has obtained legendary status in the world of streetwear and continues to expand its category offerings, earning a strong reputation in cross-brand collaborations.
While Reebok and BEAMS have worked together on several past collaborations throughout the years, the fashion retailer is beyond thrilled about the new silhouette and continued partnership.
"We couldn't be more excited to work with Reebok once again," said Shingo Arai, Head of Buying for BEAMS.
"The Club C's major appeal is its classic look with a trendy feel. When designing the Club C Laceless Mule, we wanted to keep that overarching idea, but focus on creating a shoe that could be worn by everyone and used as both a standout and neutral accessory."

A military-inspired silhouette, the Club C Laceless Mule ($120, GX3853) keeps the authenticity and cleanliness of Reebok's Club C, while incorporating the unique style and lightness of a mule.
The new model will be offered in a White/Cold Grey colourway and, like previous collaborations between the brands, includes a removable and interchangeable custom window box that highlight the BEAMS and Reebok logos on the left shoe, as well as the なまえ logo on the right.

The Club C Laceless Mule will be available for purchase on Beams.co.jp starting September 25 and available worldwide at Reebok.com and select fashion retailers starting October 1. The silhouette will range in unisex sizes, 3.5-12, 13.