Last updated on July 7th, 2021 at 09:50 AM
By David Saunders | UPDATED: 11:28, 20 April 2020
Julian Hearn has launched two successful businesses from scratch. The first he sold for more than £7 million within three years, and the second was valued at £220 million in just four years.
As a recognised business leader, Julian has won many prestigious awards, including  The Times Fast Track 100, The Grocer Entrepreneur Of The Year, even appearing within the top ten of The Telegraph's 'Hot Tech100'.
Huel is currently topping the Alantra Food & Beverage Fast 50 rankings, making it the fastest-growing food brand in the UK, selling in over 100 countries worldwide.
As a reputable voice within the industry, he has been invited to speak at key events, such as the Forbes 30 under 30 2019 conference in Berlin and London Tech Week. Julian has cemented his position as a formidable force in UK business.
Having already donated product to three local hospitals, and offered an online discount for all NHS workers, Huel wanted to offer help to the UK's small businesses, offering vital advice during these current adversities.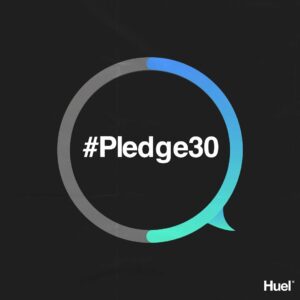 Which is why today, Julian is launching his #pledge30 campaign, encouraging business owners in the UK to give 30 minutes of their time to mentor young businesses struggling with the effects of COVID-19.
A thirty-minute call has the power to transform the mindset of a young business owner. Julian is known for being kind, fair and straight-talking. His directive and realistic, practical advice is something that is much needed in this unsteady climate.
Joining him to launch the campaign are Steven Bartlett, CEO & Founder of Social Chain, Alan Barrett, CEO and Founder of Grenade, and Marisa Hordern, founder of Missoma.
In order to help support a variety of businesses, who will be instrumental in keeping our economy alive, Julian is calling on his business network to offer 30 minutes of real-time advice to those struggling to see a way through the global pandemic.
Brands can visit the Huel website and complete a quick form for the opportunity to be selected for two 30 minute video calls with Julian.
Applicants that Julian believes he can provide the most value to will be selected. As part of the campaign, Julian is encouraging other business leaders to pledge their time, so that more small businesses can be given the help they need.
We are a nation that champions and celebrates startups and small businesses. We know 36% of students have a viable side hustle, and we want to raise a generation of entrepreneurs, working to pursue their innovative business ideas, in a climate that can set them up to win. 672,890 new companies were incorporated in the UK last year.
That is more than one company formation per minute. In order to maximise the impact of the campaign, and to mitigate anyone being left out, Julian will be organising a Facebook Live session to answer a range of different questions, online.