Last updated on July 18th, 2020 at 04:54 PM
By David Saunders, Health Editor | UPDATED: 08:28, 05 June 2020
A new study released today shows that 32 per cent of 11 to 16 year olds believe no issue is more important than the environment and air pollution in the UK.
As a result, 64 per cent of children have decided to make fundamental lifestyle changes in a bid to help save the planet. Far from the stereotypical 'slacktivism' critique, the survey by National Citizen Service (NCS) reveals that youth today are no longer bothered by traditional rites of passage, with ten per cent saying they won't bother learning to drive, while 20 per cent have already given up meat and 15 per cent are turning vegan.
In addition, 87 per cent of secondary school children have already made changes in the last year in a bid to combat climate change. Nearly half – 43 per cent – have stopped using plastic straws, 11 per cent have stopped using aerosols, eight per cent no longer eat at big chain restaurants like McDonalds and 11 per cent have given up taking baths or long showers in a bid to save water.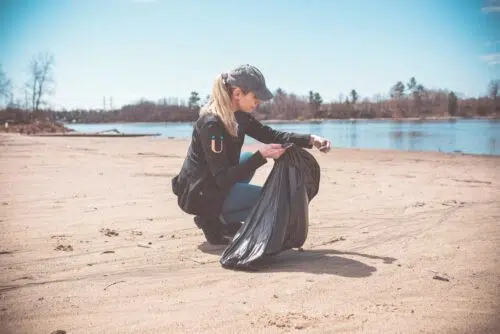 THE TOP 10 THINGS TEENS HAVE GIVEN UP TO SAVE THE PLANET
Plastic bags (45%) and Plastic straws (43%)

Bottled water (25%)

Meat (20%)

Leaving tech on standby (15%)

Taking baths or long showers (11%)

Aerosols (11%)

Face wipes or single use cotton pads (11%)

Fast Fashion (10%)

Dairy products (9%)

Eating at big chain restaurants like McDonalds (8%)
With young people clearly leading the charge for change, Adam Boita, Director of Brand Marketing at NCS – a three to four week summer programme which helps 16-17 year olds gain confidence, build life skills and become more active citizens in their communities, said: "It's no surprise that the environment and air pollution top the list of concerns for young people, and it's heartening to see so many have made fundamental lifestyle changes to help save the planet.
"Our research highlights that young people are already making strides towards saving our planet with their daily choices, and we look forward to seeing tens of thousands of teens making an even bigger impact through their social action project on NCS this summer."
The research found that many young people admit they are frustrated by their parents' lack of interest and action when it comes to environmental issues. Five per cent say their parents aren't at all interested in the effects of climate change and 54 per cent complain that they're only 'a little bit concerned'.
As a result, most urge their mums and dads to make changes – but often to no avail. Nearly half of parents and guardians confess their children have asked them to make changes to save the planet which they have not made. Nine per cent say they've simply ignored all their requests and 35 per cent admit they've only implemented some.
To date, over 12 and a half million hours of social action have been donated by NCS participants, with many projects being environmentally-focussed in their local communities. One such group led the charge by creating a giant moss wall on the most polluted road in their home town of Exeter, in a bid to tackle high pollution.
NCS graduate, Finn Lowther, 17, from Exeter, said: "Taking part in NCS gave me the tools to make a difference – I've always been concerned about the environment, and the programme connected me with other young people in my area so that we could develop ideas for change together.
"We noticed that one road in our area was particularly busy, so decided to plant a moss wall alongside it to help combat emissions. I never would have thought to do this alone, but NCS allowed our team to develop a bigger idea that would make a tangible difference."
More than 500,000 young people have experienced a summer of fun, adventure and social action with NCS. There are still places available for 16 to 17 year olds to take part in this once in a lifetime opportunity. To find out more and book, go to www.ncsyes.co.uk.
---