Last updated on April 30th, 2022 at 10:51 AM
Myzone – the brand behind one of the most accurate heart rate trackers on the market – has launched the world's first interchangeable PPG and ECG heart rate monitor that can be used on the chest, arm, or wrist.
At a time when physical activity and mental wellbeing have never been more important, MZ-Switch ensures that all users are motivated to move and that every move counts.
Never has a healthy lifestyle been more accessible, inclusive, or convenient. Combining Myzone's ethos of rewarding effort over physical fitness, MZ-Switch is the only fitness monitor offering holistic health benefits, however you choose to move, including in water.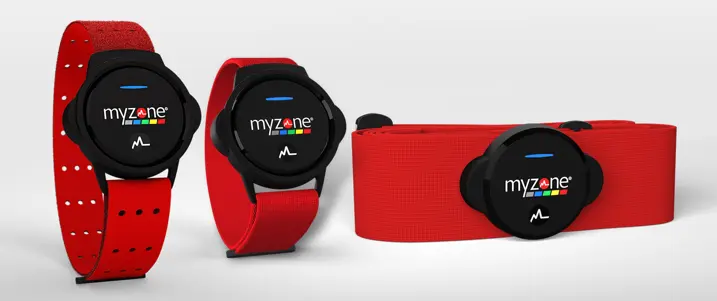 With the functionality of incredible battery life, class-leading accuracy and real-time feedback, MZ-Switch offers everything users need to enjoy exercise.
The new device enables users to monitor and earn Myzone Effort Points (MEPs) for every single type of physical activity as it is wearable three different ways, which means that reaching the World Health Organization's Guidelines for Physical Activity (which equates to 1300 MEPs per month) is more attainable than ever.
Myzone Effort Points are hugely rewarding. The competition to rack up the most MEPs between users, or for anyone to beat their own personal best, is a real driver for healthy motivation.
It is this that helps to reframe what exercise means to each user; it is no longer a chore but an enjoyable and essential part of their everyday lives.
MZ-Switch provides live feedback on heart rate and simplifies this into clear coloured zones which reflect the level of effort being put into the activity.
MZ-Switch will automatically calibrate to your resting and peak heart rate and consider age to personalise each effort zone to the user.
The more effort, the more highly addictive Myzone Effort Points (MEPs) users receive, regardless of athletic ability or physical activity.
This simple and unique system ensures users receive data on metrics such as average intensity, heart rate, calories burned and more which provides key insight into the information that truly matters in their workout – personal effort.
For years, wrist-based fitness monitors have been marked down on accuracy, and chest straps can be more intimidating for casual users, less convenient or considered uncomfortable for general use.
Myzone has now found the perfect solution by launching MZ-Switch which means that anyone can exercise however they want to, whilst receiving critical data.
MZ-Switch levels the playing field of fitness and provides a game-based platform with a social experience that is both inclusive and engaging to all.
MZ-Switch is the first device in the world that has a dual purpose of both PPG (photoplethysmography) and ECG (electrocardiography) readings, providing a complete pathway for accurate monitoring and ensuring there are no blind spots in a user's physical activity measurement.
The wrist-based monitor provides 95% PPG accuracy for any non-gripping activity with repeatable movements, including swimming, running, HIIT and so on.
The tracking technology uses an optical blood flow sensor that shines an LED light into the skin to measure the movement of blood in the arm.
Blood flow is matched to the heartbeat pumping blood around the body to determine the user's heart-rate.
As MZ-Switch is 100% waterproof and can successfully track heart-rate under water, wrist tracking is perfect for swimming.
For any exercises, excluding swimming, but including those that involve heavy wrist movements or flexion like rowing, weight lifting, HIIT or running, the forearm or chest strap should be used.
Similar to the wrist-based monitor, the forearm monitor uses an optical blood flow sensor but is less affected by the wrist flexing and can therefore increase accuracy during any exercises that involve wrist movements.
When the wrist flexes, it can obstruct the visual measurement of the blood circulating through the veins and the reading of the blood flow can be irregular and distorted (known as motion artifact).
Forearm tracking will therefore ensure that a more accurate heart rate is predicted without the blood flow being as distorted for exercises.
To activate PPG readings for the wrist and forearm, simply press the small button on MZ-Switch to activate the optical reading.
The chest-based tracking continues to provide 99.4% ECG accuracy and is based on the electric impulses from the heart.
This type of tracking is perfect for all types of exercises, except swimming as the chest strap cannot guarantee accurate data when the water flow disconnects the strap from the body.
Whether it's HIIT, functional movements or weightlifting, the chest strap provides the most accurate data. Simply put the chest strap on with the MZ-Switch module and it will automatically activate the ECG reading.
Clear and accessible data
Myzone has always been about providing complicated data in a simple format for fun, fair fitness.
MZ-Switch offers that easy transition for people wanting to start recording their accurate physical activity with an unintimidating and less invasive wrist or forearm strap that records the heart's activity through the pulse.
This is ideal for people who walk or cycle and then can transition to physical activity tracking for higher intensity exercise without purchasing a different product as the MZ-Switch doubles up as an ECG monitor.
The small size of the module similarly makes tracking your activity easier than ever – offering the same phenomenal battery life of 3-6 months and data as its predecessor but with a larger memory and advanced technology.
Connectivity
With Ant+, Bluetooth, and a built in memory of 36 hours, MZ-Switch streams live statistics to your smartphone, third party apps and devices, such as Apple Watch, Samsung Watches, Android wear, Strava, Garmin, MapMyRun and Apple Health, while storing the data for future upload to the Myzone in-club display or the Myzone app. You can also join in at-home workouts from your gym using MZ-Remote.
MZ-Switch boasts a battery life of 3-6 months on a single charge. If used on the chest only (using ECG technology), users will receive 140 hours of battery life on a single charge. If used four times a week, this equates to 6-8 months. If used solely on the wrist or forearm (using PPG technology), users will receive 35 hours. If used four times a week, this equates to 2-3 months.
Availability
MZ-Switch is available to buy from www.buy.myzone.org for £139.99 (USD $159.99 / AUD $209.99 / CAN $199.99 / EUR €159.99).
The chest belt, the wrist and forearm straps are all provided in red with a handy pouch to store them in. Aqua, Grey, Purple and Midnight Black watch straps are available from the Myzone shop website. Additional colours will follow.