Last updated on March 28th, 2023 at 07:11 PM
Manchester United Foundation and DXC Technology have today launched their Digital Futures Academy to help educate and inspire young people, introducing them to opportunities within the technology sector.
The ground-breaking initiative will support a group of 50 secondary school students on a four-year programme that aims to develop key social and technical skills.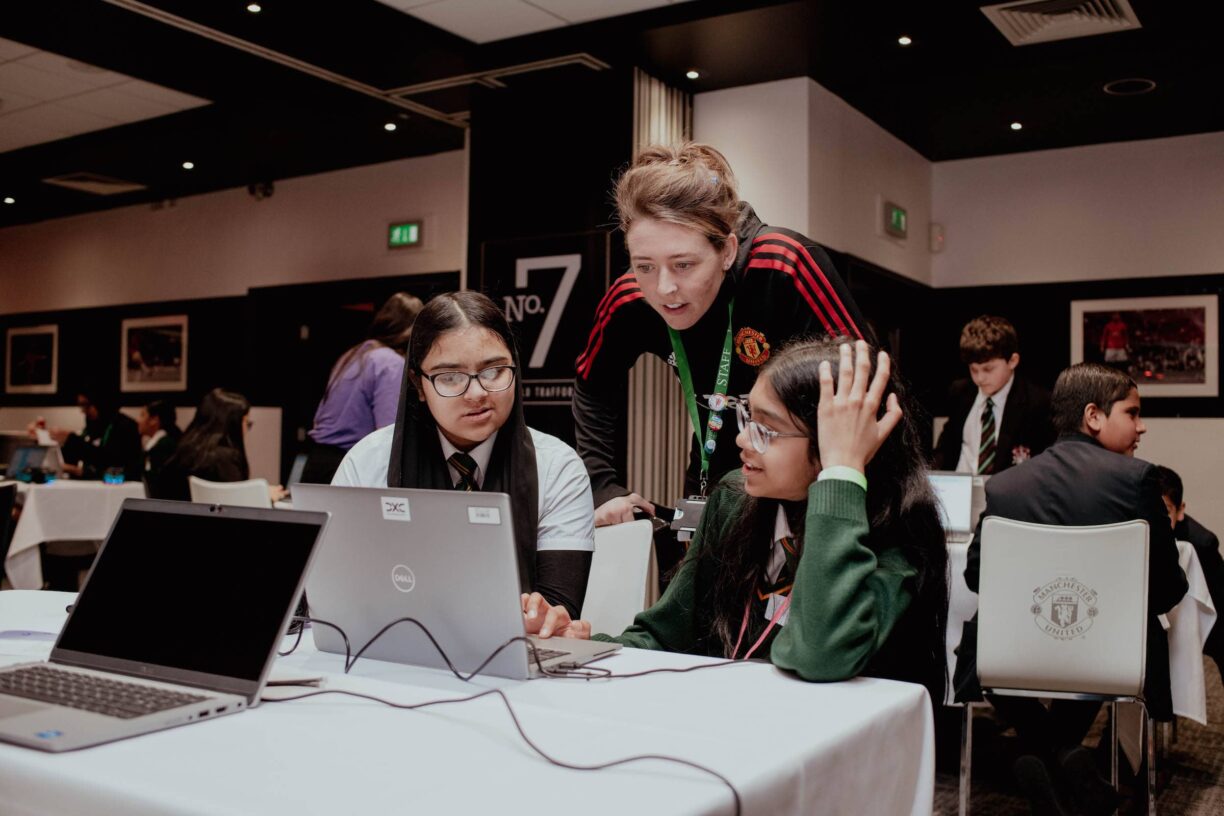 The academy strives to support and empower young people, connecting them to opportunities they may otherwise not have access to, enhancing their career prospects and shaping the future of work.
DXC – Presenting Partner of Manchester United Foundation – will work with the club's associated charity on the programme, introducing students to technology topics such as automation, big data, virtual reality and security, as well as professional development skills.
The curriculum, which has been co-created by DXC Technology's digital experts, Manchester United Foundation and a local advisory group, will use mentoring, personal development and practical sessions to build social leaders of the future.
By the end of the programme, students will be supported with pathways into further education, colleges, apprenticeships and employment.
"This project is a year in the making and we are witnessing the start of an initiative that will demonstrate a long-term commitment to the 50 young people involved," John Shiels MBE, Chief Executive of Manchester United Foundation, said. "It demonstrates real collaboration between ourselves, teachers and DXC and it is hoped that, by the end of the three-year implementation phase, all involved will be in a position of choice as to what their adult pathway may look like."

"I am so enthused by this ground-breaking project which should also serve as a bridge that can act as good practice for other corporate and education partnerships. Today is a very exciting day for all involved."
To celebrate the launch, the Foundation and DXC hosted a series of digital workshops at Old Trafford today for the students embarking on this four-year journey. The session included a deep dive into autonomous vehicles and robotic cars.
Manchester Enterprise Academy pupil Hassan said: "I'm looking forward to starting, to learn some programming and coding. It's going to help me in the future for jobs and hopefully, I'll be able to help the next generation with the next step of doing everything as well.
Mike Holly, Great Academy Ashton Assistant Principal, said: "It's a great opportunity. We wanted to give our students an opportunity that no one else in Greater Manchester really has.
We're hopeful over the four-year project that lots of these students will then go on to further education and higher education in the digital field.
"To be able to do it in Old Trafford, the Theatre of Dreams, it's giving them dreams for the future. It is showing them jobs and careers in digital, whereas in school, you're constrained to the national curriculum and GCSE specifications. This is completely different to that, so it's fantastic for our students."