Last updated on July 14th, 2020 at 10:53 AM
By David Saunders | UPDATED: 11:28, 09 April 2020
New data from digital men's health clinic Numan has revealed that being forced to stay indoors due to the Coronavirus lockdown might be having a positive impact on the UK's amorous activities.
Numan, which offers a range of subscription based treatments for premature ejaculation and erectile dysfunction, has seen demand jump by 85% since the lockdown came into effect.
Erectile dysfunction seems a common issue for men during this period, with Numan reporting a 75% increase in sales of ED treatments.
There has also been a 50% increase in demand for premature ejaculation treatments.
While this suggests the current Coronavirus lockdown might actually be increasing our libido, it also paints a more worrying picture.
Anxiety and depression are common reasons behind why men might struggle in the bedroom. As such, the surge in demand for treatments to address performance issues suggests a spike in our stress levels due to the current climate.
Sokratis Papafloratos, CEO & Founder at Numan: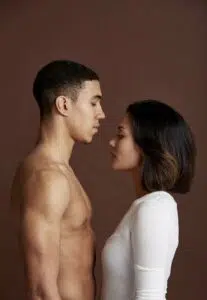 "We have recently seen a significant increase in signups for our Erectile Dysfunction treatments which we think is driven by people spending more time with their partners at home. But this also indicates a concerning rise in levels of anxiety and depression, which are common psychological causes behind ED.
We've been putting a lot of effort in supporting our patients with relevant content and communications around coronavirus, and what they can do to stay safe and manage their mental health during this difficult period."
ABOUT NUMAN
Numan has made a name for itself in the UK amongst men, by making medically approved treatments for premature ejaculation, erectile dysfunction (ED) and hair loss more accessible through its online subscription service.
The company has also recently launched Delay Wipes, a fast-acting solution to premature ejaculation that take effect in 10 seconds and are small enough to fit discreetly in your wallet or pocket.
To find out more about PE, ED and hair loss treatments, and boost your knowledge around these important issues, visit www.Numan.com