Last updated on May 16th, 2023 at 07:49 PM
Individuals and organisations, committed to using sport to prevent young people from entering the Criminal Justice System, were celebrated at the 2023 West Midlands Levelling the Playing Field Regional Awards, held in Walsall on Saturday 13 May 2023.
The Levelling The Playing Field Awards are designed to recognise the dedication and efforts of young people, role models and leaders in positively impacting their communities through sport across the project's four delivery areas: South Yorkshire, West Midlands, Gwent and London.
Levelling the Playing Field (LtPF) is, this year, hosting regional Award ceremonies across these four delivery areas. The winners from all four Regional Awards ceremonies progress to the shortlist for the 2023 Levelling the Playing Field National Awards, in Birmingham this July.
Levelling the Playing Field (LtPF) is a project run by the Alliance of Sport in Criminal Justice, in partnership with the Youth Justice Board. It uses the power of sport and physical activity to engage and improve health and life outcomes for ethnically diverse children who are more likely to enter, or already involved with, the Criminal Justice System.
Organised with LtPF's strategic partners Sport Birmingham, the event at the University of Wolverhampton's Walsall Campus on Saturday brought together young people and leaders from the community organisations in the Levelling the Playing Field network across the West Midlands, all of whom use sport and physical activity to engage ethnically diverse children and achieve positive change.
Young people, role models, coaches and guests enjoyed activities including wheelchair basketball, archery, table tennis and augmented reality (AR) e-sport HADO.
The winners of the 2023 West Midlands Levelling the Playing Field Regional Awards are:
Young Person of the Year – Jaiden Conway, InPower Academy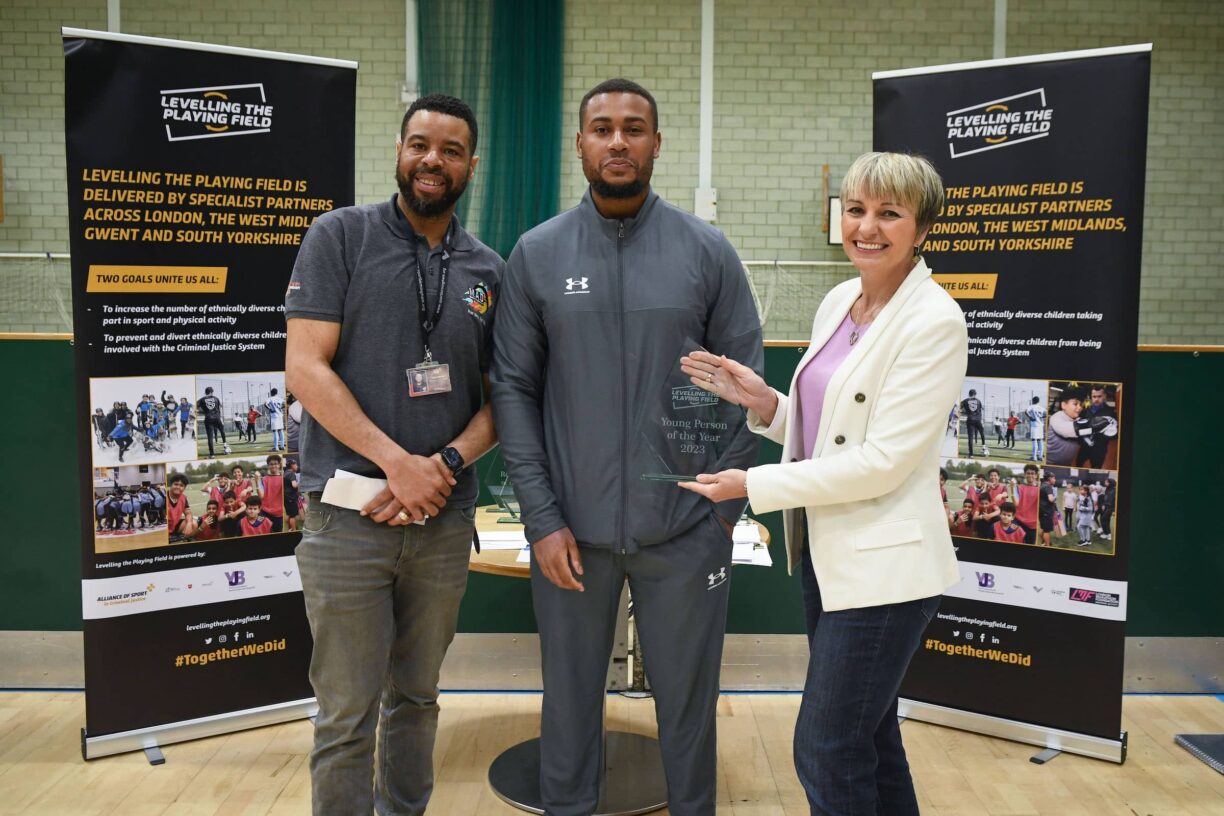 Jaiden (represented at the awards by his mentor Duane Chambers) comes from a challenging background and was close to being permanently excluded from school – until he joined InPower's alternative provision in the community last October and began boxing and martial arts.  
Through InPower, he completed an ASDAN course and achieved a Silver award and the improvements in his attitude and behaviour have seen him return to school two days a week.
Picking up the Award on his behalf, Duane Chambers said: "This award will mean a lot to him. This will show him how far he's come and that he can really achieve. 
He will be shocked, but I'm not shocked because I could see the potential in him. He needs that little bit of belief and resilience to know that he can achieve and I believe this award will be really beneficial to him." 
Role Model of the Year – Neeco Williams, InPower Academy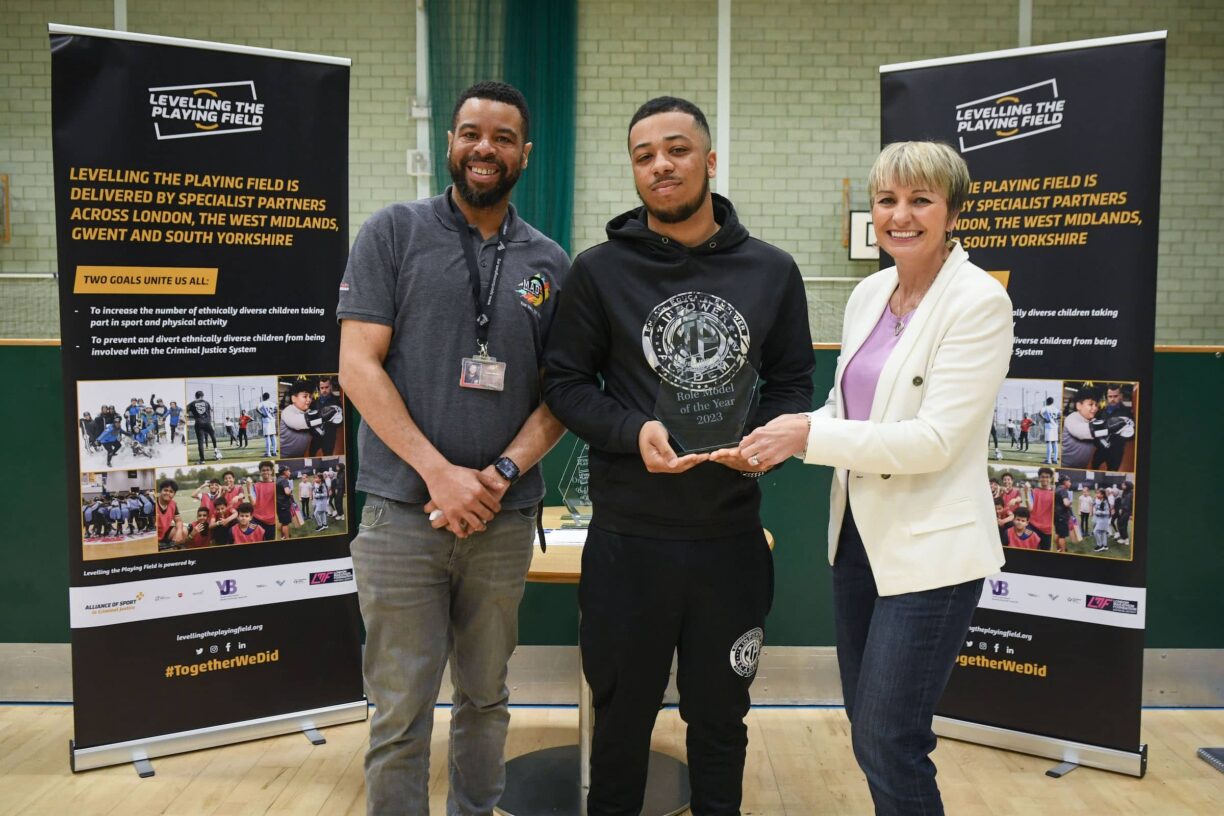 InPower scooped a second award thanks to Neeco, who started as a participant and is now a coach, leader and role model to young people from his own community in Wolverhampton. 
He said: "If it wasn't for InPower I wouldn't be in this position and I may not even be on this planet in terms of the way my life was going.
It wasn't going to end well. Daryl [InPower founder] and InPower have accomplished a holistic change in me and made me a better person. Thinking back to who I was back then and where I am now, there is such a big shift in mindset. 
"It's amazing to know that I'm considered as a role model by Levelling the Playing Field and by our young people. I love the fact that Daryl was my role model and I'm now playing the same role to other young leaders. It's so satisfying seeing the work and time you've put in being continued by the next generation.
"Martial arts and boxing are so good at hooking you in. There's a clear progression system, you can feel yourself getting fitter and learning more moves and naturally you want to do more. Yes, it's fighting and it's fun to hit things, but it's more than that. It's more about the positive mindset than hitting pads."
Read more about Neeco's journey here.
Cohort of the Year – Snow Camp's 2023 Excel group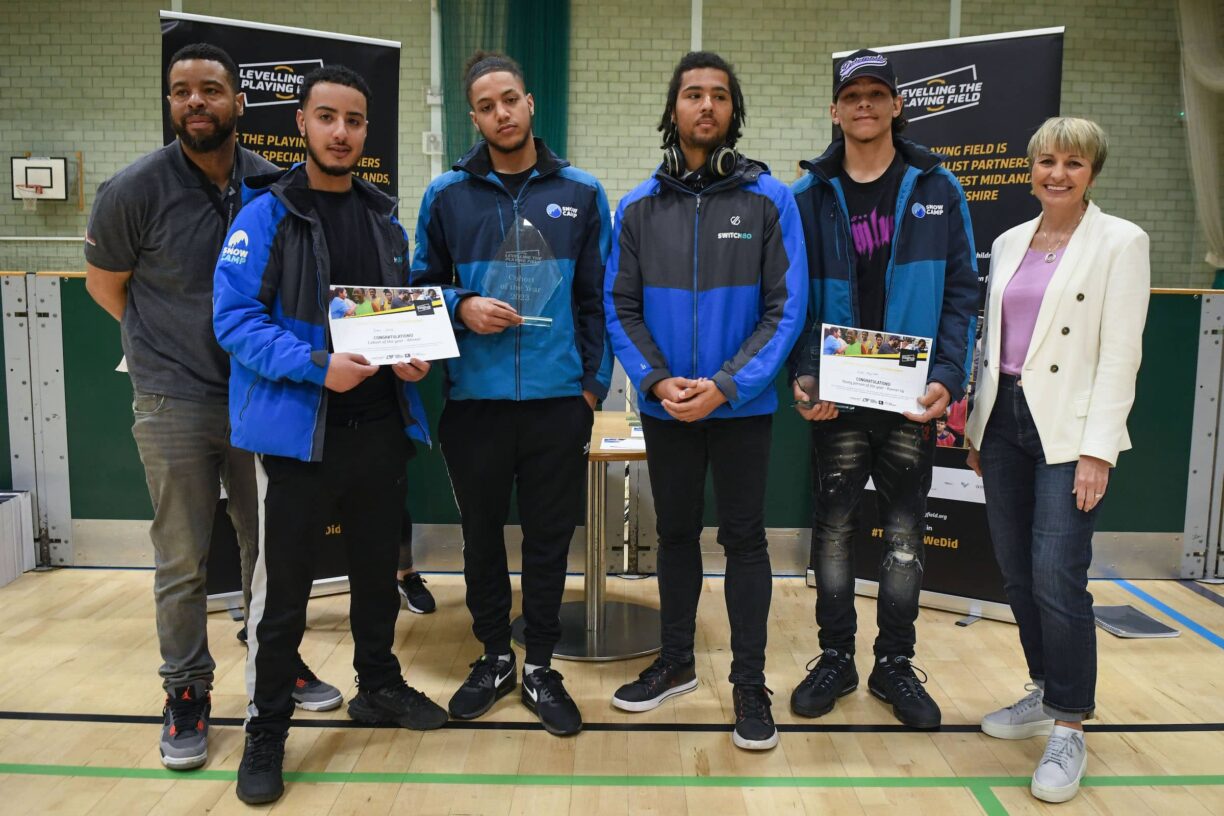 The award recognised Snow Camp's group of 16 to 21-year-olds who this year have bonded on the slopes and thrived on their collective developmental and wellbeing journey. 
"The group dynamic that they have created – a place of safety and support – is a credit to the young people," said Snow Camp's Midlands Programme Manager Lydia Honey. 
Snow Camp has a profound effect on young people who may have low self-esteem, mental health issues, have difficulties at school or at home and/or be on the periphery of the Criminal Justice System.
Snow Camp use snow sports as a vehicle to take participants on a journey of self-development.  They are taken through a three-stage programme over the course of a year, taking place in indoor UK snow centres, which combines building confidence on the snow with life skills, goal-setting, self-reflection, mental health and counselling. Read more here. 
Partnership of the Year – Coventry Youth Partnership
The Coventry Youth Partnership (CYP) is a collective of community and statutory organisations that work together to achieve the best possible outcomes for young people in the city. 
The partnership, led by our specialist partners Positive Youth Foundation, has up to 40 members including local youth organisations, police, the Police and Crime Commissioner, the Youth Offending Service, Coventry City Council and a youth advisory group to ensure young people's views are represented.  
As well as the chance to network, share learning, develop their workforce and refer young people between each other to meet their needs, partners can access much wider sources of funding. Read more here. 
Organisation of the Year – Sporting Elite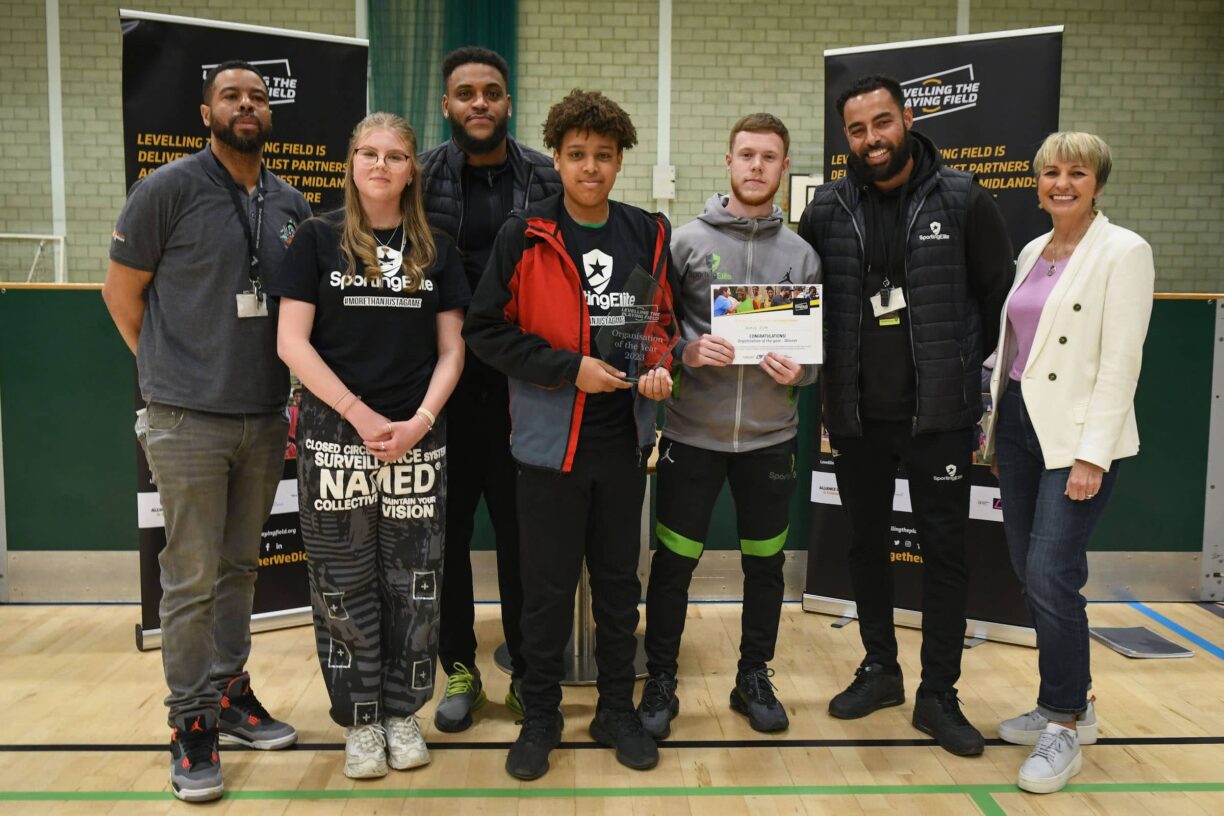 Sporting Elite are a fine example of how sport can act as a powerful deterrent against ethnically diverse young people becoming involved in crime.  
Combining football sessions with informal mentoring, access to local role models and opportunities in education and employment, Sporting Elite are achieving positive outcomes for 14 to 18-year-olds in Birmingham who may otherwise be at risk of becoming involved in the Criminal Justice System.
"We're not saying we can fix everything, but by using sport we can help steer young people in the right direction when the other influences around them might not always be positive." said founder Seb Hamilton. Read more here.