Last updated on May 16th, 2023 at 06:00 PM
TOCA Football has announced today that Leah Williamson, captain of the England Women's Football Team, has become an equity stakeholder in the company.
This encompasses TOCA Social, the popular football-themed social entertainment experience which opened last year at The O2 in London, as well as TOCA Soccer, the largest operator of indoor soccer centres in North America.
Williamson's partnership with TOCA marks her first venture into the world of business and reflects her commitment to the future of football and her desire to inspire young women around the world.
In addition, Williamson will work closely with TOCA Social to increase participation with females of all ages, with more details about the campaign to be announced later in the year.
"I am excited to be partnering with TOCA Social and support their mission to get more females participating in the sport," said Williamson.
"As a professional footballer, I know the importance of quality training, and the training arm of TOCA Soccer provides that and more. I am thrilled to be a part of a company that is committed to making a positive impact on the sport I love."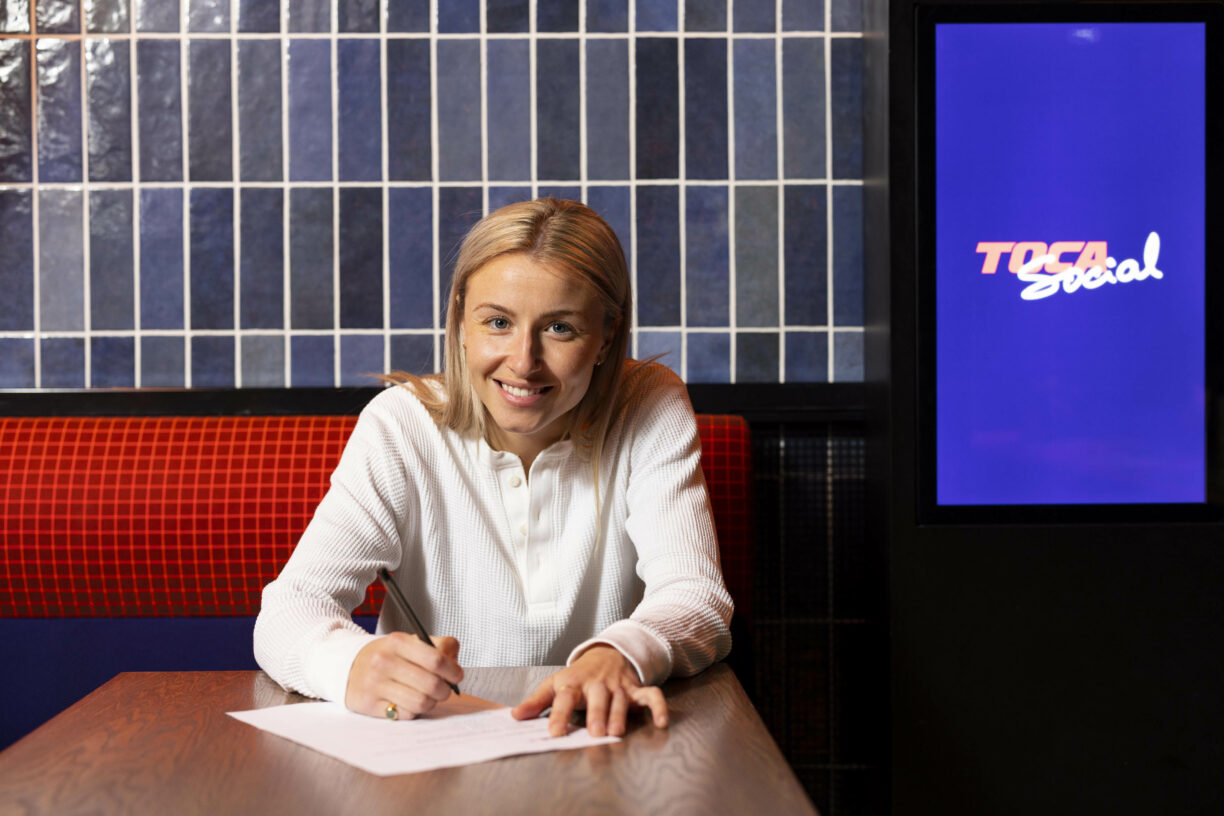 When she's not on the pitch representing England, Leah Williamson plays for Arsenal in the Women's Super League. The 25-year-old is a defender and is known for having a knack at being in the right place at the right time.
Leah continues her career as a professional footballer whilst both training to be an accountant, and inspiring young women around the world on social media.
Williamson has previously talked about her accountancy studies as a way to maintain balance in her life by doing something outside of football.
"We are excited to welcome Leah to the TOCA family as a stakeholder," said Alex Harman, President of TOCA Social. "Leah's commitment to football and her dedication to empowering young women make her an ideal partner for TOCA.
We look forward to working with Leah on a collaborative campaign to increase female participation in football and to providing the best experiences for all ages and levels."
In October last year, a striking mural of Leah Williamson and fellow TOCA investor, England football captain Harry Kane was unveiled at TOCA Social in a bid to help inspire the next generation of leaders.
Speaking at the unveiling ceremony, Leah said: "Leading by example and being a communicator are just a few of the elements needed to be a good leader, and I hope this sends a message to young players that anything is possible."
TOCA Football was founded in 2016 by two-time U.S. World Cup and former MLS and English Premier League midfielder Eddie Lewis.