Last updated on September 3rd, 2021 at 08:36 AM
Geraint Thomas was feeling confident about racing in this year's Tour de France. That was until lockdown happened and threw the entire cycling schedule into chaos.
"It's definitely been totally different to what I'm used to," the 34-year-old Welshman admits. "Everything's just up in the air at the moment, and you can't say anything with certainty.
"You really get used to the structure of the year, but since the World [Championships] over in Yorkshire last October and September until now, I've only done five days of racing, which is pretty unheard of unless you're injured."
Comforted by the fact he's currently taking part in the Tour de l'Ain, which shares many of the same roads as the Tour de France itself, Thomas has been getting his race legs back on track – albeit with a "tired" and "hot" performance he suspects "isn't great for the head".
Still, the 2018 Tour de France winner, double Olympic Gold medallist, Commonwealth Games road champ and three times World Champion has more than enough accolades to help mentally prepare him for battle when the postponed Tour kicks off at the end of August.
"I still get nervous," he concedes. "The biggest thing with the Tour is the build-up, which starts all the way from November, so it's constantly in the back of your mind.
That intensity just builds and builds, but it's good in a way – that buzz drives you forward."
Taking a rare day off from cycling, Thomas is chatting to me about his latest project with Pact coffee (pactcoffee.com) – a limited-edition 'Gran Fondo Espresso' blend developed to reflect his love of a nail-bitingly strong cuppa after a day on the bike. "I prefer the classic sort of old-school Italian espresso. I've spent a lot of time in Italy, so that dark roast taste is the route we went down," he explains.
The process of creating the blend involved the tough task of taste-testing lots of different beans, a job the discerning coffee-drinker was more than happy to take on. "In the cycling world, everyone shares their own tips and the beans they like, so I already had a lot of knowledge about the coffees I like before working on the blend.
"Coffee is culturally part of the sport. When you start riding, there's always coffee stops, and even when you turn professional, you stop for a coffee before you go home, after your efforts and intervals."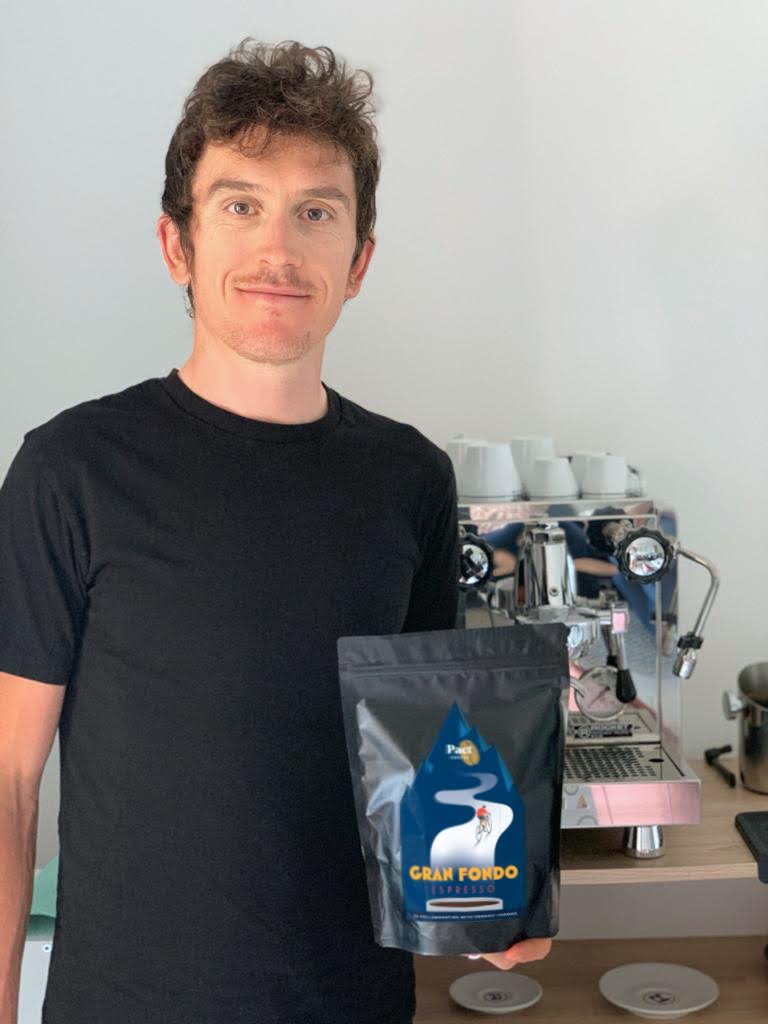 With Sir Bradley Wiggins tipping him for a win at this year's Tour, it would be easy for Thomas to get comfortable, but he's learned to switch off the background noise over the years. "It's a compliment when guys like Brad say nice things like that," he says with a laugh. "But yeah, most of the time I don't even read [those stories] – I'll try and stay in my own little world and just focus on the work I've got to do."
Still, to be a champion cyclist and survive the intense mental pressure is no easy feat – even if you do mute the constant speculation.
"You've got to be able to hurt yourself," Thomas says. "The mental side is the biggest thing, especially with cycling, because involves a lot of hours and a lot of time on your own. It definitely helps if you enjoy it too, because I enjoy just riding my bike for fun.
"When you have certain big, intense efforts to train for, it's definitely more challenging. You have to be in the right frame of mind. The weather could be bad, or it could be extremely hot, snowing or raining, and then you're going down descents. It can be quite dodgy at times.
Physical endurance is a must too. "Even in one-day races you're doing big distances. I've just raced from Milan to San Remo, which is just over 300 kilometres long – over seven hours of racing.
"Usually I'm training for 300 days of the year too."
With age, he concedes he's been able to better recede from the cycling world when he needs to, especially since the birth of his 10-month-old son, Max. "Before I used to do a two-hour recovery ride on my days off, but now I like to actually take the day off and spend it with my family," he says.
"It's so easy to get so immersed in it if you have a bad day. It can seem like it's the be-all and end-all. But then you realise you've got a son at home who couldn't care less, and that it's just a bike race at the end of the day."