Last updated on May 22nd, 2022 at 07:27 PM
Heptathlon Champion Georgia Ellenwood Joins UA Athlete Roster Collaboration. It makes us smarter. It leads to a rich diversity of thought and execution. And innovation is nearly impossible without it.
With that in mind, Under Armour welcomes University of Wisconsin graduate and rising heptathlete star Georgia Ellenwood from Langley, British Columbia, to its track and field family.
As Under Armour continues to innovate and strives to make athletes better, Georgia's insight and experience at the elite level will be utilised to make the brand better.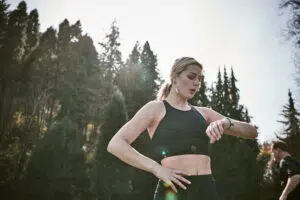 "I'm so excited to be joining the Under Armour family," she said while visiting Under Armour's footwear innovation facility in Portland, Oregon. "To align with such a prestigious and familiar brand as I begin my pro career is truly incredible.
Through this process, I feel as though I've truly got to know the Under Armour team and I feel right at home."
Georgia finished her collegiate career by winning the NCAA heptathlon title in 2018. Following that, she was the 2018 Pan American Combined Events Cup Champion – which also served as the Canadian Combined Events Championship – giving Ellenwood her first senior national title.
Heptathletes require several pairs of footwear for the seven events. Georgia has begun working closely with the Under Armour product development team on her customized footwear.
In her first season as a pro athlete, the drive for Tokyo next summer is well within reach. She is training to represent Canada in the two-day, seven discipline heptathlon. This combined event features 100m hurdles, high jump, shot put, 200m, long jump, javelin throw and 800m.
"The heptathlon is challenging and unique. It keeps me engaged each day, which has motivated me since the beginning. It seems as though my personality was meant for seven events.
On the path to becoming a heptathlete, there was never a moment that I deliberately chose that event. I simply continued to compete in multiple events and, over time, it chose me."
Georgia has worked with her hometown track team in Langley and looks forward to introducing the heptathlon's seven events to encourage girls across British Columbia and Canada to stay in sport.
Under Armour adds Ellenwood to its running roster that features other women runners such as Canadian marathoner Lanni Marchant, U.S. sprinter Natasha Hastings and Jamaican steeplechaser Aisha Praught Leer.
She joins other Under Armour Canada athletes including Carey Price, Drew Doughty, Taylor Hall, Lindsay Agnew and Mikael Kingsbury.