Last updated on August 22nd, 2021 at 03:39 PM
By David Saunders | UPDATED: 11:28, 15 April 2020
Odhealth (www.odhealth.com) was originally launched to help reach a sector of clientele currently underserved by the health and fitness industry, whilst helping to constructively fill a personal trainer's downtime.
At just £15 per session, Odhealth removes the barriers of regular personal training sessions with accessibility to all, regardless of current fitness ability, level of confidence or location.
The video consultations provided by the PTs are personalised to each individual, who are given access to a tailored workout plan they can easily carry out from the comfort of their own home or garden.
Clients are additionally designed a holistic health plan, focusing on exercise, nutrition, rest and general wellbeing. As sessions are delivered through video calls, users are able to access the correct advice, wherever and whenever it may be required.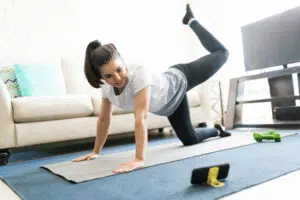 During these unprecedented times, and with uncertainty surrounding how much longer the UK will remain on lockdown, Odhealth offers the perfect way to adapt your health & fitness routine. Users are able to confidently adapt their exercise regime and diet with the support of an expert coach; rather than simply relying on generic online workouts.
Alongside the multitude of benefits to users, signing up to Odhealth also enables accredited PTs to effectively make use of and monetise their spare time by coaching remotely. This offers a much-needed source of income for many at present, due to the closure of all gyms and sports clubs.
Each 25 minute session with an allocated PT takes the form of a private video call within the app, at a time of day best suited to the client's needs. Coaches will recommend the number of sessions based on the user's goals, and will explain the science and psychology behind every training plan.
With the nation spending more time at home, Odhealth is the perfect way to build healthy habits and stay on track with measurable goals and a realistic timeline to achieve them.
Tom Sheppey, Co-Founder of Odhealth (www.odhealth.com), said:
"When it comes to health and fitness, most people just want to speak to an actual person who knows what they're talking about, with ongoing support to make good habits stick. With so much uncertainty at the moment and people spending more time at home than ever before, people are looking for guidance on how to adapt their routine and diet to stay fit and healthy.
"Odhealth is the perfect solution. Our app packages up one-on-one consultations and bespoke plans to help people navigate this new landscape with clear, measurable goals and a realistic timeline in which to reach them. Just as importantly, the platform provides a way for people to support personal trainers during such a challenging time for their industry."