Last updated on July 15th, 2020 at 02:32 PM
By David Saunders, Health Editor | UPDATED: 08:28, 26 June 2020
Here to stay. This is also true of FIBO, which will remain a child of Cologne. An agreement to this end has now been reached by the organiser, Reed Exhibitions Deutschland, and Koelnmesse Ausstellungen GmbH, with both parties agreeing to an early ten-year extension of their current agreement to 2032.
Since the move to its home on the Rhine River, FIBO has developed into one of the fastest-growing flagship fairs internationally, nearly doubling not only its exhibition area, but its exhibitor and visitor numbers as well. FIBO plans to continue expanding its thematic scope at its Cologne location in the years to come. There are already a number of new developments to announce for 2020.
New halls and new topics
From 2 to 5 April 2020, FIBO will be propelling the market forward and setting the industry's trends with a new hall arrangement. For example, two additional business halls and new concepts will make it possible to showcase theme worlds such as New Business, Health and Global Trading in a central location. The trade show's new structure optimises visitor management and caters to the interests of exhibitors and visitors alike.
"The key is to position FIBO such that it can continue to be the world's most important industry meeting place in future – because FIBO is the event that actively promotes the latest market developments and trends while giving sufficient space to rapidly growing segments," says FIBO Event Director Silke Frank. A good example here is Health, which includes the Fitness and Wellness areas and will be the focus of Hall 8 in 2020. Another is global trading, for which FIBO has set up an area in the new Business Hall in 4.1 in order to help those looking for suitable distributors.
Health, Training and Wellness: Hall 8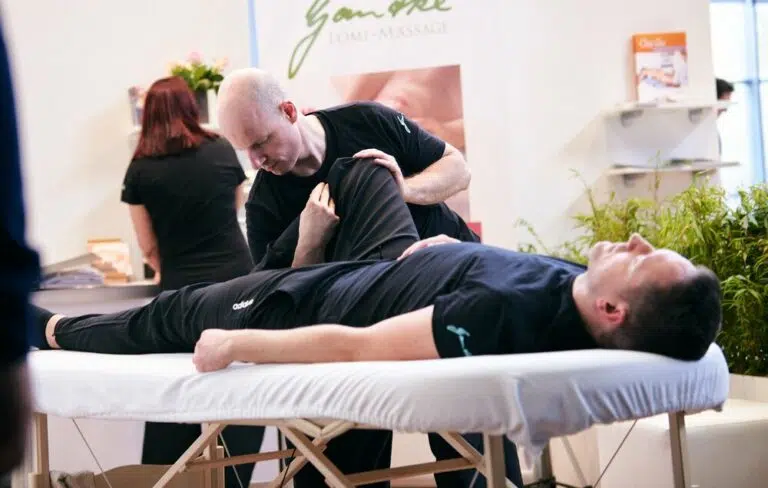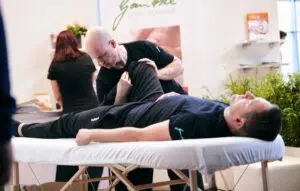 Hall 8 will be transformed into the Health hall in 2020 with products and concepts in the areas of training therapy and equipment, as well as physiotherapy equipment and supplies. This allows FIBO to support the secondary health market that is one of the industry's growth drivers.
More and more people are turning to nutrition, prevention and sport. Thanks to a changing working world and demographic change, occupational health management is becoming increasingly important. As part of the event's holistic approach to health, the Wellness & Spa and Yoga areas will also be given a home in Hall 8.
Hotspots here include the new Health Meeting Point, the Wellness Competence Centre and the Yoga Area.
The hall will also continue to provide a comprehensive overview of equipment and furnishings for fitness studios and health centres, from the entrance area and floors to lockers in the changing room.
As a result, the exhibition hall will be a key destination for fitness studio operators, decision-makers and managers from the fields of therapy and rehabilitation, as well as occupational health management executives.
Group and Functional Training: Hall 5.2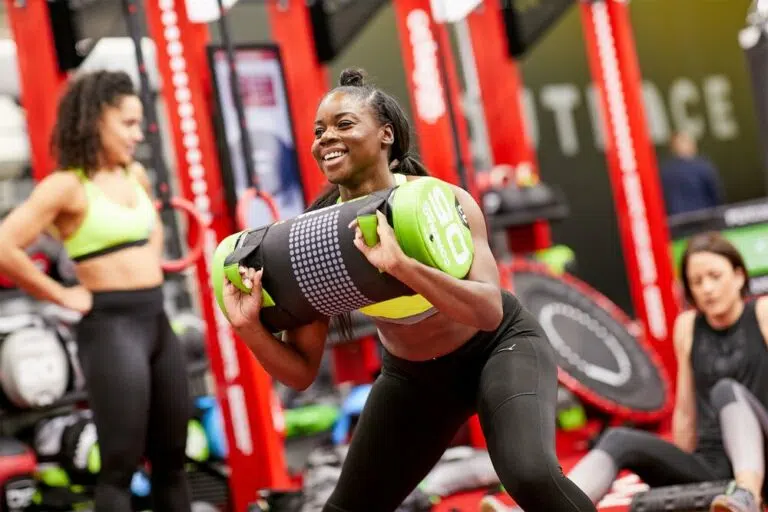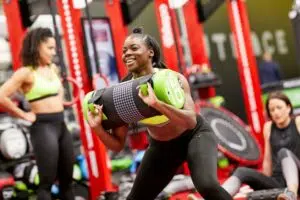 In Hall 5.2, FIBO is bringing Functional Training, Group Fitness and Fighting Fit together – an ideal combination of B2B and B2C. Valuable synergies for successfully generating customer loyalty in the fitness field will be created here: trainers, instructors, wellness experts and studio owners will find lots of attractive offers in a single location, while consumers will have the opportunity to experience new training programmes live and in person. At the heart of the action: the Group Fitness Stage and the Functional Training Forum.
Innovations, start-ups and future trends: Hall 5.1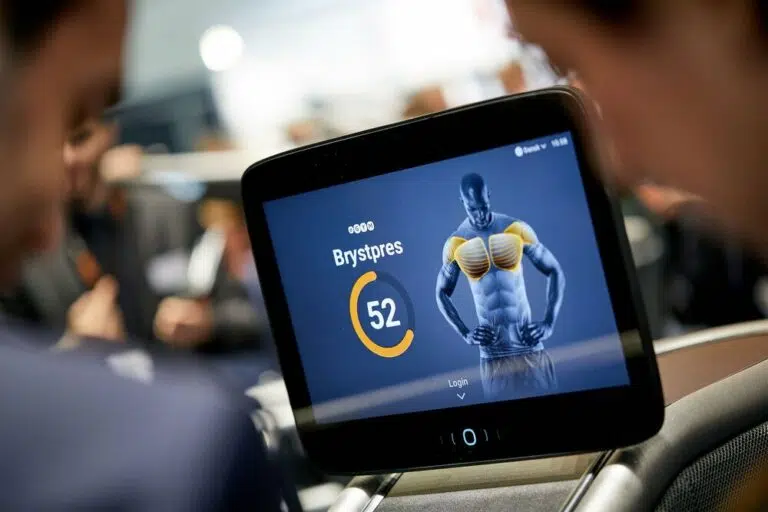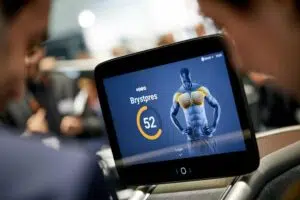 Custom business models, new products, and training and professional development opportunities – that is the face of the new Hall 5.1. Here, everything revolves around innovations, start-ups and future trends. Newcomers to the fitness industry, manufacturers, successful franchise concepts and training institutes will be in the spotlight in this exhibition hall.
The presentation forum allows visitors to get to know tomorrow's top players and their products through brief presentations, while successful start-ups share their best practices and experts offer assistance in starting new ventures.
Digitalisation is a top theme. In the area of training and professional development, there will also be job offers and information on training opportunities. Franchising represents yet another area of emphasis.
FIBO's concept appeals to a wide range of trade visitors, including studio operators, personal trainers, journalists and investors. FIBO will once again be focusing its efforts on initiating contacts between exhibitors and visitors with its FIBO matchmaking service.
This free networking platform will be bringing business contacts together yet again this year, helping to ensure that trade fair visits are even more successful and interesting. The matchmaking service allows potential cooperation partners to apply filters according to countries, industries, companies or product categories and to submit direct requests for appointments, and participating firms can use the Matchmaking Lounge in Hall 5.1 for these meetings.
Global Trading & Sourcing: Hall 4.1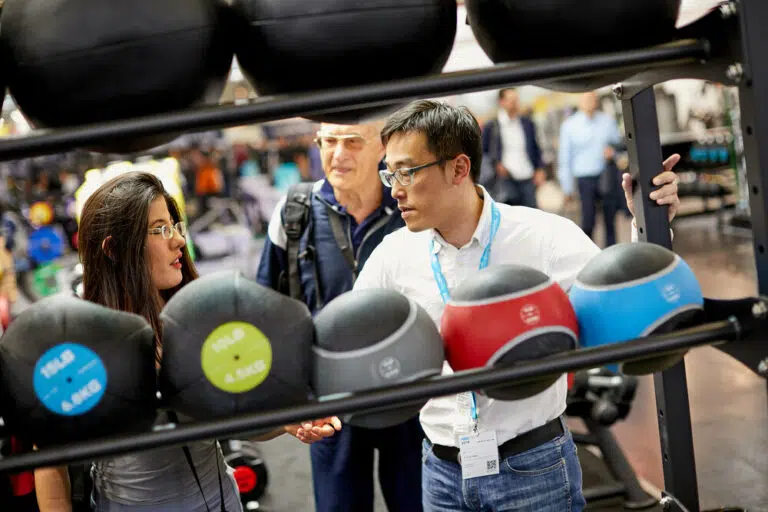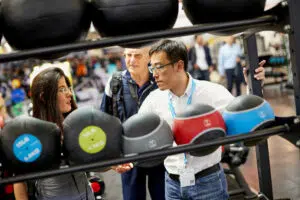 Hall 4.1 will be devoted to global trading in 2020, making it the central port of call for wholesalers and retailers. This area will be home in particular to training equipment from around the globe, as well as consulting services, EMS, functional training, wellness and spa, and health training equipment.
There will be targeted efforts to bring international visitors together with expanding manufacturers, with a focus on entering new markets and countries.
FIBO also simplifies the process of finding the right business partners with a special trader matchmaking service. Even in advance of the trade fair, exhibitors will be able to use the online platform to introduce themselves to potential trading partners and specify their target countries.
Talks at the event can be held in the spacious and accommodating Business and Matchmaking Lounge. Exhibitors can utilise the new 'Exhibitor Lounge' for their meetings. Plans also call for a presentation programme on the topic of trading, retail and e-commerce.