Last updated on September 26th, 2021 at 03:53 PM
The problem…
"My wedding is due in spring next year – all being well – and I'm really looking forward to it. It's the one bright light on the horizon of an otherwise very gloomy time. I am very much hoping that the rules on numbers will have been relaxed by then, and that I can have a proper ceremony with all the trimmings.
"However, I have a bit of a dilemma as to who should give me away, and it's threatening to spoil things if I don't get it right. When I was four, my parents split up, and since then it was my stepfather who fulfilled the role of father. However, eight years ago I started to see my birth father again and have built up a good relationship with him too.
I hate the idea of one of them losing out or feeling hurt…
"My problem is, I don't know who to ask. They're both quite laid-back and I don't think either would be very upset if were to ask the other, but I hate the idea of one of them losing out or feeling hurt. I'm not even sure if I have a choice anyway, as I would have thought it should legally be my birth father."
Fiona says…
"For a start, I think you'll find that as an independent young woman, no one can 'give you away' anymore. These days, most celebrants will ask, 'Who brings this woman to be married to…', not, 'Who gives this woman away…'. You are 'escorted' into the ceremony, whether in a church, register office or registered premises, not 'brought' – and who ever does that can be whoever you like. Traditionally, that role falls to the birth father, but increasingly it's someone else entirely.
"Even though you have a good relationship with both of your fathers, feelings can be very easily hurt in situations like this. I suspect both will be hoping they are the one chosen, so perhaps the best solution is to see if they could both do it? That assumes they get on well enough with each other to be willing to do this, of course. If they don't, then I suggest you consider thinking completely outside the box.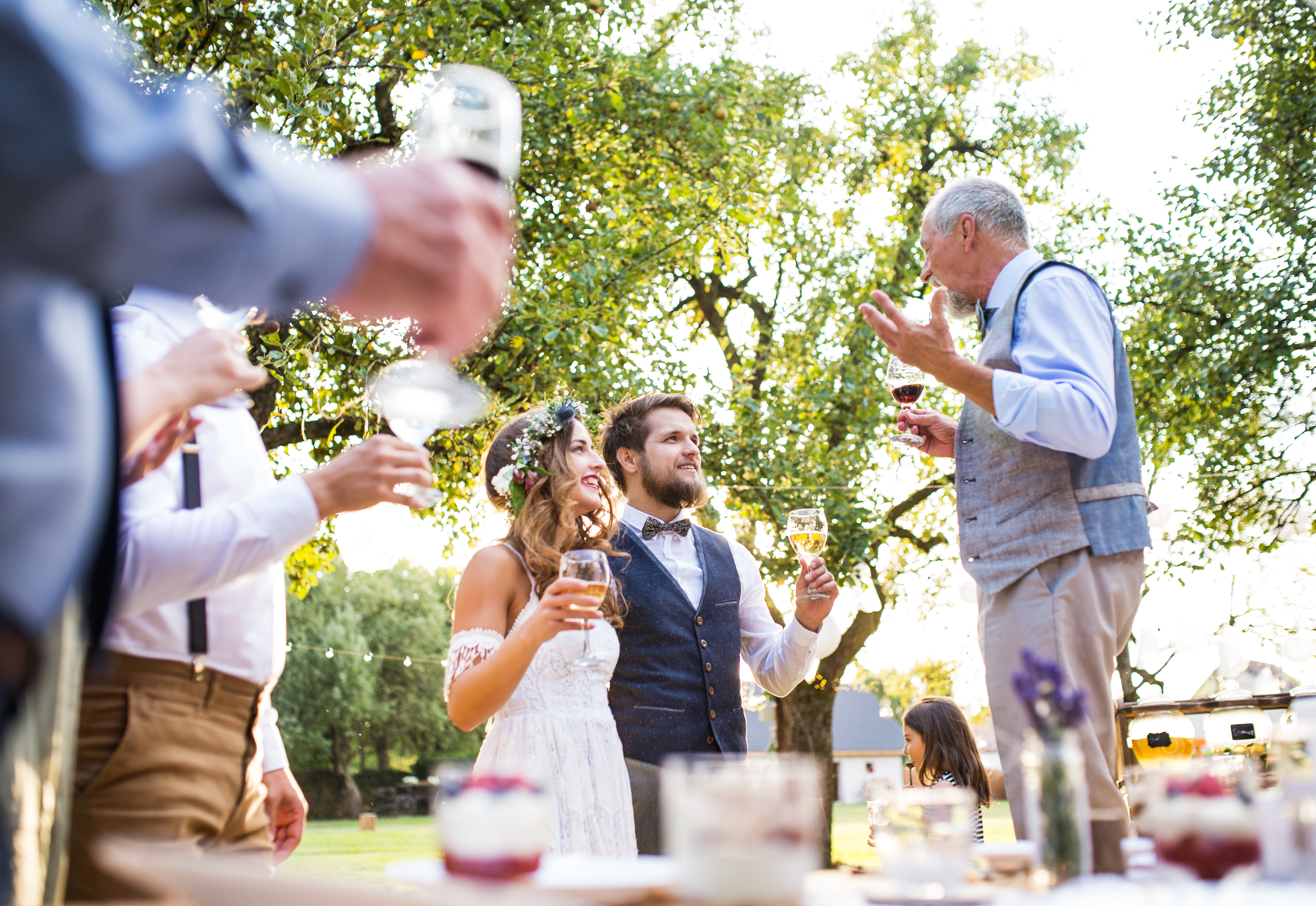 "Why not have your mother escort you, for example? Or, if you feel brave enough, you could walk in by yourself. There are other roles these two men could fulfil on the day, and which would help them to feel included.
Obviously, you must think about your partner's family too, but could they be the two witnesses perhaps? Could they do readings during the ceremony, or perhaps one could do a reading and the other do a speech at the reception?
If they are as easy-going as you say they are then I'm sure you can reach a compromise where they both feel included and happy.
"Whatever you decide, I suggest you also ensure both your fathers have a prominent position at the top table for your reception. Whilst I very much hope that by spring next year, life will be more 'normal' and you can have the wedding you dream of, it is of course possible that we will still be limited to small numbers.
If that's the case, then I suggest you keep things as simple as possible and not allocate too many special roles to anyone.
"Finally, whatever you do, please don't allow concerns about family politics to take away your pleasure on this, your special day!"
If you have a problem you need help with, email Fiona by writing to help@askfiona.net for advice. All letters are treated in complete confidence and, to protect this privacy, Fiona is unable to pass on your messages to other readers. Fiona regrets that she cannot enter into personal correspondence.