By David Saunders, Health Editor | UPDATED: 08:28, 05 June 2020
David Lloyd Chigwell is to receive a significant £4 million investment programme to firmly position the club as Essex's leading health, spa, fitness and racquets clubs.
When the work finishes later this summer, the club will offer unrivalled facilities to support members with their wellness needs, whether that be in fitness, relaxation or socialising with friends and family.
Work has already begun on the 750 square metre brand new luxury indoor and outdoor spa, refurbishment and renovation of the Club Room, tennis courts refreshed with new surfacing, and two new badminton courts.
Last month the club launched a brand new boutique-style HIIT (High Intensity Interval Training) class, Blaze, which has proved to be hugely popular with members. Blaze will test member's strength, stamina, and willpower.
It will push individuals to their limit as they make their way round the cardio, free weights and boxing stations, all tracked by a Myzone heart-rate monitor with results displayed on large screens around the studio.
The centre piece of the redevelopment is the state-of-the-art super-spa; known as the Spa Retreat- it is set within a newly built wing of the club, but a world away from anywhere.
Supporting members in looking after their mental health and overall wellness, the stylish indoor luxury spa is set to be a key destination to melt away stress. There are few better ways to spend some much-deserved down time than by relaxing in the serene surrounds of a spa.
Regular spa usage, alongside a varied, active lifestyle, will not only promote relaxation but also provides some crucial health benefits, such as: detoxification, easing arthritis and joint pain, improved immune system, and relief from muscle pain and soft tissue injuries.
The area will feature seven experiences which include: a Finnish sauna, saunarium and caldarium, and an experience steam room and Ice cave. Between the sauna and steam is a plunge pool and feature shower. Members will also be able to enjoy two deep relaxation rooms, one with beds and the second with futuristic-looking hanging pods. The open plan area consists of a hydro pool surrounded by loungers and heated beds.
The refurbishment also includes an extensive new leafy Spa Garden with a spa pool, external sauna cabin with a feature shower and landscaped seating area with a fire pit and loungers, providing the perfect spot for members to rest their mind and body on a stunning summer's day.
Together with the investment in the relaxation facilities, come improvements to the more active areas of the club; the tennis courts and gym. The tennis facilities are receiving much anticipated resurfacing of the courts plus new nets and backdrops, as well as new LED lighting. Two new badminton courts have also been installed for members to enjoy.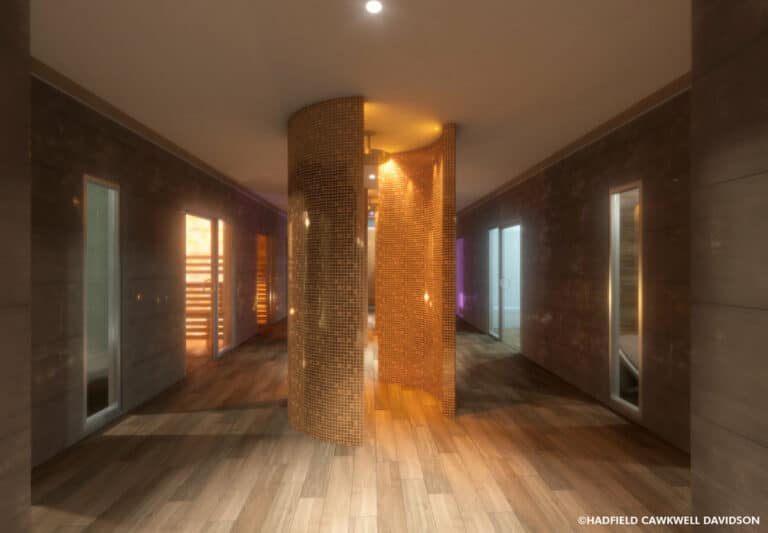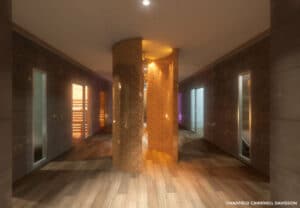 Fitness enthusiasts can up their performance with all the new hi-tech equipment, including: Five Mobility equipment for stretching and recovery, Woodway Curves and Woodway 4front treadmills, Synrgy XL functional rig- functional kit to create a unique training space made for small group exercise classes, ski ergs (indoor ski cardio machines), assault bikes and Stages Solo bikes.
The free weights area is also being doubled in size, as well as new floor finishes throughout.
David Lloyd Chigwell's General Manager, Jorge Fernandes said: "Last December's fire was of course a difficult time for us, but the club recovered remarkably quickly which is a testament to the strong sense of community amongst our members and team and I'd like to thank everyone for their support.
The exciting news is that we're investing heavily to make the club bigger and better than ever. As part of the investment, we're building a brand new luxury Spa Retreat, which is set to rival the top spas in the UK.
I think our members will love the new stylish indoor and outdoor spas which will enhance both their physical and mental wellbeing. In addition the upgraded tennis and gym facilities as well as the new badminton courts will offer the fitness enthusiasts an improved experience.
We also launched our new Blaze HIIT class, which is held in its own hi-tech studio, and has proved to be extremely popular amongst our members. This investment is exactly what Chigwell needed and firmly places it as the top health and fitness clubs in Essex."
In addition to the new and refurbished facilities, David Lloyd Chigwell offers DL Kids facilities with over 30 hours of inclusive junior sessions each week, indoor and outdoor tennis courts, paddle courts, adults and kids splash pool, group exercise studios including a dedicated cycling studio, destination wet spa facilities, a restaurant and café bar, crèche and free members wifi.
For further information, go to www.davidlloyd.co.uk/chigwell