Last updated on July 18th, 2020 at 05:23 PM
By David Saunders, Health Editor | UPDATED: 08:28, 05 June 2020
THE LAZY beach holiday is on the decline, as Brits heading on their holidays this month are planning to ditch the sun lounger in favour of sport and exercise, according to new research.
Data published by Decathlon from its Decathlon Activity Index 2018, a survey of over 7,600 UK adults conducted over June and July, shows that we plan to ramp up our activity levels over the holiday season rather than simply laze around next to the pool.
On average, we increase our rates of activity by 12% during these summer months, with almost a third (32.5%) taking part in sports or physical activity at least twice a week.
Just 1 in 7 of us (14%) are planning a lazy holiday of doing as little as possible and intend to take part in no sport or physical activity.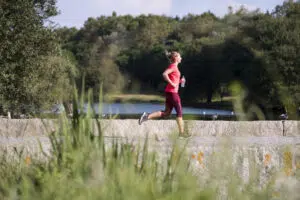 Holidays seem to offer the magic formula for a more active lifestyle.  42% report feeling more motivated and enthusiastic over the summer months, while 29% say that simply having more free time means they can increase how active they are.
Philippe Ribelo, UK Marketing Director at Decathlon commented: "Holidays are a great opportunity to make a change and form new, healthier habits.  We can see from this research how, when people are motivated and can make the time, they choose to be more active.  The challenge is to try and bring these good habits back from holiday with you.
"While the weather won't be guaranteed back in the UK as the summer draws to a close, our findings reveal other factors that encourage people to maintain more active lifestyles.
"Key appears to be allowing yourself to set time aside for sport and activities.  29% say that lack of time is the biggest barrier to being active.
"Another way is to plan activities that include other people.  One in 5 people report this this encourages them to be more active and is another reason why rates of activity are boosted while we're away with family or friends."
Topping the list of holiday sports and activities is swimming, the choice for 29% of holidaymakers.  However, many of us are also happy to venture beyond the pool taking equipment for other sports and activities with us on holiday, including:
Running – 14.4%

Football – 14%

Gym – 11.5%

Hiking – 11%

Cycling – 8.3%

Tennis – 7.6%

Surf Sports – 5.4%

Yoga / Pilates – 4.9%
However, with 62% of us packing extra clothing and equipment for our active holidays, this does bring with it a number of woes.
14% say that they struggle to find space for the extra items they want to take and 7% have to pay for extra baggage allowance to enable their sporting holiday plans.
Decathlon has a range of space saving products that are ideal for taking on holiday such as the Kipsta Football pop-up goals or the Quechua pop-up camping tents.
The Decathlon Activity Index tracks rates of participation in sport and other physical activities across the year through a monthly, national survey.
Decathlon has 42 stores in the UK and sells a variety of sports equipment, clothing and accessories perfect for those want to get active or excel their performance.
For more information, visit www.decathlon.co.uk