Last updated on May 6th, 2021 at 10:10 AM
Having been deprived of our beloved date night dinners and drinks with friends for many  months, British people up and down the country are now revelling in the chance to get a taste  of normality back again.
With the months ahead looking like they will be filled with pre-booking tables in advance rather than spontaneous outings, arguably the most important information  to ask ourselves is – which cities offer us the most choices? 
Holidu, the search engine for holiday rentals, decided to carry out a study to determine  which British cities offer the most outdoor dining options per inhabitant.
We have also provided  you with our top restaurant and bar tips for each city. Get ready to plan your staycation with  this in mind! 
1. Brighton – Score: 10/10
Brighton is officially the best city to head to this summer if al fresco dining options are at the  top of your priority list!
And where better to spend our summer open-air cocktail nights than by  the glorious British coastline?
This seaside destination is an absolute favourite every year, and  it's not hard to understand why. Quirky bars, chic cafes, rooftop gardens and country pub  gardens – what's not to love?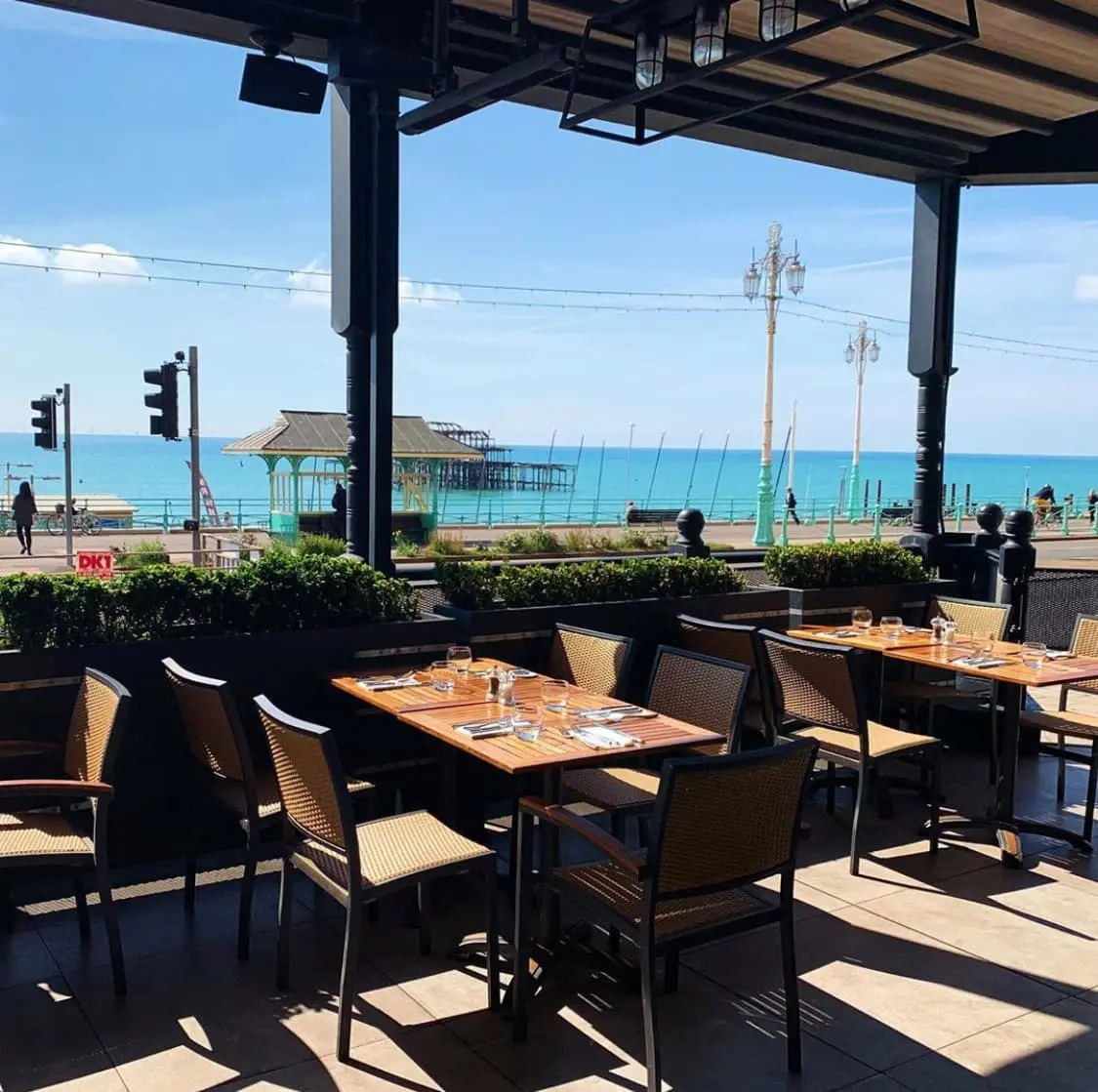 Al Fresco Dining Tip: The Salt Room – with incredible views of the Brighton seafront, this  modern British seafood restaurant is exactly where you want to head to this summer.
Do you  fancy a Barbecued Cornish Monkfish, washed down with a refreshing alcoholic beverage of  your choice?
2. Cambridge – Score: 9.82/10
The quaint university city of Cambridge scoops second place. Cambridge is known around the world for being a city brimming with learning and culture, and this definitely extends into its culinary and entertainment offerings, being a thriving food and drink community in its own right. 
It is also known for having the best craft beer scene that is gaining recognition not only in the  UK but worldwide. It's time to choose one of Cambridges' delightful pub beer gardens to try for yourself!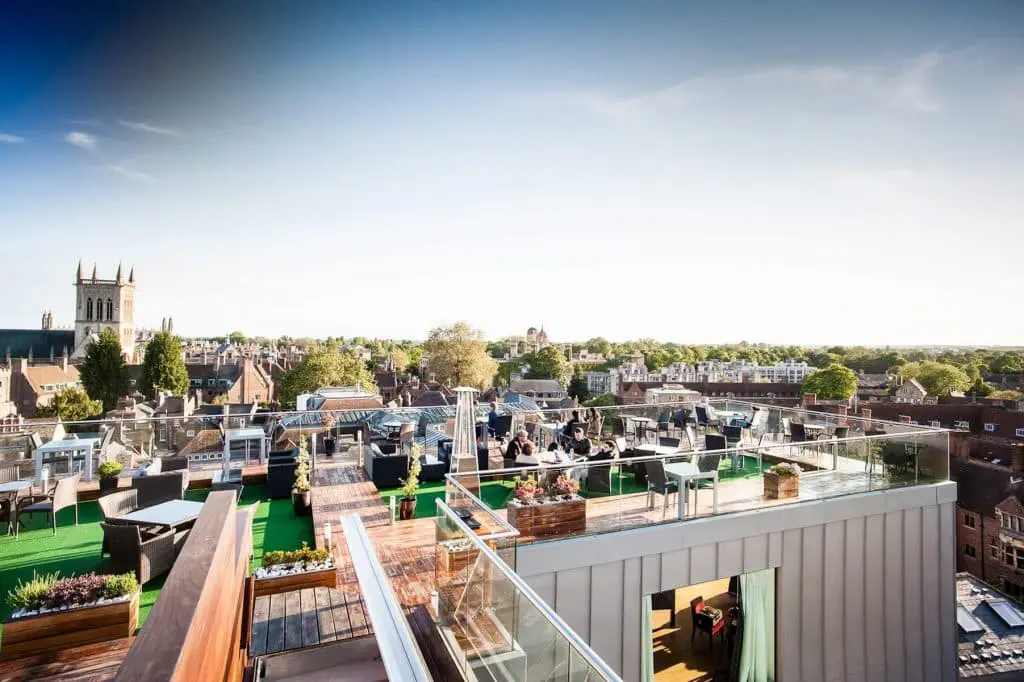 Al Fresco Dining Tip: The Varsity Hotel – head to this stylish rooftop terrace and you will not  be disappointed! Unbeatable cocktails paired with a daily BBQ menu; this is the perfect spot  for a summer's day. 
3. Oxford – Score: 9.55/10
In third place we have Oxford. Get ready to enjoy the fresh air whilst sipping on refreshing  cocktails or a cold beer with the best views possible.
Like Cambridge, Oxford is world-famous  for its renowned education, and with everything revolving around the university, this has  subsequently allowed the city to develop amazing restaurant and bar options.
From high-end  restaurants to student-friendly bars, there is something for everyone here and plenty of  terraces that are awaiting your visit!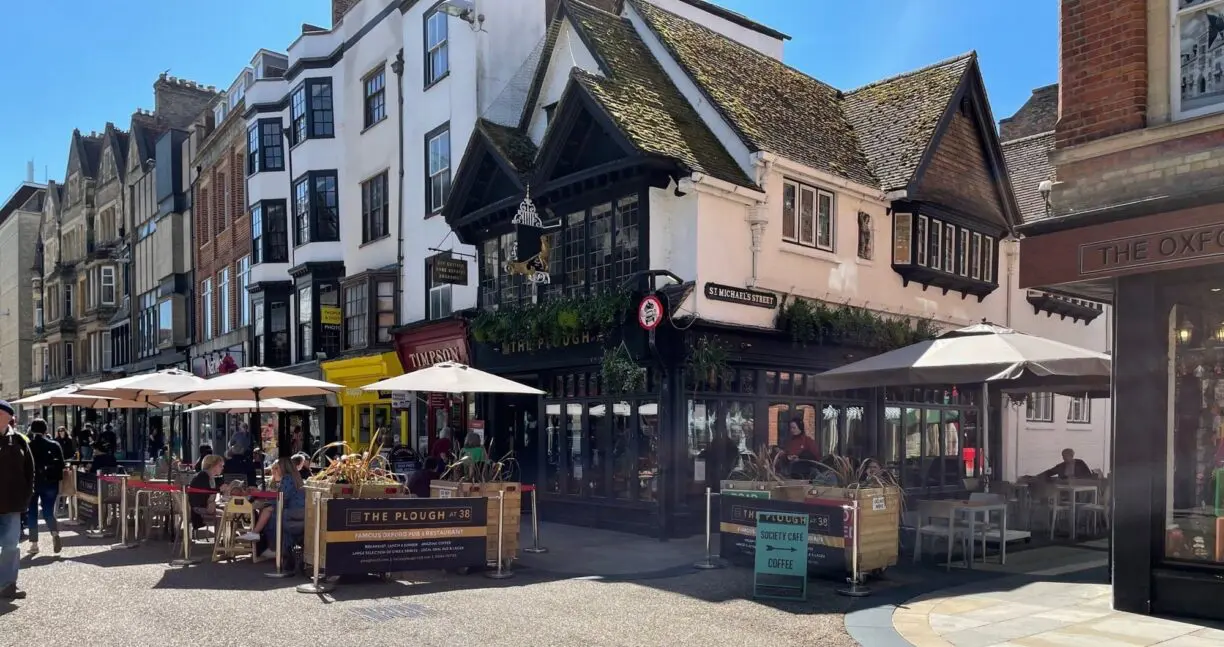 Al Fresco Dining Tip: Plough at 38 – a hit with people-watchers, the outdoor seating at this  historic independent micro-brewery pub & restaurant is where you should head to so you can enjoy some delicious beer whilst observing passers-by going about their daily lives in the heart  of Oxford. 
4. York – Score: 9.52/10
Home to the York Food Festival Weekend and a thriving street food scene at the Shambles  Market Food Court, the charming city of York is a foodie's dream.
Here you will find a wide  variety of cafés, restaurants and bars, many of which offer al fresco dining options on stunning  terraces and rooftops.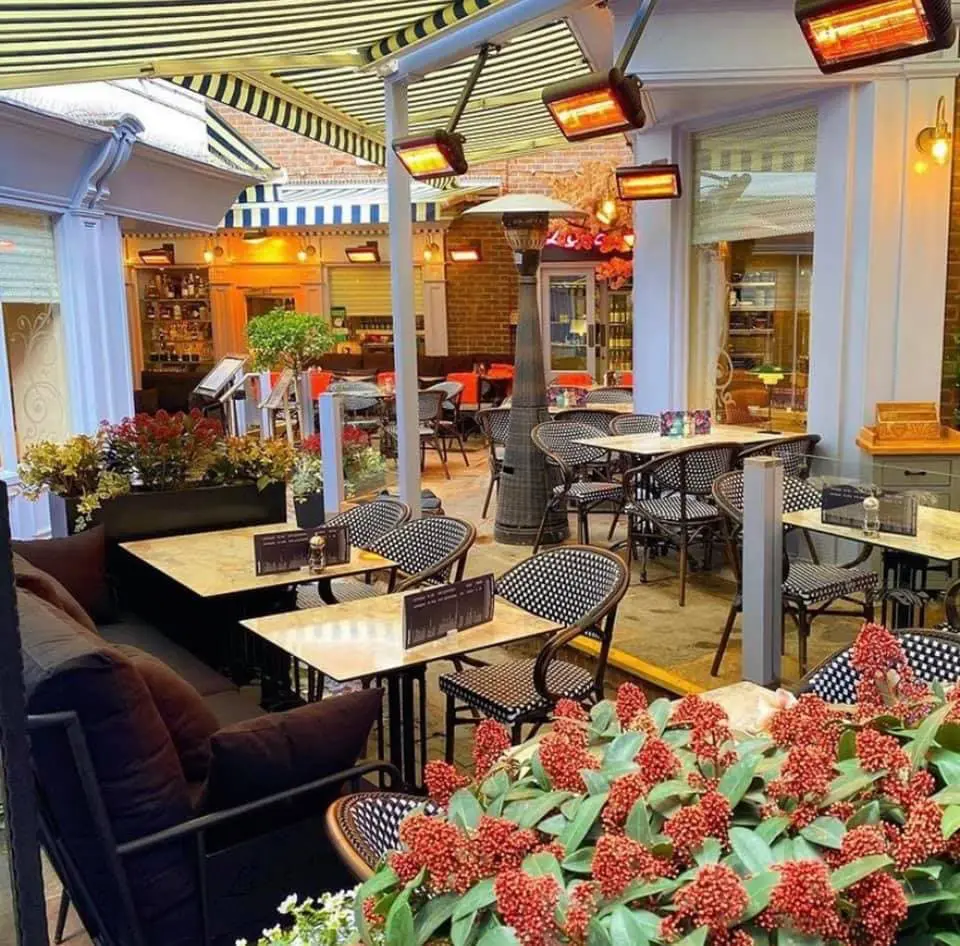 Al Fresco Dining Tip: Lucia Wine Bar & Grill – the flagship restaurant of this business is  located in the heart of York, minutes away from the iconic sightseeing landmarks.
The heated  al fresco courtyard is ideal for colder evenings, enjoying dinner and drinks when the British  weather isn't entirely reliable.
5. Worcester – Score: 9.40/10
As the birthplace of the famous Worcestershire sauce, it's only right that the city of Worcester  is up to scratch where its culinary options are concerned!
From traditional British pub grub to  exotic Mediterranean delights, there are many great places to book into and enjoy an al fresco  evening meal.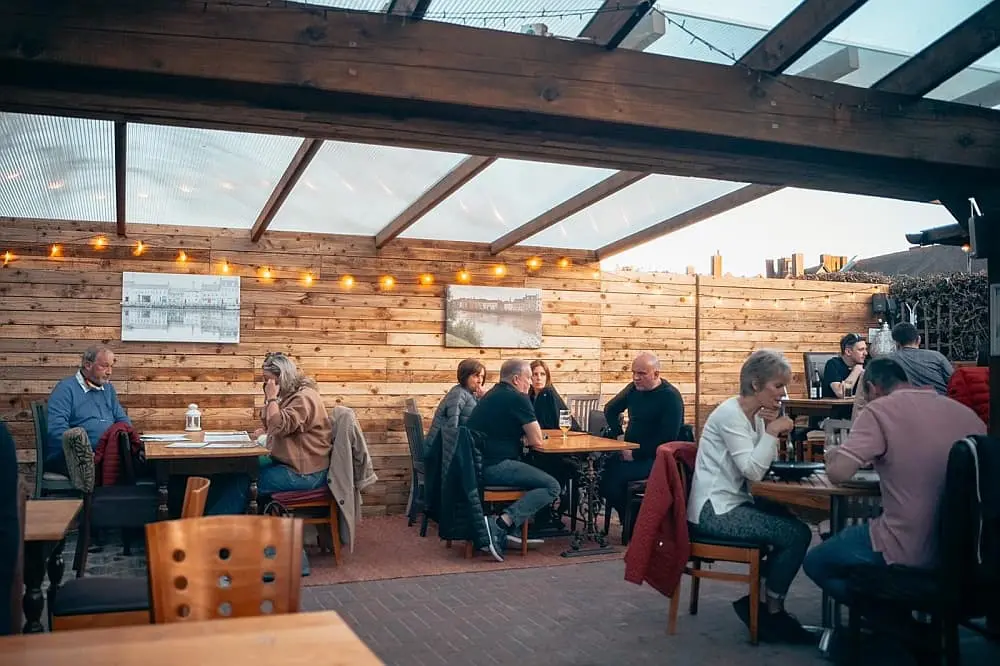 Al Fresco Dining Tip: The Mug House – wood-fired pizza, BBQ and hot dogs are just some  of the delights you'll find here. Their cosy courtyard is ready to host your next meal out! 
6. Chester – Score: 9.05/10
Complete with city walls, the oldest racecourse and a 1000-year-old Cathedral with Europe's  finest example of medieval carvings, Chester, a cathedral city in Cheshire in the North West, is also a great place for al fresco dining options and secures the 6th place spot.
Dining and  drinking locations are dotted throughout the city and many of them offer some stunning views.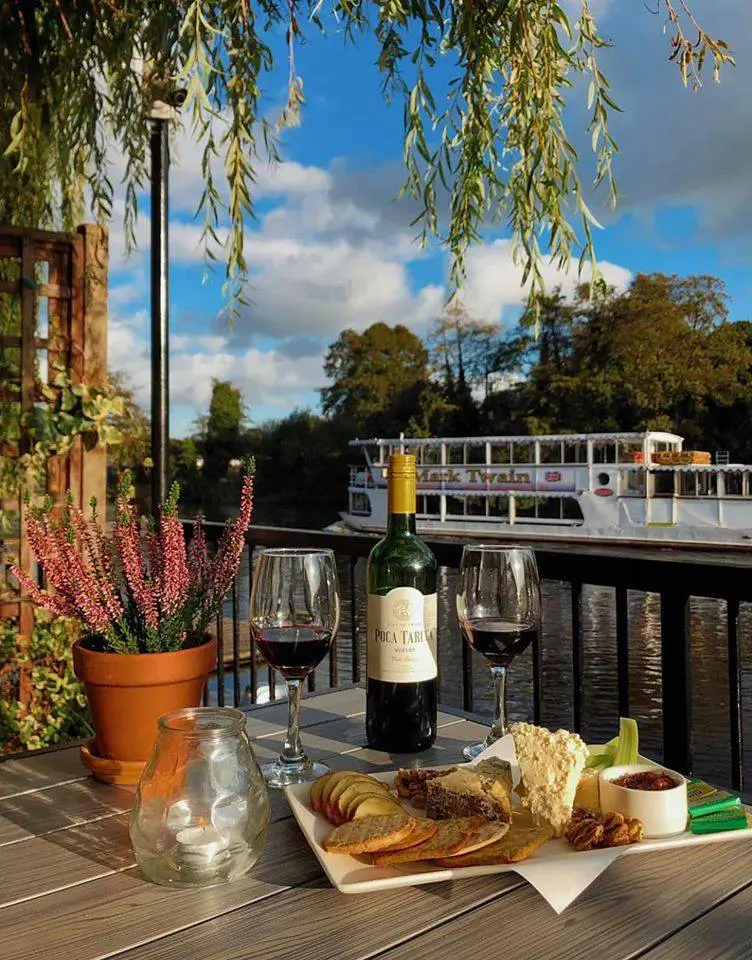 Al Fresco Dining Tip: The Boathouse Chester – this family pub in the heart of Chester is only  five minutes from the city centre.
Choose from their floating beer garden, beach huts or beer  garden tables and soak up the sun as you look out onto the river.  
7. Exeter – Score: 8.20/10
In seventh place, we have Exeter, a city in Devon in the South West. This small city dubs itself  as one of the most vibrant, attractive and historically interesting cities in England.
It has a very  varied cultural scene and offers a diverse mix of eateries, giving it a reputation as one of the  best foodie cities in the region.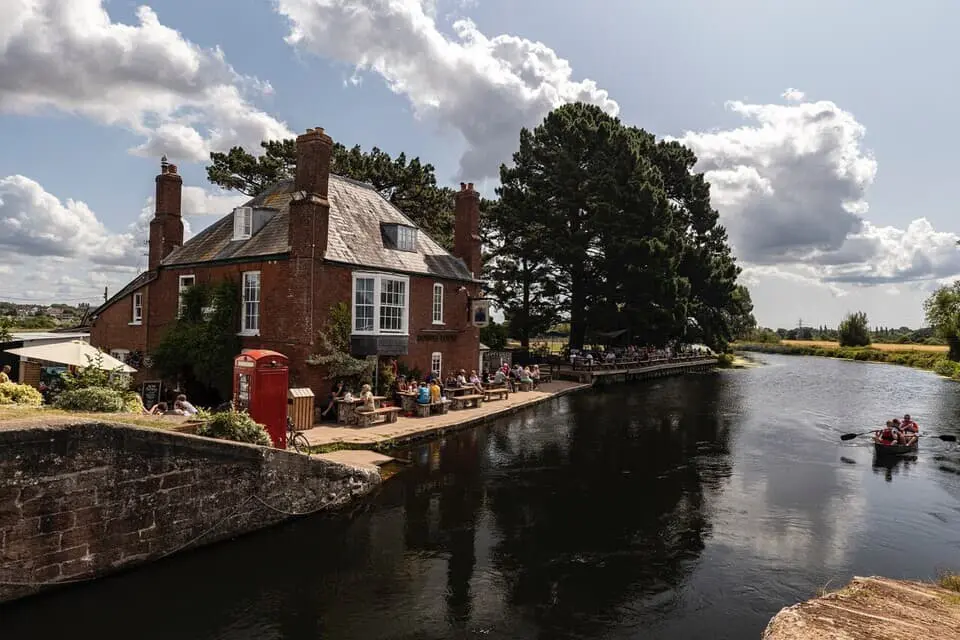 Al Fresco Dining Tip: The Double Locks – a gorgeous pub situated on the beautiful Exeter  Ship Canal – dine al fresco in the stunning beer garden whilst enjoying the Best of British  seasonal menu. This pub is even dog-friendly too!
8. Norwich – Score: 8.13/10
Known for being the most complete medieval city in the UK, Norwich is steeped in history as  well as cultural delights such as arts, music, shopping and of course, dining options.
Lively  bars and restaurants scattered throughout the walkable city centre mean that you are never  short of options of spots where you can go.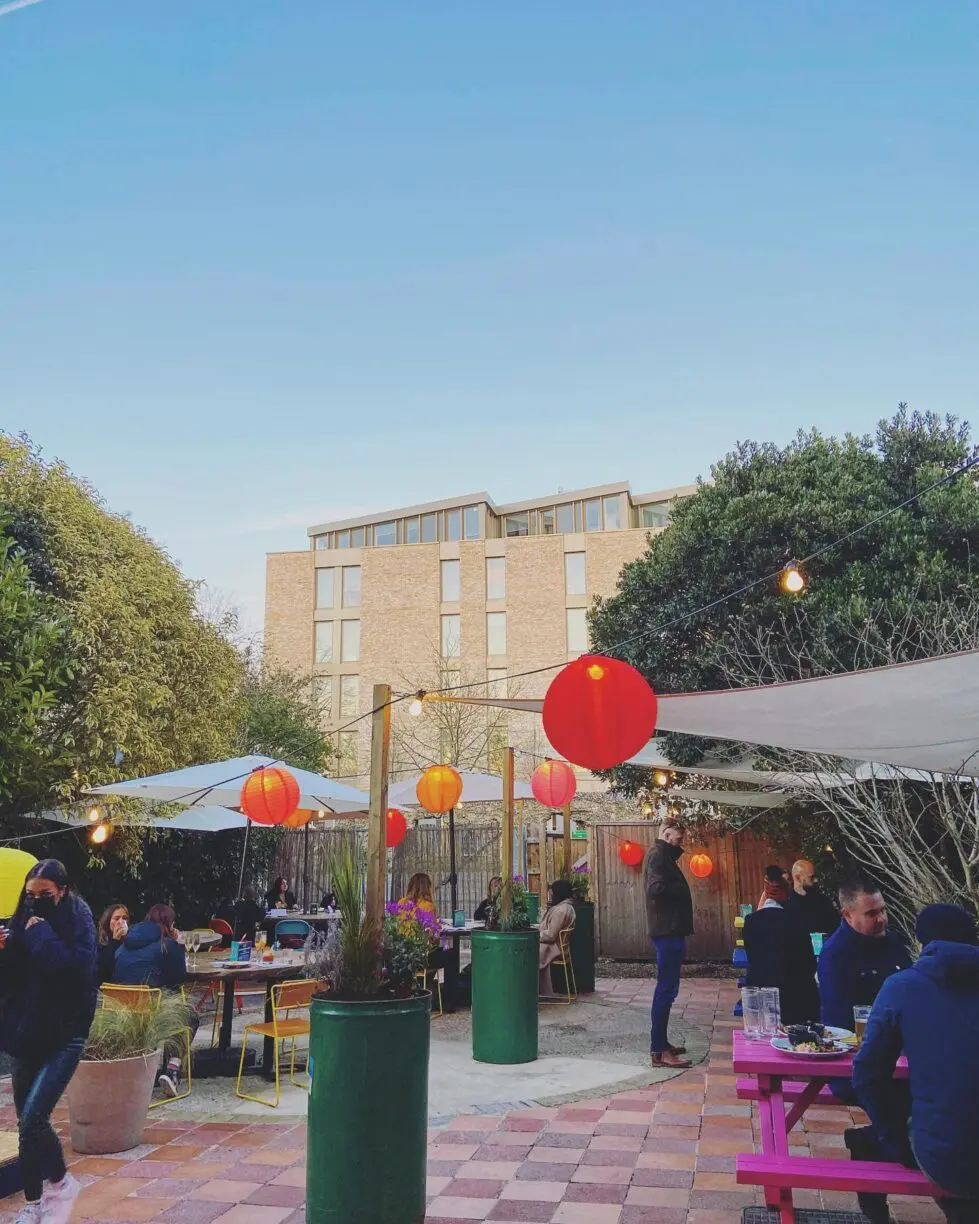 Al Fresco Dining Tip: Bowling House – this ultra-cool destination is a cocktail bar, karaoke  venue and restaurant as well as a ten pin bowling alley, all rolled into one!
Head to their funky  terrace for 2-for-1 cocktails and some tasty food. 
9. Lincoln – Score: 7.48/10
In ninth place, we have Lincoln, a small cathedral city in the East Midlands. Famous for its medieval Lincoln Cathedral and Lincoln Castle, this is the perfect place if you wish to enjoy history as well as having plenty of outdoor spots to grab a pint and a bite to eat!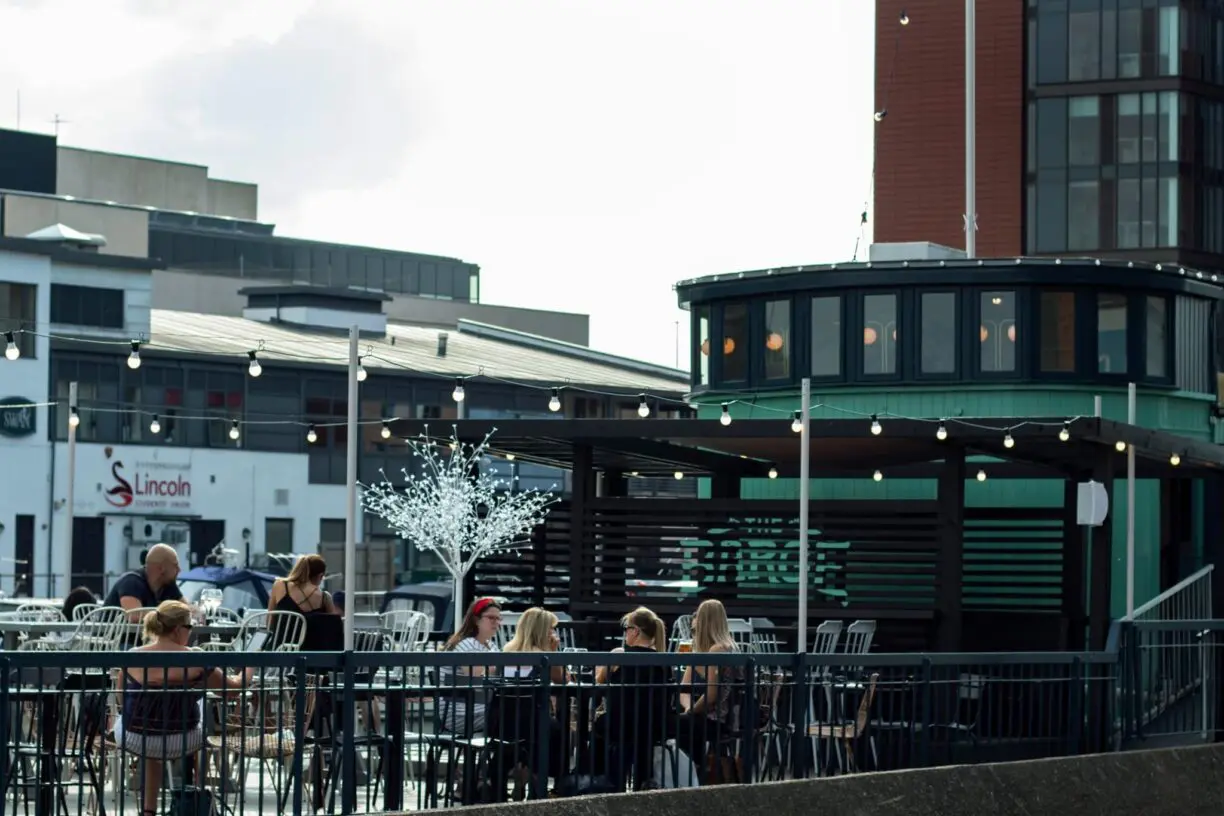 Al Fresco Dining Tip: The Barge – for a truly amazing dining experience, head to The Barge,  a unique on-the-water floating restaurant.
This restaurant and bar is located on an 80-year-old  vessel, with seafood and steaks, plus a sun terrace. 
10. Bournemouth – Score: 7.11/10
Taking the final spot in the top 10 is Bournemouth. Not only well-known for being one of the  best seaside cities in the South West, but it also boasts some stunning al fresco dining options.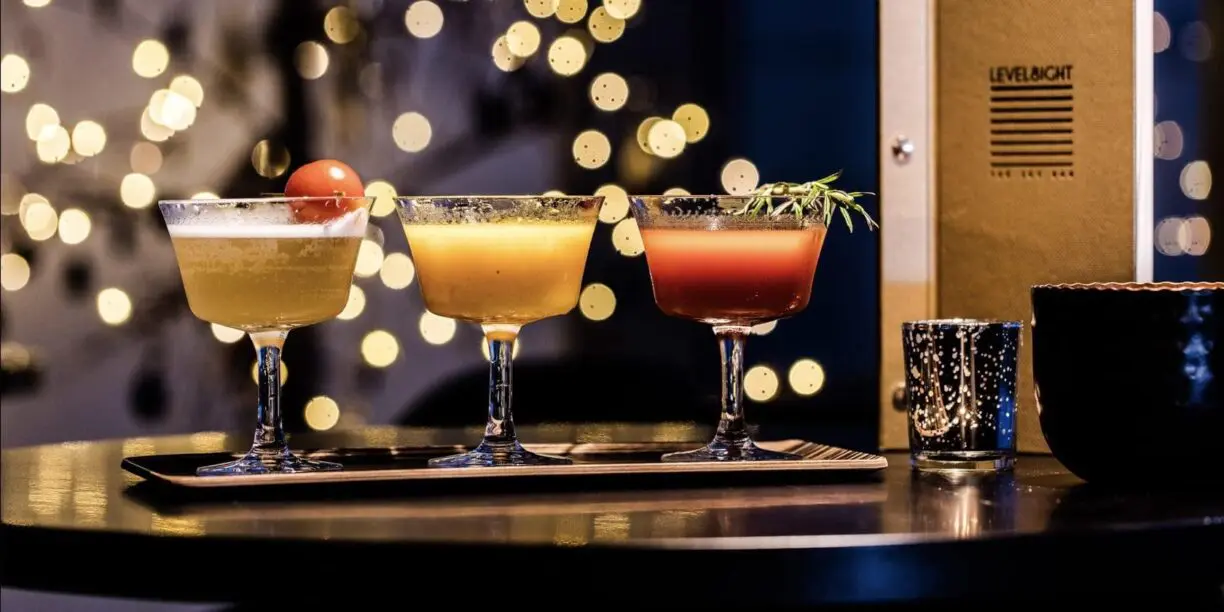 From traditional beer gardens to rooftops with panoramic views, there is something for  everyone here.  
Al Fresco Dining Tip: LEVEL8IGHT Sky Bar – this divine bar is the highest bar in the South  West and offers guests dreamy views of the Bournemouth coastline.
Head there for a classy  evening and expect fine wines, premium spirits, cocktails or even an elegant afternoon tea!