Why Fibre? Why Now?
Your gut microbiota, known in simpler terms as the mass of bacteria, viruses, fungi and other microbes living in your intestines, has a huge impact on your immunity.
The best way to keep your gut happy is to feed it a regular supply of fibre, which is found in wholegrains, fruits, veggies and other natural foods
.Plant-based food brand Gosh! Food is your one-stop-shop for fibre. Gosh! has collaborated with talented cook and published author Gem's Wholesome Kitchen on a range of delicious fibre-filled recipes to keep your tummy smiling all throughout lockdown. Each meal contains more than half the NHS' recommended daily fibre intake of 30g.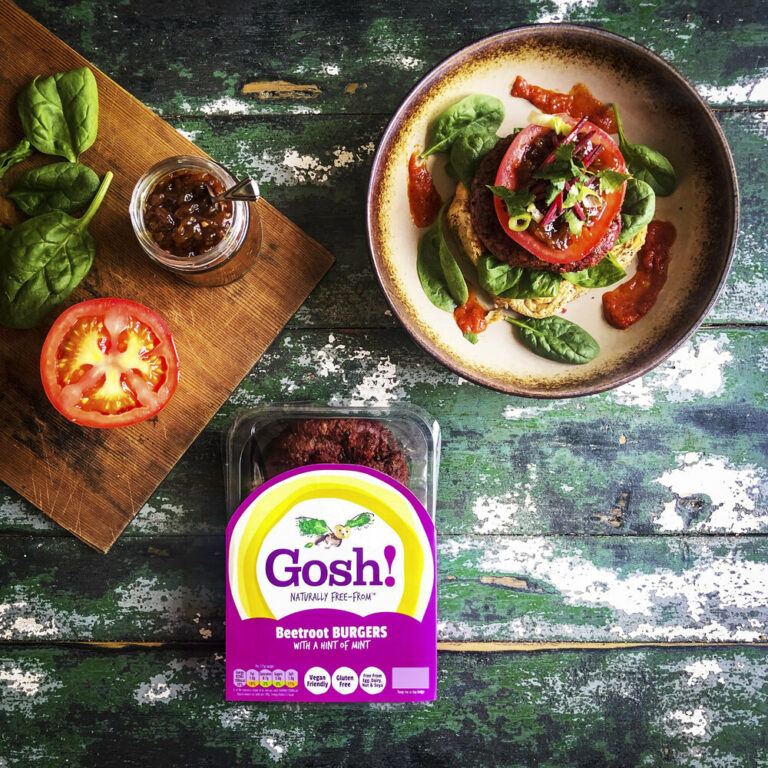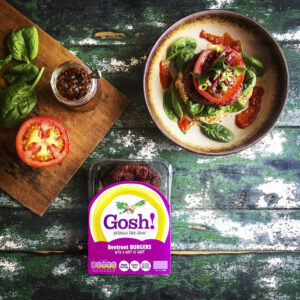 Gosh! Burgers using Gosh! Beetroot Burgers with Carrot, Kale & A Hint of Mint, Onion Relish and Homemade Tomato Sauce
Serves 4
Prep time 10 mins
Cook time 20 mins
Ingredients
2 packets of Gosh! Beetroot Burgers

4 wholemeal baps

1 large beef tomato

Pot of hummus

Handful of spinach leaves

1 large beetroot, washed, peeled and grated

Handful of fresh coriander, chopped
For the Onion Relish 
2 red onions, peeled and chopped

1 tbsp of brown sugar

4 tbsps. of red wine vinegar

4 garlic cloves

Cinnamon stick
For the Tomato Ketchup
1 tsp olive oil

1 onion, diced

500g of tomato passata (or 2 cans of plum tomatoes, blended until smooth)

2 tbsps. of apple cider vinegar

2 tsps. of maple syrup

1 tsp of garlic powder

½ tsp of smoked paprika

½ tsp of ground cinnamon
To Serve
Method
Preheat the oven to 180°C fan and cook the Gosh! Beetroot Burgers for 15 minutes

Meanwhile for the relish, heat some olive oil in a saucepan and fry the red onions for 2 minutes. Add the sugar and vinegar and simmer on a low heat for 15 minutes. Add the garlic cloves and cinnamon stick and cook, stirring regularly, until reduced to yummy sticky consistency. Remove the cloves (if you can find them!) and set to one side

Make the tomato sauce by lightly frying the red onion in a little olive oil until clear, then add the garlic powder

Add the passata, vinegar, syrup and spices and cook for 10 minutes to reduce and thicken. Whiz in a blender or with a hand blender until smooth

To assemble the burgers, spread one half of the bun with a good dollop of hummus. Add the spinach leaves and slice of beef tomato, a Gosh! Beetroot Burger, a dollop of the relish and a sprinkle of fresh coriander

Finish with a drizzle of homemade ketchup and serve alone or with baked potato wedges
Veggie Hack
Add your favourite cheese on top of the burger and pop under the grill for a few minutes to melt.