Last updated on July 30th, 2022 at 10:07 AM
Amazfit, a global brand in the wearables market, is offering a limited-time discount on its recently-launched sports and fitness smartwatch, the Amazfit T-Rex Pro, and its new PowerBuds Pro true wireless stereo (TWS) earbuds.
Amazfit is offering both devices, which were designed to fit into users' everyday routines, as a bundle for 24% less until 15 August only.
Users with both devices can take advantage of Amazfit's assistance in understanding their fitness better, to help them build a more sophisticated personal health record.
All of the data from Amazfit's health management devices and solutions is provided in one place – the Zepp App, which supports all of Amazfit's smartwatches, including the T-Rex Pro, and accessories such as the PowerBuds Pro.
With advanced health monitoring features and powerful multi-scenario active noise cancellation, the Amazfit PowerBuds Pro offers an in-ear PPG sensor that alerts users when their heart rate is too high.
A healthy heart is a priority, so the Amazfit T-Rex Pro smartwatch is equipped with the BioTracker™ 2 PPG Bio-Tracking Optical Sensor, which performs precise heart rate monitoring 24 hours a day and issues an alert if your heart rate gets too high.
The watch also tracks heart rate variability (HRV) to record your response to stress, while the PowerBuds Pro enable users to improve their posture if they are sitting for long periods, thanks to the built-in accelerometer detecting the sitting angle of the user's cervical spine. If you are in a fixed position for too long, the earbuds play a rhythm that reminds you to move your head and neck, helping you to relieve neck pain and headaches, and prevent long-term cervical spine health issues.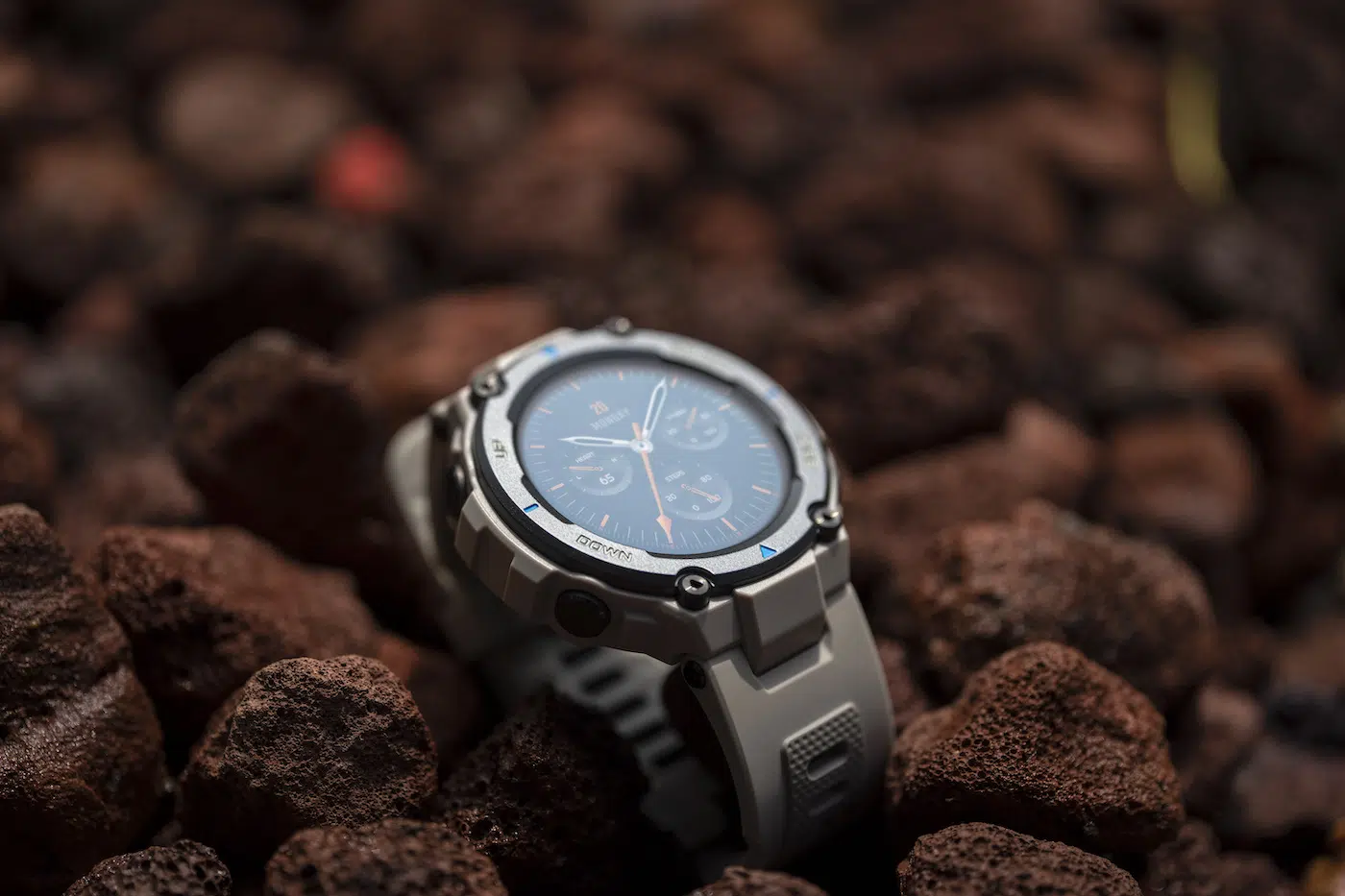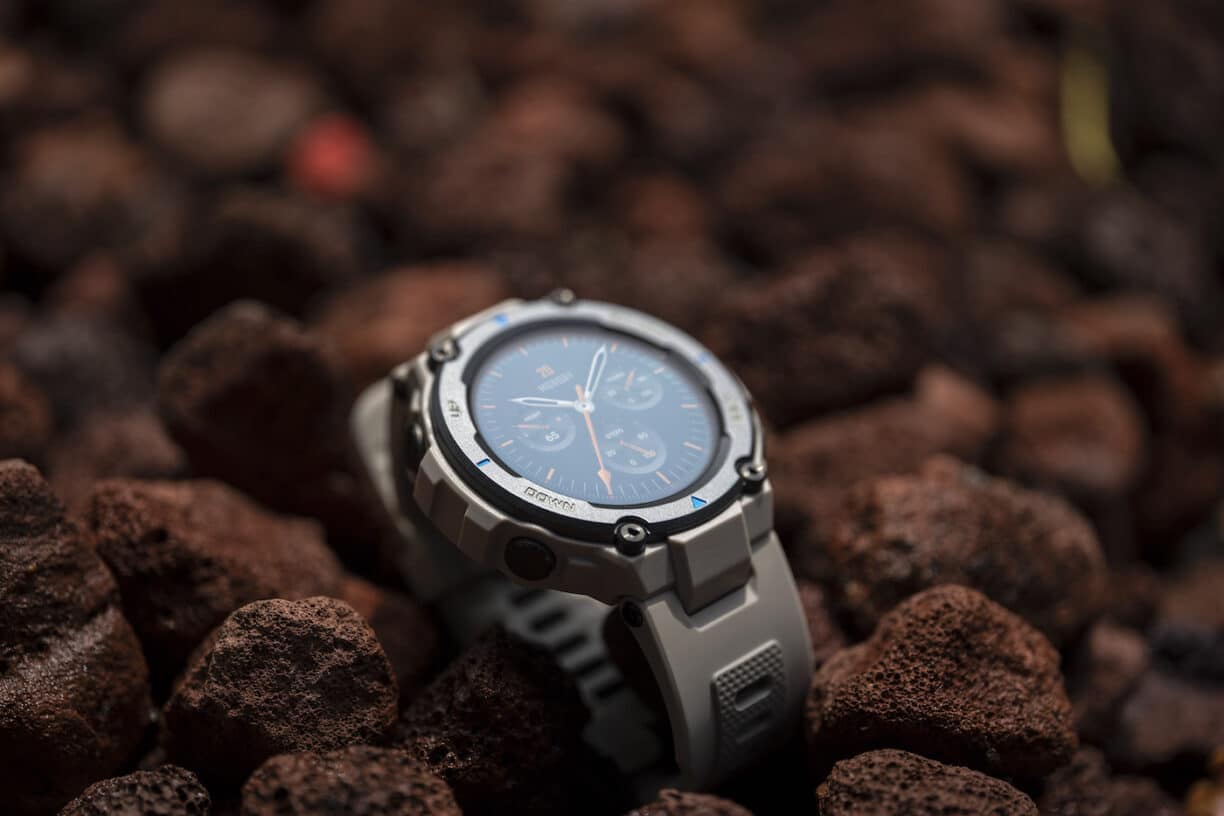 Extreme condition durability
For those with an active lifestyle, the T-Rex Pro is the perfect partner, whether users are workout beginners or fitness enthusiasts, thanks to this shock-resistant fitness tracker device passing 15 military-grade tests.
Designed to withstand extreme weather and heat conditions, from ultra-dry deserts and humid rainforests to freezing cold Antarctica temperatures, the Amazfit T-Rex Pro's comprehensive health and fitness tracking functions include more than 100 sports and popular outdoor modes for adventurous activities, making it easier to stay fit and healthy whatever you get up to.
Auto tracking to make training smoother
A perfect partner to that is the Amazfit PowerBuds Pro, which are designed to make training smoother, by recognizing when running starts and automatically tracking relevant sports data.
Amazfit's T-Rex Pro has all four of the world's global navigation satellite systems supported, so it is able to help track your location in more complicated environments than would be possible with GPS alone. It can also track your heart rate, distance, speed, and calories burned through almost all popular sports and activities.
Specialised data
Firstbeat™ algorithm takes things to a new level in the T-Rex Pro when assessing specialized data such as maximum oxygen uptake, full recovery time and training load, and lets you know your progress and accomplishments.
Additional new functionality for the T-Rex Pro includes 10 ATM water-resistance so users can swim, surf, sail and endure wet weather for up to 18 days of battery life with typical use. A blood-oxygen saturation measurement system gives feedback on how well the user is handling altitude or the workout.
Along with its resilient yet skin-friendly silicone strap with a sweat-wicking design, the Amazfit T-Rex Pro comes in three colors: Meteorite Black, Desert Grey and Steel Blue. All the information you need is available at a glance and easy to read on the T-Rex Pro's clear and colorful 1.3-inch always-on AMOLED display.
Audio
The Amazfit T-Rex Pro can help manage work-life balance better. In addition to setting alarms, it can notify you of incoming text messages, calls and reminders, and also enables you to control the music on your phone from the watch – for added motivation during workouts, or when you just want to relax and listen to your favorite playlists.
And for those who like to talk on the phone while out walking, the PowerBuds Pro has three microphones in each earbud so call quality is enhanced by an AI call noise-reduction algorithm and the human voice is optimized for crystal clear calls.
Wherever you are and whatever is happening around you, the earbuds deliver immersive and dynamic sound for up to nine hours, which can stretch to 30 hours with the charging case.
The Amazfit PowerBuds Pro also monitors the decibel level of the audio content you listen to in real-time, to provide suggestions on volume reduction and recommended listening time in the Zepp App, to help protect your hearing.
The Amazfit PowerBuds Pro provides active noise cancellation of up to 40dB with hybrid digital adaptive noise-reduction and passive sound insulation technology.
Multi-scenario active noise cancellation lets users switch between different modes throughout their day:
Indoor mode cancels-out noises like keyboard tapping and air conditioning, plus background chatter, when you need to focus.
Travel mode blocks the engine rumbling on public transport and aircraft, but you can still hear announcements.
Workout mode lets you hear traffic sounds, so you stay safe exercising outdoors, but shuts out environmental noises like wind.
Adaptive mode automatically adjusts noise cancellation according to your surroundings.
The T-Rex Pro (RRP $179.99) is now available for the promotional price of $154.99 alone, which is a saving of 13.5% but, when purchased with the PowerBuds Pro (RRP $149.99), both devices can be bought at a 24% discounted price of just $249.99. https://us.amazfit.com/pages/amazfit-sale