Last updated on June 9th, 2023 at 07:16 AM
The next generation of UK basketball stars were in impressive form at the 2023 Hoopsfix All-Star Classic.
A full house of 1,500 fans saw the brightest young talent from the domestic game in action during a men's under-19 game and a women's under-19 game at the Crystal Palace National Sports Centre.
Players are invited to take part in the Hoopsfix All-Star Classic based on their performances during the previous season and it has become a highly anticipated annual event in the domestic basketball calendar.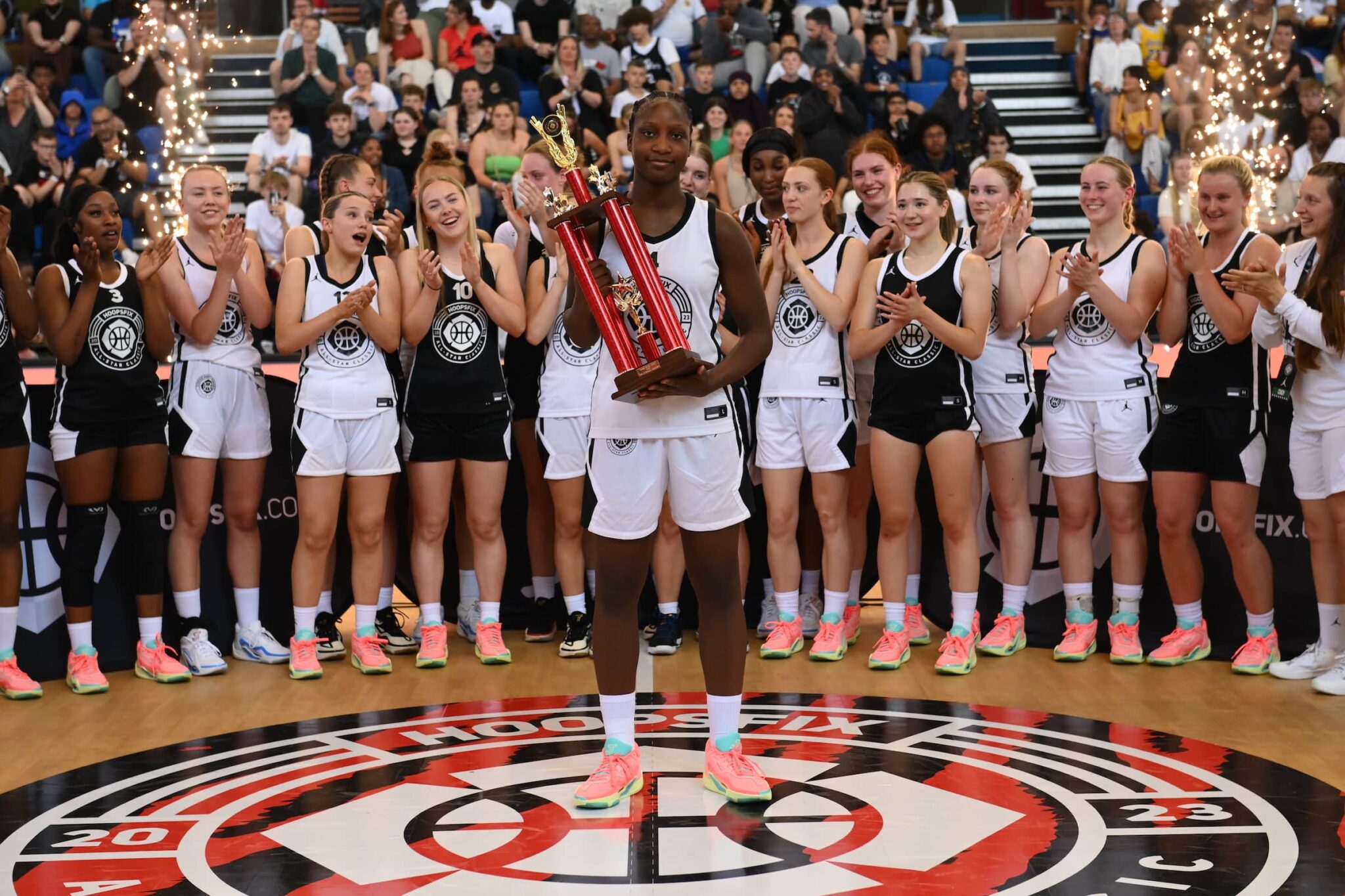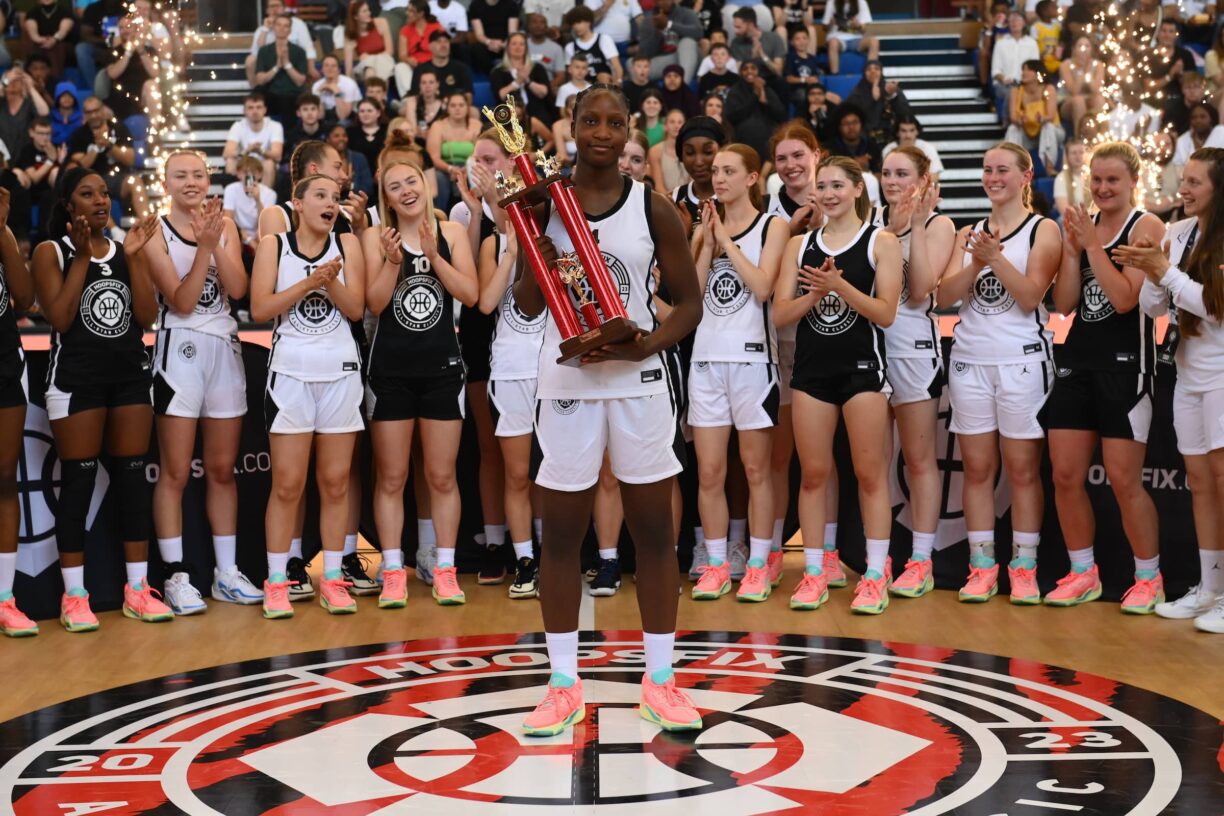 And there were plenty of impressive performances – not least from MVPs Fatmata Janneh and Nedas Cholevinskas, both of whom have come through the basketball programme at Barking Abbey.
Janneh, who led her team to a 91-53 win at the Classic, registered an impressive 23 points, seven rebounds, six assists, and four steals. Her MVP award rounds off a fantastic season for Janneh, who can play either guard of forward; she was also named on the WEABL 2023/23 Southern Conference team of the year, averaging 19.8 points per game and 10 rebounds per game throughout the season, and signed a letter of intent with US Division One college Saint Peter's in New Jersey.
Cholevinskas claimed the MVP title in the men's under-19 game as his 21 points, eight rebounds, and four steals propelled his team to a 96-66 win. Like Janneh, Cholevinskas has enjoyed a fantastic season with Barking Abbey.
He was named Southern Conference EABL MVP, averaging 15 points and 7.8 rebounds, leading Barking to an 11-1 regular season record before helping to deliver a fifth EABL crown as Barking beat Myerscough 75-60 in the championship final.
Both Janneh and Cholevinskas also took part in the mixed-gender three-point contest at the Hoopsfix All-Star Classic. Janneh's opening round score of five was not enough to progress, but Cholevinskas' 11 saw him through to the final. Despite going one better in the final round, however, Cholevinskas narrowly lost out to William Issekya of Milton Keynes.
The coveted dunk contest was won by Josiah Philip, of New City College in Hackney, who beat Lane Campbell, who plays for EABL side Charnwood, in a thrilling final.
A final round score of 140 was enough to secure the title, with Philip producing an eye-catching and gravity-defying dunk which saw him jump over his fellow finalists Campbell and Declan Kom (Sheffield Elite) to register a second perfect dunk of the round.
The talented young players will now hope to follow in the footsteps of the many previous Hoopsfix All-Star Classic players who have gone on to enjoy successful basketball careers – including Jeremy Sochan, who is now starring in the NBA for the San Antonio Stars, and London Lions' Holly Winterburn, who is one of the most exciting players in the WBBL.
The Hoopsfix All-Star Classic was also raising money for the Hoopsfix Foundation, a charity which helps grow the game across the UK – encouraging young people to play basketball and refurbishing and improving community courts in towns and cities.
Sam Neter, who organises the Classic, said: "Once again we saw some amazing basketball from some incredibly talented young players, played in front of a packed stadium.
"The Hoopsfix All-Star Classic has become a real celebration of basketball in the UK and seeing the skills and passion of this next generation of stars I know the game is in safe hands."
For more information on the Hoopsfix Foundation, visit: www.hoopsfixfoundation.org.