Last updated on July 15th, 2023 at 09:04 PM
Under Armour, in its unwavering support of women's global football, is poised to ignite a worldwide phenomenon with its groundbreaking product innovations, an awe-inspiring hero film, and a captivating musical track.
As the grandest stage for female football players unfolds, their arduous journey of practice, training, and qualification culminates in this pivotal moment, where their aspirations and hard work are laid bare for all to behold.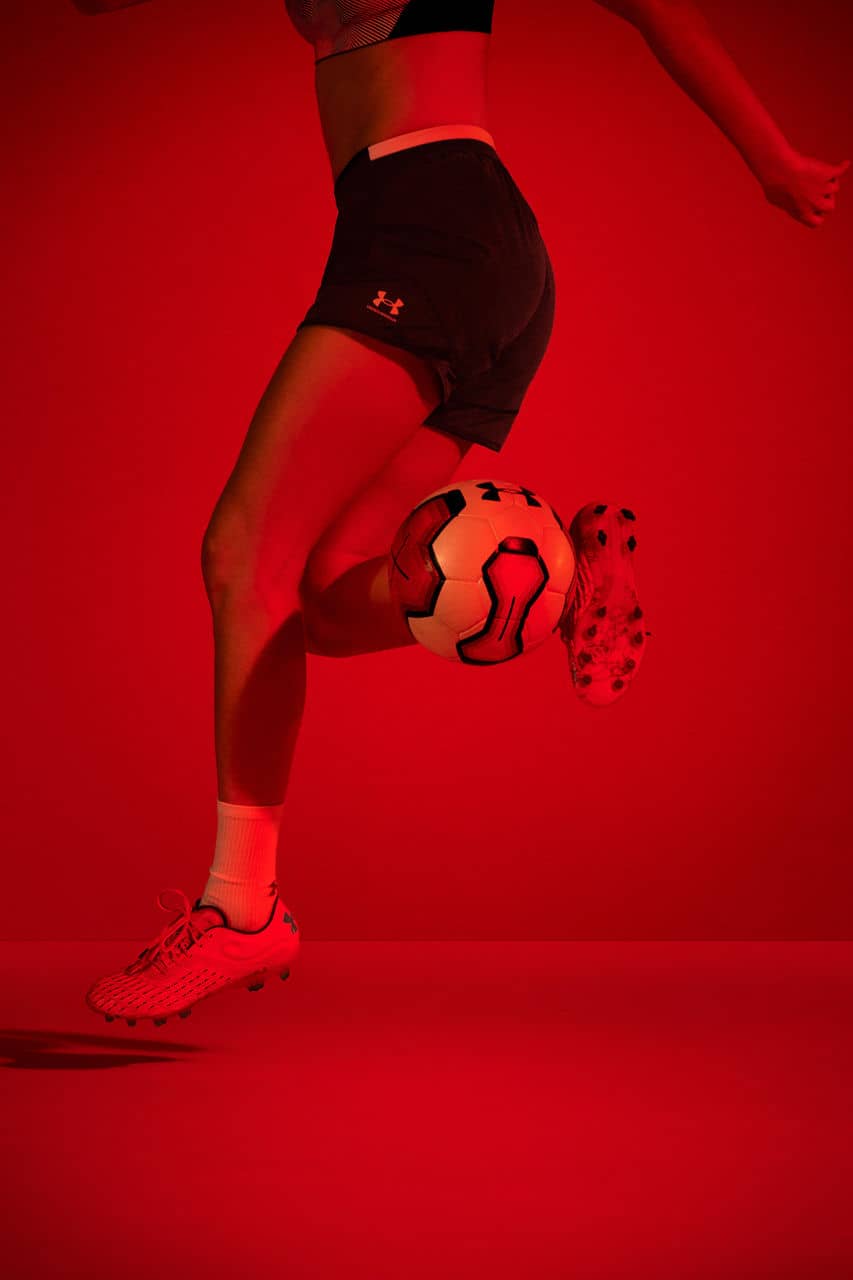 The Women's World Cup, is not only a showcase of unrivalled athletic prowess from across the globe but a well-deserved opportunity for the world to revel in their remarkable triumphs.
Embodying the vanguard of global discourse and social transformation, these extraordinary women bridge divides, fuel the sport's growth, and relentlessly shatter stadium records.
The world, enraptured, bears witness to their audacity. With a distinguished roster featuring over fifteen professional female footballers, Under Armour remains resolutely committed to equipping these remarkable athletes with the indispensable tools they require to excel at the pinnacle of their craft.
Both on and off the pitch, Under Armour ensures that these luminaries remain firmly in the spotlight, their brilliance undimmed.
"UNDER ARMOUR IS UNCEASINGLY COMMITTED TO TRIUMPHING WITH FEMALE ATHLETES. NOW, WE HAVE THE PRIVILEGE OF CELEBRATING AND SUPPORTING THE WOMEN WHO NOT ONLY DEFEND THIS HONORABLE HOUSE BUT EMBODY GRIT, DETERMINATION, HARD WORK, AND UNWAVERING DEVOTION TO EVERY FIELD THEY TREAD, SHOWCASING THE VERY ESSENCE OF THEIR JOURNEY."

Paul Nugent, Senior Vice President of Global Brand Marketing & Category at Under Armour
Under Armour introduces two exceptional products tailored exclusively for women: the Women's UA Magnetico Elite 3 FG Soccer Cleats and the HeatGear® Armour High Sports Bra.
While the Unisex UA Magnetico has long been adored by footballers worldwide, years of attentive listening to the invaluable feedback of female athletes and meticulous study of their biomechanics have culminated in a UA cleat explicitly designed to cater to and bolster the unique attributes of a woman's foot.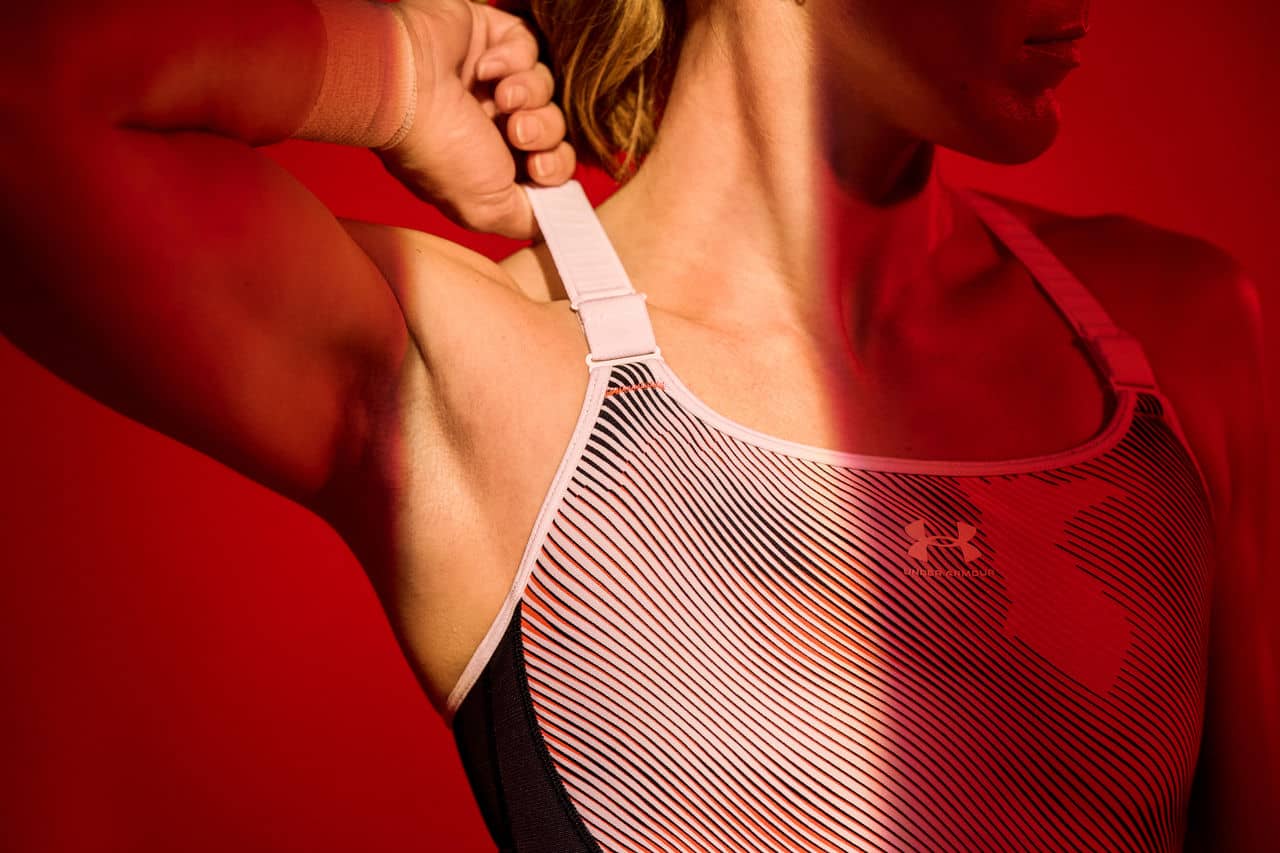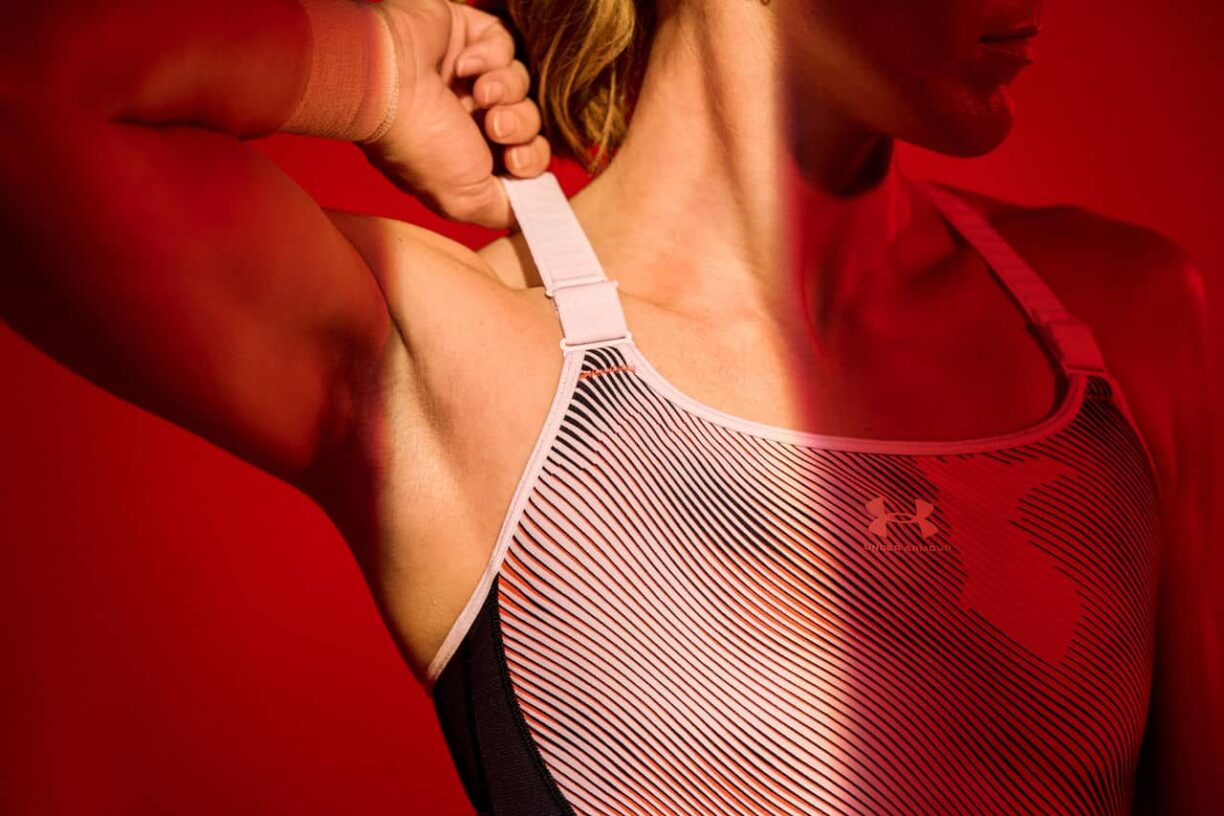 The Women's UA Magnetico Elite 3 moulds itself around an athlete's heel and forefoot, acknowledging the pronounced disparities between women's and men's feet.
The UA Clone upper adapts and flexes to the contours and movements of the foot, ensuring an impeccable fit. Its distinct 3D texture affords optimal ball control upon receiving, while specialized studs alleviate pressure and provide unparalleled support, empowering footballers to unleash their full potential with blistering speed.
The HeatGear® Armour High Sports Bra exudes an unmatched blend of form and functionality, catering to athletes who demand compression apparel that exerts unparalleled support during their relentless pursuit of greatness.
Smooth and adjustable straps securely lift and embrace, while a flat hook ensures unwavering stability and comfort. The inclusion of a mesh back with a generous keyhole design not only facilitates enhanced breathability and moisture management but also simplifies donning and doffing.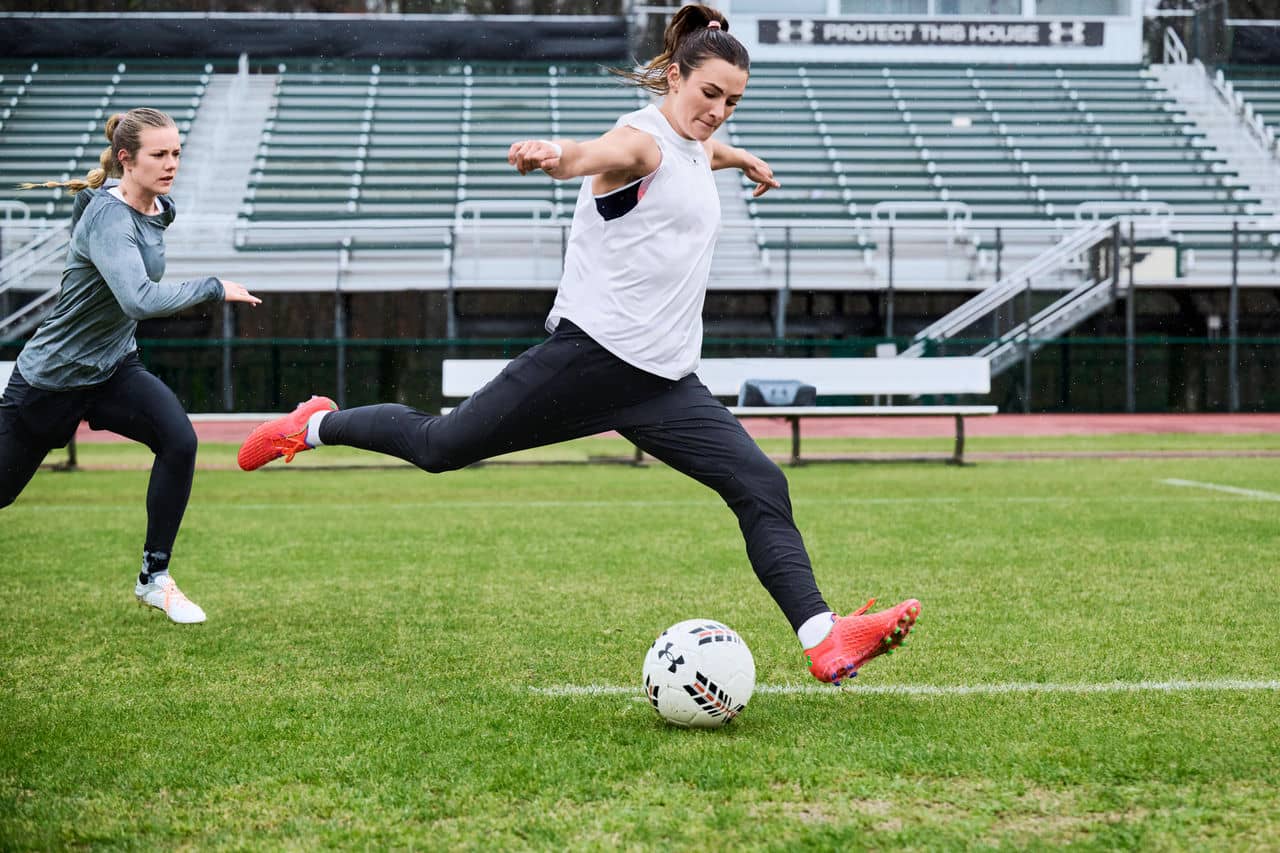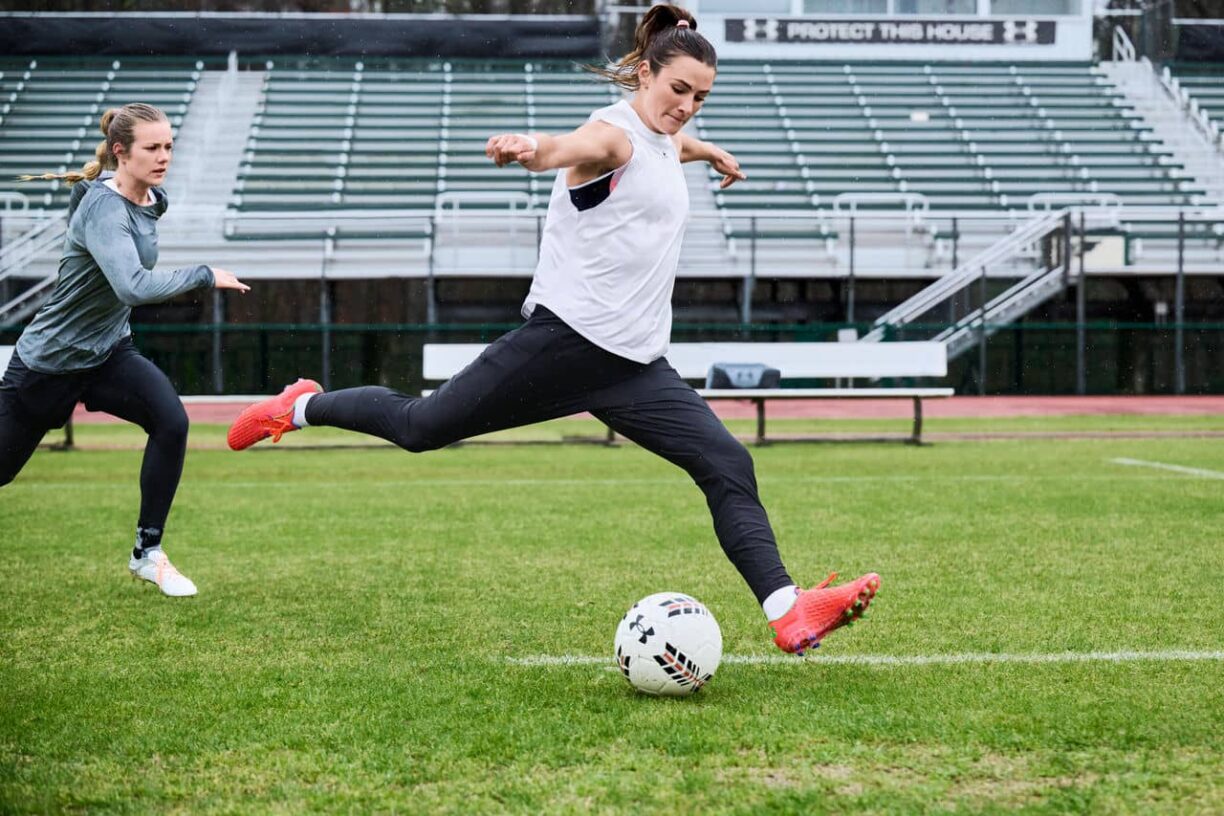 From the finely engineered cleat studs to the ergonomic strap configuration of the sports bra, Under Armour synergizes cutting-edge technology with invaluable athlete insights, rendering these products perfectly attuned to the rigours of on-pitch battle.
"I AM IMMENSELY PROUD TO BE AN UNDER ARMOUR ATHLETE FOR COUNTLESS REASONS. FOREMOST AMONG THEM IS THE BRAND'S UNPARALLELED COMMITMENT TO PRODUCT INNOVATION AND PREMIUM PERFORMANCE APPAREL, CRAFTED WITH THE UNIQUE NEEDS OF ATHLETES IN MIND."

Kelley O'Hara
In tandem with the launch of these two groundbreaking products, Under Armour stokes anticipation for upcoming international rivalries through a captivating hero film and an enthralling musical track, uniting the global football sensations Kelley O'Hara and Alex Greenwood with two extraordinary female music artists, Gavlyn from the United States and Nadia Rose from England. Rooted in the essence of battle, the concept for the film and track blossomed.
Kelley and Alex, both eminent players representing formidable teams, may well face each other in the tournament's later stages. Their arduous contest finds its counterpart in the musical showdown between Gavlyn and Nadia, rap artists hailing from the athletes' respective nations.
Acknowledging the profound influence of music on sports, culture, and the indomitable spirit of athletes, the song, "Armour Up," poignantly narrates the athletes' sagas and motivations, uniting teams while emphasizing the significance of collective pursuit in safeguarding the sanctity of their endeavour.
Parallel to Kelley and Alex's remarkable journeys, Gavlyn and Nadia Rose has surmounted numerous obstacles in their quest for success within a male-dominated industry, their unwavering dedication resonating through their tireless labour.
These four exceptional figures, both athletes and artists, passionately champion the accomplishments of their fellow women and have become resolute advocates for female empowerment, their resounding voices empowering generations to com
"I AM IMMENSELY GRATEFUL FOR THE OPPORTUNITY TO FEATURE IN THIS FILM, SPREADING AWARENESS REGARDING FEMALE EMPOWERMENT IN SPORTS AND MUSIC. THIS CAMPAIGN NOT ONLY RECOGNIZES BUT CELEBRATES THE INDOMITABLE STRENGTH, PASSION, AND PERSEVERANCE OF FEMALE ATHLETES, BOTH ON AND OFF THE FIELD. THIS MESSAGE STRIKES A PROFOUND CHORD WITHIN ME, AND I HOPE IT INSPIRES THE NEXT GENERATION OF FEMALE FOOTBALL PLAYERS TO EMBRACE THEIR DREAMS WITH UTTER CONFIDENCE AND UNYIELDING DETERMINATION."

Alex Greenwood
To further amplify the celebration of women's global football, Under Armour presents captivating digital content that shines a spotlight on the journeys of Jayde Riviere, Chloe Logarzo, Emily Fox, and Laura Freigang as they brace themselves for the grandest stage of all.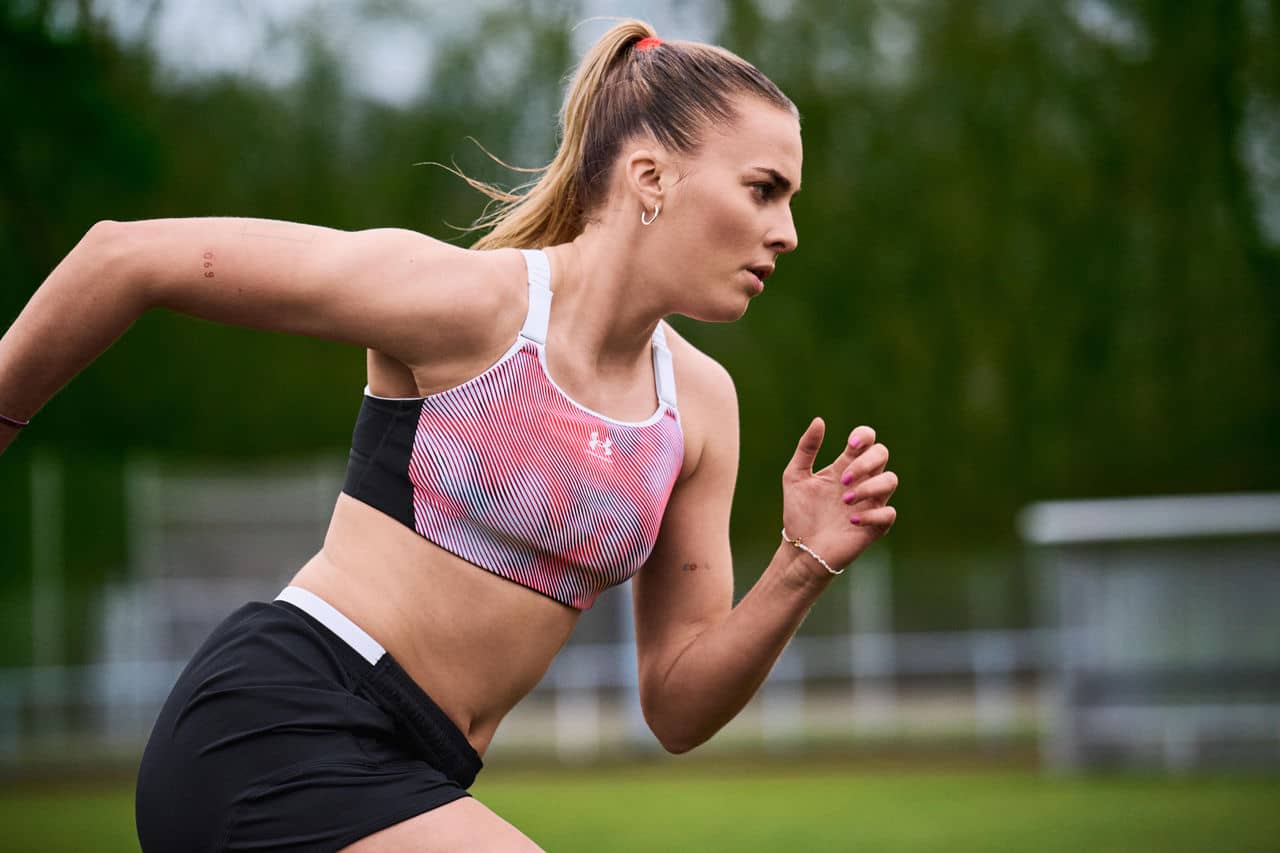 Moreover, through an ongoing partnership with Good Sports and the She Who Plays Initiative, Under Armour, combats gender disparities at the grassroots level by generously donating equipment to sports organizations dedicated to serving young girls across the nation.
Alarming statistics reveal that, by the age of 14, girls abandon sports at a rate twice that of their male counterparts. By contributing 17,796 items to 21 organizations and schools exclusively catering to girls, positively impacting 4,819 young athletes, with an estimated total value of nearly $500,000, Under Armour fervently encourages girls throughout the country to remain steadfast in their athletic pursuits.
These multifaceted endeavours serve as yet another testament to Under Armour's unwavering commitment to triumph with female athletes, reaching them wherever they train, compete, recover, and, above all, live.
As the global football players of Under Armour bask in the world's resounding cheers, they exemplify the essence of Protecting This House, valiantly engaging in battle not only for their teams and nations but also for the enduring legacy of their craft, both on and off the hallowed pitch.