Last updated on July 26th, 2023 at 09:20 AM
Science in Sport (SIS) has truly outdone themselves with their latest offering – the Dark Chocolate Raspberry protein bar.
The anticipation was high, as I've always been sceptical of most protein bars due to their dry and chalky texture. However, to my delight, the SIS Dark Chocolate Raspberry Bar proved to be a game-changer.
Each bar is thoughtfully designed with the athlete's convenience in mind, delivering a generous 20g of protein split into two easy-to-eat 32g portions.
The protein centre of this bar is a revelation – super-soft and expertly blended for a delightful taste experience. It's perfectly complemented by a gooey caramel and protein crisp, providing a satisfying crunch with every bite. The smooth chocolate coating on top is simply the cherry on the cake, or rather, the raspberry on the bar.
Speaking of flavours, the Dark Chocolate Raspberry option stands out for its deliciously rich taste. The combination of dark chocolate and sweet raspberry creates a harmonious blend that's both indulgent and fulfilling. It's like having a dessert without the guilt, perfect for satisfying those sweet cravings.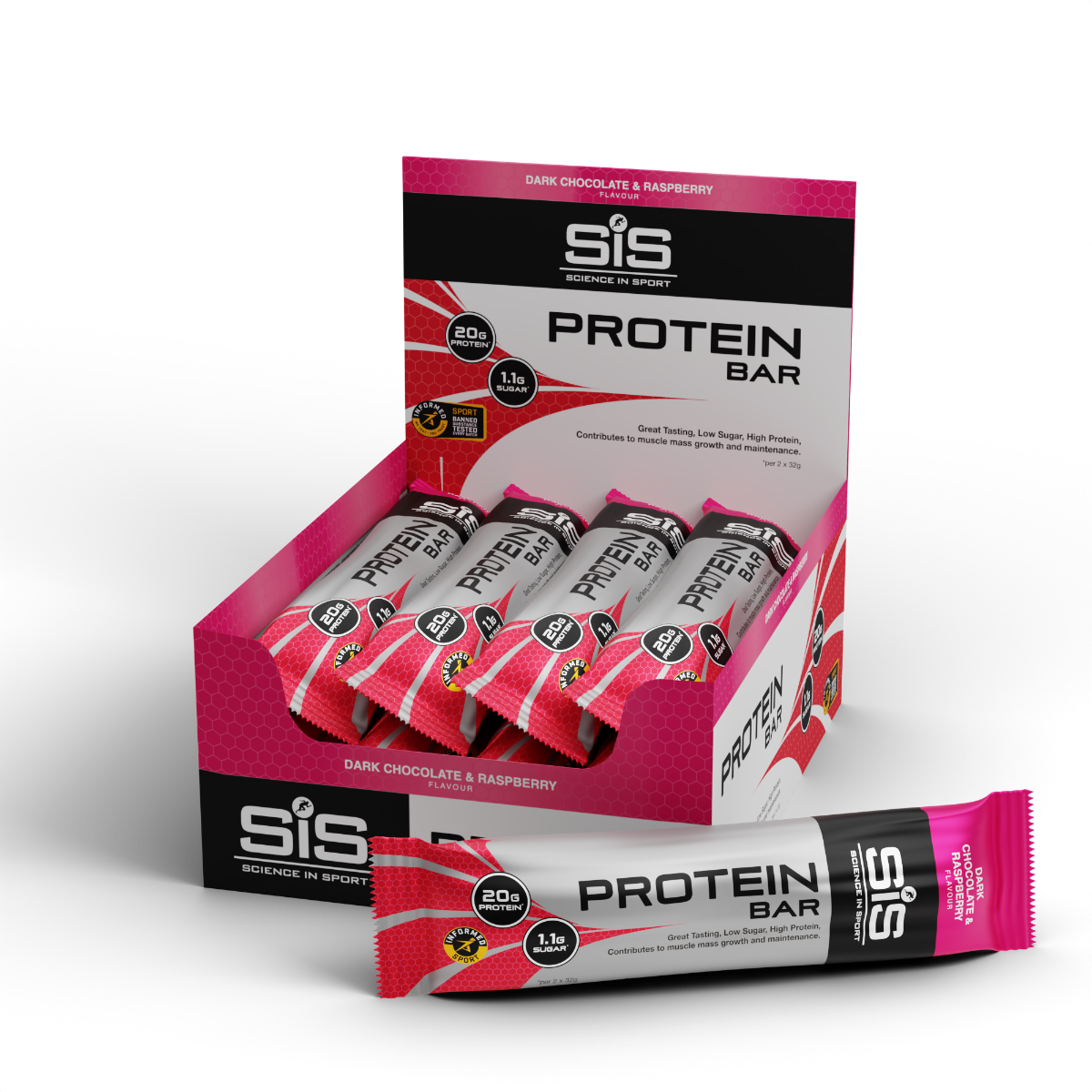 And strangely and bear with me here, the flavour of the Dark Chocolate Rasberry gave me an overwhelming sense of nostalgia, reminiscent of my favourite chocolate bars from the cherished Christmas tin of years gone by.
Now, let's talk nutrition. SIS has taken the protein bar game to a whole new level. With 20g of protein, sourced from a blend of whey and milk protein, these bars are specially formulated to support muscle growth and aid recovery.
Not to mention, the inclusion of just 3g of sugar keeps the calorie count at a reasonable 258 kcal per bar. This makes it an excellent option for those looking to maintain a balanced diet without sacrificing taste.
One aspect that sets SIS apart from the competition is their commitment to quality and safety. All their products, including these protein bars, are Informed-Sport Certified.
This means every batch is rigorously tested for banned substances, providing a reassuring assurance to athletes who depend on clean and safe nutrition for peak performance.
The science behind the ingredients used is equally impressive. The proprietary protein blend, including whey and milk protein, ensures a complete amino acid profile for muscle, bone, and tissue health.
Collagen, a key component in promoting healthy joints, muscles, and skin, is also included in these bars, making them a holistic approach to recovery and performance enhancement.
In terms of consumption, the SIS Protein Bar is best enjoyed within 30 minutes post-exercise to maximize its benefits on muscle growth and maintenance.
However, it can also be relished as a protein snack throughout the day, keeping energy levels steady as part of a well-rounded diet alongside whole-food protein sources.
For those following a vegan diet, fear not! SIS also has you covered with their Protein20 range, a vegan-friendly alternative containing 20g of protein from soya protein isolate, pea protein isolate, and pumpkin seed protein.
The Science in Sport (SIS) Dark Chocolate Raspberry protein bar with its delectable flavour, moist texture, and high-quality ingredients, is a true winner in the protein bar market.
Whether you're an elite athlete or someone always on the go, these bars are a delightful and nourishing treat that will keep you fueled and ready to push the boundaries of performance.
So, don't wait any longer – head to www.scienceinsport.com/protein-bar-range and experience the joy of SIS Protein Bars for yourself!