By David Saunders, Health Editor | UPDATED: 08:28, 08 July 2020
Taking traditional yoga classes to the next level, Surrey-based The Runnymede on Thames has just announced its new 'puppy yoga' classes in partnership with London-based Pets Yoga.
Following two special preview classes on Thursday 9th May at the riverside hotel, the exclusive puppy yoga classes will be officially launching in the summer and will be available as team-building packages for corporates.
The classes will allow the puppies to roam freely during the class while the yogis benefit from being around adorable pups which will help them to de-stress and improve their mood. Those taking part in the classes can expect the puppies to jump around as they perfect their 'downward dog playfully', or they might snooze in a Shavasana pose.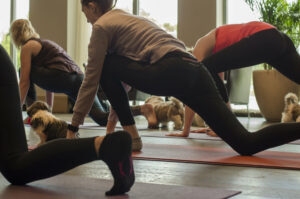 "At The Runnymede on Thames, true to our original and independent spirit, we love to embrace unique or unusual trends and experiences you won't find elsewhere.
We have long offered traditional team building activities, but we have seen quirky yoga classes becoming popular, and we love to be able to offer our corporate clients something new and different for their delegates to experience" – Andrew Duggan, Senior Marketing Manager.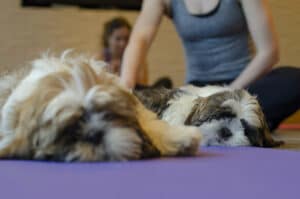 The puppy yoga classes are the latest addition to a variety of fun and team building activities already on offer at the hotel which includes exhilarating Dragon Boat race Challenges on the River Thames, geese herding, laser clay-pigeon shooting and it's a knockout.
There is so much for delegates to experience this summer at The Runnymede; from informal BBQ's by the river, free time in the hotel's stunning outdoor pool, lunch served on the Thames onboard the hotels riverboat. There will also be a pop-up riverside bar in a funky Airstream trailer serving a special summer food and drink menu.
The Runnymede on Thames is located 15 minutes from Royal Windsor and 10 minutes from Heathrow Airport with easy accessibility from major motorways, and just a 40-minute drive from Central London – making it the perfect location for an offsite meeting or event.
 To book a puppy yoga team building event, please call the hotels Sales Team on 01784 220981 or via email sales@therunnymede.co.uk. For further information on The Runnymede and puppy yoga, visit www.runnymedehotel.com