Last updated on April 24th, 2021 at 08:22 PM
By @15min_Mom | UPDATED: 11:28, 03 April 2020
Have you been tearing your hair out with the kids at home all day and lacking in ways to keep them entertained?
Why not get creative in the kitchen with a spot of fun and wholesome family cooking!
We've been feeling inspired by Olio's latest campaign #Cook4Kids, which supports over a million children who depend on school meals but aren't able to access them whilst schools are currently closed.
If you're yet to hear about this wonderful campaign, check it out here.
Plant-based food brand Gosh! Food have created a range of delicious, vegan recipes in collaboration with social media wonder Kripa @15min_mom (and the help of her adorable girls), that are guaranteed to turn your kids into little chefs.
Avo-Gosh! Boats with Gosh! Moroccan Spiced Falafel by @15min_mom
Recipe credit: Kripa of @15min_mom in collaboration with Gosh! Food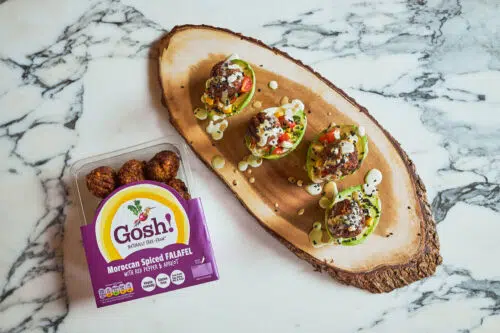 Ingredients
1 pack Gosh! Moroccan Spiced Falafel
4 Avocados
8 Cherry Tomatoes
198g tinned Sweetcorn
1tsp Oregano
1tbsp Olive Oil
1⁄2 tsp Salt
1⁄2 tsp Pepper
1⁄2 tsp Chilli Powder
Spicy Mayo Sauce – made with Mayo, Coriander, Jalapenos, Cumin powder, Garlic, Lime juice
Method
Half and stone the avocados

In a bowl add tomatoes, sweetcorn, herbs and spices.

Gently pan fry the Moroccan Spiced Falafel for 2-4 minutes

Mix up your chosen favourite mayonnaise with Coriander, Cumin Powder, Jalapenos, Garlic and Lime juice

Stack the ingredients onto the avocado halves and voila! Enjoy your avocado boats
Credit @15min_mom